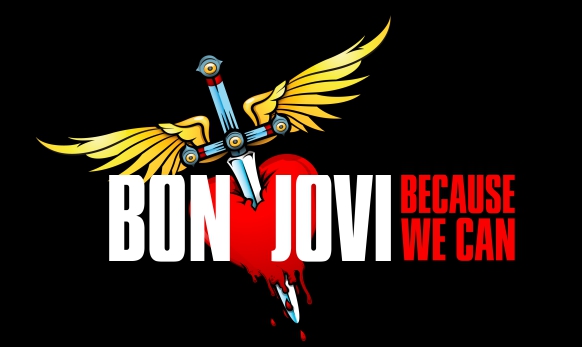 Bon Jovi
Bon Jovi Tour Dates - Bon Jovi Ticket and Hotel Packages
BECAUSE WE CAN – THE TOUR
* * * *
BAND TO BLAZE A TRAIL ACROSS THE GLOBE IN 2013
* * *
The best just got bigger….
Bringing rock 'n' roll back to the people, Bon Jovi will hit the road in 2013 to fill stadiums and arenas worldwide with "BON JOVI Because We Can – The Tour."
Blazing a trail across the globe, the tour will kick off in North America in February and travel throughout Europe, the Far East, Africa, Latin America and Australia.
And in the spirit of bringing the music to the people that matter, everyone can experience one of the best live bands on the planet in summer 2013.
Official Bon Jovi Ticket and Hotel Experiences on sale soon and more!
BON JOVI TOUR DATES 2013


| | | | |
| --- | --- | --- | --- |
| Date | Location | Venue | VIP Ticket & Hotel Exdperiences |
| May-14 | Sofia, Bulgaria | Levski Stadium | |
| May-17 | Vienna, Austria | Racecourse Krieau | |
| May-18 | Munich, Germany | Olympic Stadium | |
| May-21 | Oslo, Norway | Valle Hovin | |
| May-22 | Bergen, Norway | Koengen | |
| May-24 | Stockholm, Sweden | Olympic Stadium | |
| May-26 | Tampere, Finland | Ratina Stadium | |
| Jun-06 | Copenhagen, Denmark | Parken | |
| Jun-08 | Manchester, UK | Etihad Stadium | |
| Jun-09 | Birmingham, UK | Villa Park | |
| Jun-12 | Cardiff, UK | City Stadium | |
| Jun-13 | Sunderland, UK | Stadium of Light | |
| Jun-15 | Dublin, Ireland | Slane Castle | |
| Jun-18 | Berlin, Germany | Olympic Stadium | |
| Jun-19 | Gdansk, Poland | PGE Arena | |
| Jun-30 | Berne, Switzerland | Stadt de Suisse | |
| Jul-03 | Glasgow, UK | Hampden Park | |
| | | | |
Bon Jovi Songs
---
Bon Jovi Tour Dates - 2011
Bon Jovi Tickets - March 1 2011 Performance Boston, MA TD Garden
Bon Jovi Tickets - March 2 2011 Performance Philadelphia, PA Wells Fargo Center
Bon Jovi Tickets - March 4 2011 Performance Uncasville, CT Mohegan Sun Arena
Bon Jovi Tickets - March 5 2011 Performance New York, NY Madison Square Garden
Bon Jovi Tickets - March 8 2011 Performance Chicago, IL United Center
Bon Jovi Tickets - March 9 2011 Performance Chicago, IL United Center
Bon Jovi Tickets - March 17 2011 Performance San Antonio, TX AT&T Center
Bon Jovi Tickets - March 19 2011 Performance Las Vegas, NV MGM Grand - Garden Arena
Bon Jovi Tickets - March 22 2011 Performance Salt Lake City, UT Energy Solutions Arena
Bon Jovi Tickets - March 25 2011 Performance Vancouver, British Columbia, CA Rogers Arena
Bon Jovi Tickets - March 26 2011 Performance Vancouver, British Columbia, CA Rogers Arena
Bon Jovi Tickets - April 30 2011 Performance New Orleans, LA New Orleans Fairgrounds
Bon Jovi Tickets - May 3 2011 Performance Ottawa, ON, CA Scotiabank Place
Bon Jovi Tickets - May 4 2011 Performance Montreal, Quebec, CA Bell Centre
Bon Jovi Tickets - May 6 2011 Performance Uniondale, NY Nassau Veterans Memorial Coliseum
Bon Jovi Tickets - May 7 2011 Performance Uncasville, CT Mohegan Sun
Bon Jovi Tickets - May 10 2011 Performance Columbus, OH Nationwide Arena
Bon Jovi Tickets - May 12 2011 Performance Des Moines, IA Wells Fargo Arena
Bon Jovi Tickets - May 14 2011 Performance Atlanta, GA Philips Arena
Bon Jovi Tickets - May 15 2011 Performance Orlando, FL Amway Center
Bon Jovi Tickets - May 17 2011 Performance Houston, TX Toyota Center
Bon Jovi Tickets - May 19 2011 Performance Memphis, TN FedEx Forum
Bon Jovi Tickets - May 21 2011 Performance Milwaukee, WI Bradley Center
Bon Jovi Tickets - May 22 2011 Performance St. Louis, MO Scottrade Center
Bon Jovi Tickets - June 8 2011 Performance Zagreb, HR Maximir Stadium
Bon Jovi Tickets - June 10 2011 Performance Dresden, DE Ostragehege
Bon Jovi Tickets - June 12 2011 Performance Munich, DE Olympic Stadium
Bon Jovi Tickets - June 15 2011 Performance Oslo, NO Ullevaal Stadium
Bon Jovi Tickets - June 17 2011 Performance Helsinki, FI Olympic Stadium
Bon Jovi Tickets - June 19 2011 Performance Horsens, DK Horsens Stadium
Bon Jovi Tickets - June 22 2011 Performance Edinburgh, GB Murrayfield Stadium
Bon Jovi Tickets - June 24 2011 Performance Manchester, GB Old Trafford Cricket Ground
Bon Jovi Tickets - June 25 2011 Performance London, GB Hard Rock Calling
Bon Jovi Tickets - June 27 2011 Performance Bristol, GB Ashton Gate Stadium
Bon Jovi Tickets - June 29 2011 Performance Dublin, IE RDS Arena
Bon Jovi Tickets - June 30 2011 Performance Dublin, IE RDS Arena
Bon Jovi Tickets - July 8 2011 Performance Istanbul, TR Dunya Ticaret Merkezi
Bon Jovi Tickets - July 10 2011 Performance Bucharest, RO Piata Constitutiei
Bon Jovi Tickets - July 13 2011 Performance Dusseldorf, DE Esprit Arena
Bon Jovi Tickets - July 14 2011 Performance Zurich, CH Letzigrund Stadium
Bon Jovi Tickets - July 16 2011 Performance Mannheim, DE Maimarktgelande
Bon Jovi Tickets - July 17 2011 Performance Udine, IT Stadio Frilui
Bon Jovi Tickets - July 20 2011 Performance Athens, GR Olympic Stadium
Bon Jovi Tickets - July 22 2011 Performance Vienna, AT Ernst Happel Stadium
Bon Jovi Tickets - July 24 2011 Performance Bruges, BE Zeebrugge Beach
Bon Jovi Tickets - July 27 2011 Performance Barcelona, ES Estadio Olympico
Bon Jovi Tickets - July 29 2011 Performance San Sebastian, ES Estadio Anoeta
Bon Jovi Tickets - July 31 2011 Performance Lisbon, PT Parque De Belavista
Register now for more BON JOVI TICKETS and TOUR DATES
---