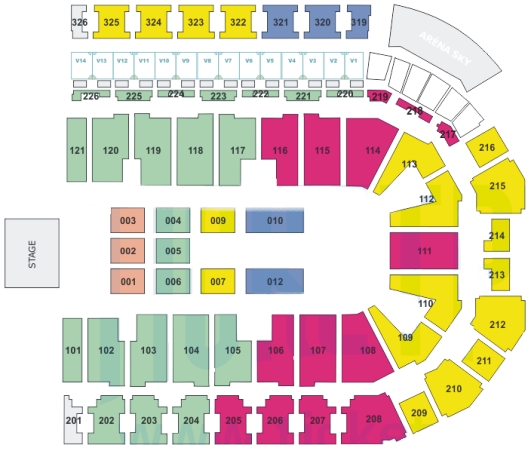 Budapest Sportarena
Address
1143 Budapest
Stefáni út 2,
Hungary

Directions
GETTING THERE BY PUBLIC TRANSPORT
Metro 2 - Stadionok station
Tram 1 - Kerepesi úti station
Buses: 35, 90 • Trolley buses: 75, 80

GETTING THERE BY AIR, TRAIN, BUS
From Déli train station: Metro 2, Stadionok
From Nyugati train station: M3 - Deák tér - M2 - Stadionok
From Keleti train station: M2 - Stadionok
Népliget bus station: 1-es villamos - Kerepesi út station
Árpád híd bus station: 1-es vilamos – Keresesi út station
Stadion bus station: just a minute by foot
Etele tér bus station: bus 103 - Népliget – tram 1 - Kerepesi út; Bus 7
Ferihegy airport: by taxi or airport minibus 20-25 minutes- M3 - Népliget station – tram 1 - Kerepesi út station

Information
Budapest Sports Arena (Hungarian: Budapest Sportaréna) is an arena in Budapest, Hungary. It is named Papp László Sportaréna in Hungarian, after boxing great László Papp - this name was added in May 2004. The arena is the largest hall in Hungary. Used primarily for ice hockey, the new Sportaréna reopened in March 2003 after the original Budapest Sportcsarnok built in 1982 burnt to the ground in December 1999.
The venue holds 12,500 people in its largest concert configuration, 11,390 for boxing, and 9,479 for ice hockey.
Budapest Sports Arena has hosted number of concerts since its opening including those of Shakira, Depeche Mode, Britney Spears, Anastacia, Gwen Stefani, Pink, Ricky Martin, Kylie Minogue and others.