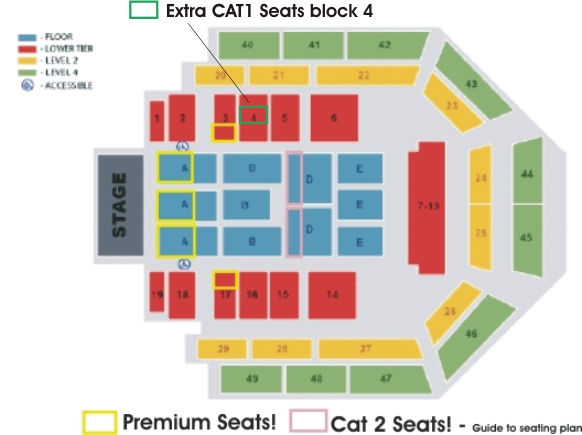 Earls Court - George Michael

Directions

PLEASE NOTE THAT IT IS QUICKER AND EASIER TO TRAVEL TO EARLS COURT BY PUBLIC TRANSPORT

By Tube

For Earls Court One, exit at the Warwick Road exit of Earls Court station and the entrance to the venue is directly opposite the station. Earls Court station is on the District and Piccadilly lines only 10 minutes from the West End, and with easy access to a few mainline stations.

For Earls Court Two, Brompton Hall, Museum Hall and Earls Court Conference Centre, exit either at Earls Court station or at West Brompton station. West Brompton Station is on the District line on the Wimbledon Branch from Earls Court. The entrance to the venue is directly opposite the tube station exit.

By Bus

Earls Court is served by the following bus routes:
Warwick Road (Earls Court One): 74, 328, C1, C3
Lillie Road (Earls Court Two, Brompton Hall, Museum Hall and Conference Centre): 190

Car Parking

EC&O Venues strongly advise that you pre-book your car parking in advance to guarantee a space on arrival. However, a number of first come, first served bays are available and charged at a 2 hourly tariff. You can book parking via the Earls Court website or call the booking line on 0871 871 9809 or for international callers 0044 207 598 2515 (open 0900 – 1700 Monday to Friday).
Earls Court and Olympia are located outside the Congestion Charging Zone.
Seagrave Road Car Park (P1): Open air car park, accommodating all vehicles. Please note that the car park is a short walk to Earls Court.
Red Car Park (P2): Multi-storey car park located on site next to Earls Court Two. Accessible parking spaces available. Please note that this car park is only available during event open periods.

Information

PLEASE NOTE EARLS COURT IS A NON-SMOKING VENUE

Before You Arrive

- Please take time to read the terms and conditions on the reverse side of your ticket as it contains useful information regarding attending a music event at the venue.
- Remember that timings and support acts can change, so arrive at the venue in plenty of time. Opening times, performance times and end times of concerts vary. If we are told of any times or running orders by promoters, these will be included in the event details pages for each event.
- Bring as few belongings with you as possible and do not bring any food and drink into the venue. - - Professional camera equipment is not permitted and in some cases, the promoter may request a ban on all photography.
- If you need unforeseen assistance (for example, as a result of an accident or pregnancy), please email info@eco.co.uk in advance or contact a member of staff on the night.

At The Event

- Bottled water must be decanted into the plastic cups provided at the entrance.
- If you have any problems on the night, please speak to one of our stewards. If they are unable to assist, they will direct you to our Customer Service office.
- Please be considerate to other members of the audience, so that everyone can enjoy the concert.
- Do not stand on seats. This is strictly prohibited, as the seats are not designed for this purpose and injury may be sustained.
- Some events at Earls Court are filmed. By entering the venue you give your consent to being filmed as a member of the audience for possible inclusion in the programme.
- Please be considerate to local residents as you leave the venue.
- The Earls Court area can become congested as the audience leaves the venue. Please allow plenty of time to reach your transport.
- Please also note that vehicles, including taxis, will not be permitted to stop outside the venue.