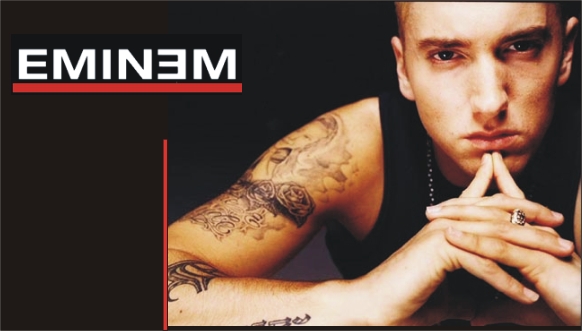 Eminem
Eminem Tour Dates - Register for Eminem Tickets and Tour News

15 March 2011
Eminem is officially now the most popular person on Facebook.com after his popularity overtook the late King of Pop, Michael Jackson. Eminem The Not Afraid hitmaker exceeded Lady Gaga as the top living soul on the social networking website last month (Feb11) when his profile hit almost 29 million 'likes' from fans.

Eminem Will Perform at the 53rd Annual GRAMMY Awards - Eminem is Top of the 53rd GRAMMYs with 10 fantastic nominations: Record Of The Year (with Rihanna), Song Of The Year (with Alexander Grant and Skylar Grey), Best Rap/Sung Collaboration (with Rihanna), and Best Rap Song (with Grant and Grey) for "Love The Way You Lie"; Best Short Form Music Video (with Rihanna) for "Love The Way You Lie (Explicit Version)"; Album Of The Year and Best Rap Album for Recovery; Best Pop Collaboration With Vocals for "Airplanes, Part II" (with B.o.B & Hayley Williams); and Best Rap Solo Performance and Best Rap Song (with M. Burnett, J. Evans, Luis Resto and M. Samuels) for "Not Afraid." - The 53rd Annual GRAMMY Awards will take place in Los Angeles at Staples Center on Sunday, Feb. 13, 2011, and will air live on the CBS Television Network
Eminem exceeded the 30 million mark by Monday (14Mar11), leaving the MJ now in second place with 29.8 million 'likes'. But his power on Facebook doesn't come close to Lady Gaga's on Twitter.com - Gaga leads all musicians with 8.7 million followers, while Eminem is placed just inside the top 20 artists on the micro-blogging site. For more Eminem tickets and Eminem Tour info, register now.
EMINEM NEWS UPDATE: 'SYLLABLES' – release date JANUARY 11th 2011
Eminem's new single, "Syllables", featuring Jay-Z, Dr. Dre, Ca$his, 50 Cent, and Stat Quo, will be released to US urban radio stations on January 11, 2011.
RUMOURS ; Eminem to play at The V Festival and at The Brit Awards. For more Eminem tickets and Eminem Tour info, register now.
Eminem, Lady Gaga and Katy Perry will all appear on a compilation album of the 2011 Grammy nominees. This compilation of artists was announced on the morning of Thursday, January 6. Eminem and Lil' Wayne performed together on the Saturday Night Live show in December 2010. The pair united to play their song 'No Love', which is taken from Eminem's chart-topping album 'Recovery'.
Eminem's NEW ALBUM 'RECOVERY' was released on the 21st June 2010
Eminem's seventh studio album Recovery became his sixth consecutive number-one album in the US and achieved considerable success in the international market, charting at number one in several other countries. Having sold more than 3 million copies, it stayed at number-one on the US Billboard 200 chart for five consecutive weeks and was reported to be the best-selling album of 2010, making Eminem the first artist in Nielsen SoundScan history to have two year-end best-selling albums.
Eminem's Anger Management Tour
The tour was put together in 2000 by the Founder, Eminem and featured 50 Cent. The 3rd European leg of the tour was cancelled, much to the disappointment of the fans


Eminem Tour dates


| | | |
| --- | --- | --- |
| Eminem Tour | Dates | City |
| Eminem Tickets | October 19 2000 | East Rutherford |
| Eminem Tickets | October 20 2000 | East Rutherford |
| Eminem Tickets | October 21 2000 | Buffalo |
| Eminem Tickets | October 23 2000 | Worcester |
| Eminem Tickets | October 24 2000 | Albany |
| Eminem Tickets | October 26 2000 | Toronto |
| Eminem Tickets | October 27 2000 | Montreal |
| Eminem Tickets | October 29 2000 | Auburn Hills |
| Eminem Tickets | October 30 2000 | Chicago |
| Eminem Tickets | October 31 2000 | Milwaukee |
| Eminem Tickets | November 2 2000 | Champaign |
| Eminem Tickets | November 3 2000 | Indianapolis |
| Eminem Tickets | November 5 2000 | Moline |
| Eminem Tickets | November 6 2000 | St. Louis |
| Eminem Tickets | November 8 2000 | Minneapolis |
| Eminem Tickets | November 10 2000 | Denver |
| Eminem Tickets | November 13 2000 | Tacoma |
| Eminem Tickets | November 14 2000 | Portland |
| Eminem Tickets | November 17 2000 | San Francisco |
| Eminem Tickets | November 18 2000 | Sacramento |
| Eminem Tickets | November 21 2000 | Anaheim |
| Eminem Tickets | November 24 2000 | Los Angeles |
| Eminem Tickets | November 26 2000 | San Diego |
| Eminem Tickets | November 28 2000 | San Antonio |
| Eminem Tickets | November 29 2000 | Houston |
| Eminem Tickets | November 30 2000 | Dallas |
| Eminem Tickets | December 2 2000 | New Orleans |
| Eminem Tickets | December 3 2000 | Birmingham |
| Eminem Tickets | December 6 2000 | Lexington |
| Eminem Tickets | December 7 2000 | Detroit |
| Eminem Tickets | December 8 2000 | Columbus |
| Eminem Tickets | December 9 2000 | Hartford |
| Eminem Tickets | December 10 2000 | Washington DC |
| Eminem Tickets | December 11 2000 | Albany |
| Eminem Tickets | December 13 2000 | Greensboro |
| Eminem Tickets | December 14 2000 | Greenville |
| Eminem Tickets | December 15 2000 | Charlotte |
| Eminem Tickets | December 17 2000 | Tampa Bay |
| Eminem Tickets | December 18 2000 | Ft. Lauderdale |
| Eminem Tickets | December 19 2000 | Jacksonville |
| Eminem Tickets | February 2 2001 | Hamburg |
| Eminem Tickets | February 3 2001 | Oslo |
| Eminem Tickets | February 4 2001 | Stockholm |
| Eminem Tickets | February 5 2001 | Rotterdam |
| Eminem Tickets | February 6 2001 | Brussels |
| Eminem Tickets | February 7 2001 | Paris |
| Eminem Tickets | February 8 2001 | Manchester |
| Eminem Tickets | February 9 2001 | London |
| Eminem Tickets | February 10 2001 | London |
| Eminem Tickets | July 18 2002 | Buffalo |
| Eminem Tickets | July 19 2002 | Hartford |
| Eminem Tickets | July 20 2002 | Scranton |
| Eminem Tickets | July 21 2002 | Bristow |
| Eminem Tickets | July 22 2002 | East Rutherford |
| Eminem Tickets | July 25 2002 | Camden |
| Eminem Tickets | July 26 2002 | Wantagh |
| Eminem Tickets | July 27 2002 | Mansfield |
| Eminem Tickets | July 30 2002 | Cleveland |
| Eminem Tickets | July 31 2002 | Noblesville |
| Eminem Tickets | August 1 2002 | Rosemont |
| Eminem Tickets | August 2 2002 | St. Paul |
| Eminem Tickets | August 5 2002 | Nampa |
| Eminem Tickets | August 6 2002 | Tacoma |
| Eminem Tickets | August 7 2002 | Portland |
| Eminem Tickets | August 10 2002 | Sacramento |
| Eminem Tickets | August 11 2002 | Mountain View |
| Eminem Tickets | August 12 2002 | Fresno |
| Eminem Tickets | August 15 2002 | Chula Vista |
| Eminem Tickets | August 16 2002 | Devore |
| Eminem Tickets | August 17 2002 | Las Vegas |
| Eminem Tickets | August 20 2002 | Phoenix |
| Eminem Tickets | August 21 2002 | Albuquerque |
| Eminem Tickets | August 22 2002 | Denver |
| Eminem Tickets | August 24 2002 | Maryland Heights |
| Eminem Tickets | August 25 2002 | Bonner Springs |
| Eminem Tickets | August 31 2002 | Tampa Bay |
| Eminem Tickets | September 1 2002 | Sunrise |
| Eminem Tickets | September 4 2002 | Atlanta |
| Eminem Tickets | September 8 2002 | Auburn Hills |
| Eminem Tickets | June 13 2003 | Essen |
| Eminem Tickets | June 15 2003 | Hamburg |
| Eminem Tickets | June 17 2003 | Amsterdam |
| Eminem Tickets | June 18 2003 | Amsterdam |
| Eminem Tickets | June 19 2003 | Paris |
| Eminem Tickets | June 21 2003 | Milton Keynes |
| Eminem Tickets | June 22 2003 | Milton Keynes |
| Eminem Tickets | June 23 2003 | Milton Keynes |
| Eminem Tickets | June 24 2003 | Glasgow |
| Eminem Tickets | June 26 2003 | Kildare |
| Eminem Tickets | June 27 2003 | Kildare |
| Eminem Tickets | July 7 2005 | Noblesville |
| Eminem Tickets | July 8 2005 | Columbus |
| Eminem Tickets | July 11 2005 | Tinley Park |
| Eminem Tickets | July 12 2005 | Tinley Park |
| Eminem Tickets | July 14 2005 | Denver |
| Eminem Tickets | July 17 2005 | Auburn |
| Eminem Tickets | July 19 2005 | San Jose |
| Eminem Tickets | July 20 2005 | San Jose |
| Eminem Tickets | July 22 2005 | Chula Vista |
| Eminem Tickets | July 23 2005 | Devore |
| Eminem Tickets | July 24 2005 | Las Vegas |
| Eminem Tickets | July 26 2005 | Phoenix |
| Eminem Tickets | July 28 2005 | Dallas |
| Eminem Tickets | July 29 2005 | Selma |
| Eminem Tickets | July 31 2005 | Atlanta |
| Eminem Tickets | August 1 2005 | Tampa Bay |
| Eminem Tickets | August 2 2005 | West Palm Beach |
| Eminem Tickets | August 5 2005 | Bristow |
| Eminem Tickets | August 6 2005 | Camden |
| Eminem Tickets | August 8 2005 | New York City |
| Eminem Tickets | August 9 2005 | New York City |
| Eminem Tickets | August 10 2005 | Mansfield |
| Eminem Tickets | August 12 2005 | Detroit |
| Eminem Tickets | August 13 2005 | Detroit |