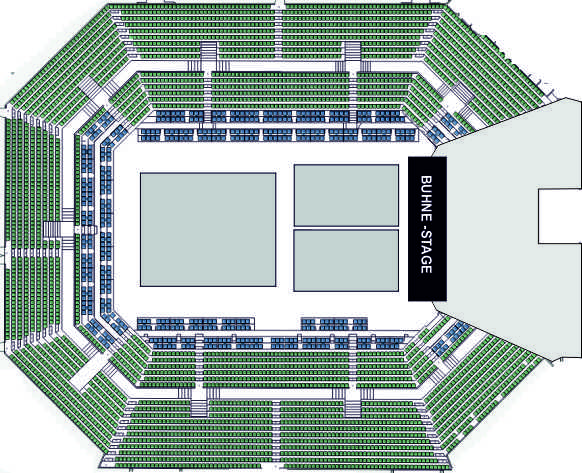 Gerry Weber Stadion - Halle - Lionel Richie
GERRY WEBER STADION
Weststraße 14
33790 Halle
The GERRY WEBER STADIUM 12,300 visitors is a comprehensive multi-functional arena with a retractable roof. The unique design allows it to open/close the stadium within 90 seconds to turn into a weather-independent event. This is a seasonal highlight is the only German lawn tennis tournament ATP, the GERRY WEBER OPEN. Since its premiere in 1993, the event has become one of the most successful ATP tournaments in Europe. The television ratings and the total audience (100,000 viewers per year) remain unrivaled in Germany. Other national and international sporting events - Davis Cup home games, handball, major events, ice shows and the German Volleyball Cup finals - are interspersed with high-class events from the concert area from. In recent years, these have included Luciano Pavarotti, Placido Domingo, Lionel Richie, Eros Ramazzotti, Bryan Adams, Rod Stewart, Peter Maffay, Elton John in front of an enthusiastic audience.
Location:
GERRY WEBER STADIUM Both venue are located in East Westphalia Halle at the foot of the Teutoburg Forest. At the stadium there is the local train station "GERRY WEBER STADIUM" (5 min walk), which connects the stadium with the cities of Bielefeld and Osnabrück.

By Road
Hallel leads through the national highway 68, at the GERRY WEBER STADIUM is located. On this ride into town on the Bielefeld-Senne A2 or Borgholzhausen on the A33.
Train/Bhan
From: Bielefeld on the ICE train station, and change there in about 30 minutes by car north-west ("Haller Willem") in Halle / Westfalen. A station on the concourse to reach the breakpoint GERRY WEBER STADIUM.

From: Osnabrück: About the ICE train station Osnabrück, change, and in about 45 minutes with the North Western Railway ("Haller Willem") in Halle / Westfalen, stop GERRY WEBER STADIUM. From breakpoint GERRY WEBER STADIUM leads a walk in 5 minutes directly into the GERRY WEBER WORLD. from 01 June 2011 are the tickets for events at the GERRY WEBER WORLD at the same time as a ticket. The following rules should be observed: DAY EVENTS The tickets are valid from 4 hours to 4 hours after the event as a ticket on all buses, trams and local trains (2nd class) within the city of Bielefeld, the districts Gütersloh, Herford, and lip Minden-Reinsch and VOS-plus transition region of the "six".
Airports
The two nearest airports are "Muenster / Osnabrueck" and "Paderborn / Lippstadt." Travel time by car about 45 minutes. Alternatively, the arrival of the Hanover airport possible, from there by car about 75 minutes by train and 90 minutes (including transfer to Hannover central station and the port of Bielefeld trip to Halle).