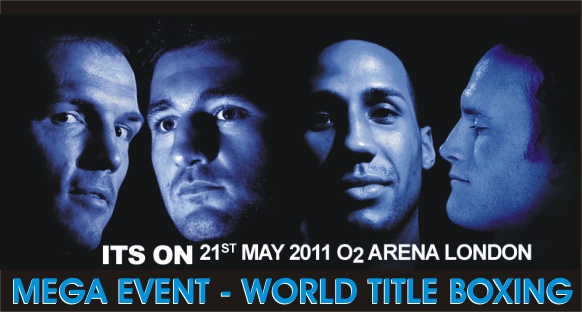 James Degale vs. George Groves
James Degale VIP Ticket Packages
-
James Degale Ticket and Hotel Packages

MEGA EVENT - WORLD TITLE BOXING
James Degale vs. George Groves
THE BRITISH AND COMMONWEALTH SUPER MIDDLEWEIGHT CONTEST
Jurgen Brahmer vs Nathan Cleverly
THE WBO WORLD LIGHTWEIGHT-HEAVYWEIGHT CHAMPIONSHIP
THE O2 LONDON
21st MAY 2011
OFFICIAL VIP TICKET PACKAGES INCLUDING RINGSIDE SEATS
Prices from £425 inc VAT
OFFICIAL TICKET & HOTEL PACKAGES
Prices from £169 inc VAT
OFFICIAL JAMES DEGALE HOSPITALITY PACKAGES
BRONZE BOXING PACKAGE

Official Ticket (Floor/Tier)
Pre Fight Hospitality - with a set menu dinner, half bottle of wine and private bar within the O2 complex
VIP Gate Entry into the arena
Post Show Party at the newly opened Proud2 Club with welcome drinks
Event Hosts
Itineraries sent out in advance
Complimentary Fight Programme

Price : £425 inc VAT
SILVER BOXING PACKAGE

Official ticket (FLOOR)
Pre Fight Hospitality - with a set menu dinner, half bottle of wine and private bar within the O2 complex
VIP Gate Entry into the arena
Post Show Party at the newly opened Proud2 Club with welcome drinks
Event Hosts
Itineraries sent out in advance
Complimentary Fight Programme

Price : £475 inc VAT
GOLD BOXING PACKAGE

Official ticket (FLOOR)
Pre Fight Hospitality - with a set menu dinner, half bottle of wine and private bar within the O2 complex
VIP Gate Entry into the arena
Post Show Party at the newly opened Proud2 Club with welcome drinks
Event Hosts
Itineraries sent out in advance
Complimentary Fight Programme

Price : £635 inc VAT
PLATINUM BOXING PACKAGE

Ringside Ticket
Pre Fight Hospitality - with a set menu dinner, half bottle of wine and private bar within the O2 complex
VIP Gate Entry into the arena
Post Show Party at the newly opened Proud2 Club with welcome drinks
Event Hosts
Itineraries sent out in advance
Complimentary Fight Programme

Price : £950 inc VAT
BOXING TICKET AND HOTEL PACKAGE
Choice of Fight tickets
1 Night Hotel Stay (extra nights no problem)
Full Buffet Breakfast
Ticket and Event Pack sent by secure post

Prices from: £169 inc VAT

17 March 2011
James DeGale will take on bitter rival George Groves on the same night Nathan Cleverly challenges for the WBO light-heavyweight title against Jurgen Braehmer.
This mouth-watering double bill - which will rival the biggest nights in British boxing history - takes place on May 21 at the O2 Arena, London. Promoter Frank Warren

Tickets will go on sale on Friday, and are almost certain to sell out within days so don't delay get the best of the best to see James DeGale vs George Groves - Speaking at the press conference, Warren hailed DeGale and Groves' British and Commonwealth super-middleweight title clash as a throw back to the showdowns between Nigel Benn, Chris Eubank and Michael Watson in the 1980s and 1990s.

James Degale VIP Ticket Packages - James Degale Ticket and Hotel Packages

DeGale and Groves fought as amateurs - the latter won - and have been bitter enemies ever since. Recently they have swapped insults, with DeGale insisting he will take revenge by knocking out his fellow Londoner. British champion DeGale lifted the British title with a superb ninth-round stoppage of Paul Smith, while Groves - also unbeaten - is the long-reigning Commonwealth champion.
See ALSO Cleverly's WBO clash with Braehmer finally gets the go ahead.
"The super-middleweight division has always had a special place in the hearts of the British public. "I promoted some great champions in Joe Calzaghe, Chris Eubank, Steve Collins and Nigel Benn, but I believe DeGale can be better than all of them. "This fight against Groves will be an absolute war though, and it's a massive test. It reminds me of all those great fights we had between Benn, Eubank, Collins and Calzaghe. "Not only are the British and Commonwealth titles on the line, but pride is as well, and that makes this is a very special occasion.
13 March 2011
James DeGale continued his unbeaten record to 10 fights last night - James DeGale was impressive as he created a fifth round stoppage (of an eight round contest) of the part-time French waiter Alpay Kobal in Glasgow. - This is being seen as intro before the highly anticipated showdown with bitter rival George Groves.

DeGale, said "I'm ready for Groves, I'm just waiting for the call from Frank Warren - "I'm ready to knock out the ugly kid. I just want ugly kid to sign the contract so we can do this."
The Kobal bout was never going to test DeGale but the DeGale from London looked slick throughout, unleashing rapid combinations to the detriment of Kobal. It was understandable when the referee stepped in to end the fight as Kiobal was the outclassed Frenchman!
Comentators suggest this victory will not leave Groves in fear but DeGale insists the Saint should not underestimate him ahead of their proposed clash on April 9.

Chunky added: "It doesn't matter what he thinks because I'm gonna knock him out inside four rounds - "I just hope he comes to fight because I'm going to knock him out