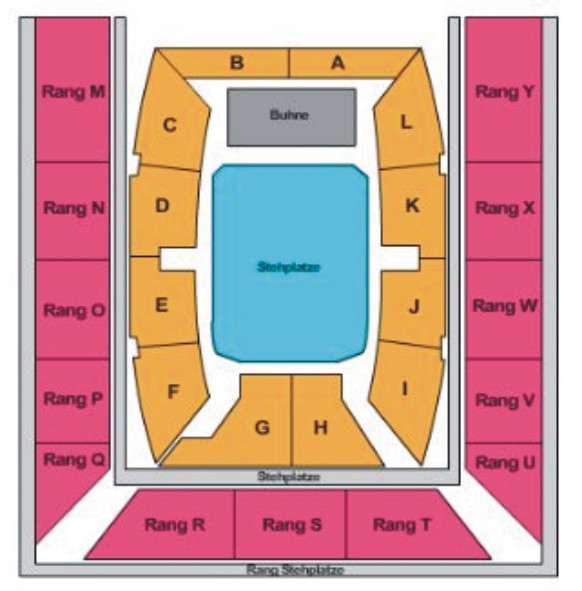 Leipzig Arena
Arena Leipzig – top venue for music, show and sports
Leipzig has a state-of-the-art multi-purpose event venue that rivals Germany's large-scale event arenas.
Well-known artists like Rammstein, Simply Red or Udo Jürgens had their tour stopover here as well as newcomer bands like Silbermond or the popular comedian Mario Barth. No matter if concert, show, sports, conference or convention, the Arena Leipzig organisers are given the possibility to stage events of different scales according to their very own ideas.
The real centrepiece and main venue for large-scale events in the Arena Leipzig is its main hall. However, the complex also comprises two further halls that are predominantly used for training such as ball sports, judo and wrestling. On the catering side, the Arena Leipzig features a bistro including a large patio with 130 seats. The bistro is at the public's service during and after events. During events only, additional take-away counters are open for ticket holders only, located in the two main corridors inside the Arena Leipzig after ticket control.
Getting to Leipzig Arena
Tram
The following tram lines to the stadium can be used from the Main Railway Station: 3, 4, 7, 8, 13, 15. The stop is "Waldstraße/Arena"
Parking
There are approximately 1100 parking spaces, with a further 3000 available for use during large-scale events. Further information can be found under the "directions" link on the menu on the left.
Directions from motorway exit "Leipzig-Mitte" from BAB 14

Exit motorway at "Leipzig - Mitte" and head towards city centre "Innenstadt"/"Zentrum"
Follow B2 straight on towards city centre "Innenstadt"/"Zentrum"
Turn right into Berliner Strasse on the Berliner Brücke (bridge) (approx. 300m after supermarket "Selgros")
Go straight onto Berliner Strasse
After the tunnel turn left into Gerberstrasse at the third set of traffic lights towards Zentrum passing the hotel "Westin"
Follow Gerberstrasse straight on until next cross roads, turn right towards direction of Merseburg
Keep right, go straight over the next set of traffic lights
Follow the main road straight on (Jahnallee) until you reach the cross roads and traffic lights at "Waldplatz"
Follow main road for another 200m and you will see the ARENA LEIPZIG and SPORTFORUM LEIPZIG on your right hand side

Directions from motorway exit "Leipzig-Günthersdorf"/"Saalepark"
from BAB 9

Turn off at motorway exit "Leipzig - Günthersdorf" (Höffner furniture warehouse) and head towards city centre "Innenstadt"/"Zentrum"
Follow main road until you reach Leipzig city centre
You drive along Merseburger Strasse as far as the "Aral" petrol station approx. 7km after motorway exit
After the petrol station you will reach a t-junction Lützner Strasse
Turn left into Lützner Strasse
Go straight over next set of traffic lights
Road follows bend to the left and then follow the main road to the right into Jahnallee
Drive straight on towards the city centre (Zentrum)
You can see the ARENA LEIPZIG and SPORTFORUM LEIPZIG on your left
Folllow signs for a u-turn at junction "Waldplatz" to reach ARENA LEIPZIG and SPORTFORUM LEIPZIG on your right hand side
Address: Leichtathletikzentrum Leipzig e.V. Am Sportforum 5, 04105 Leipzig