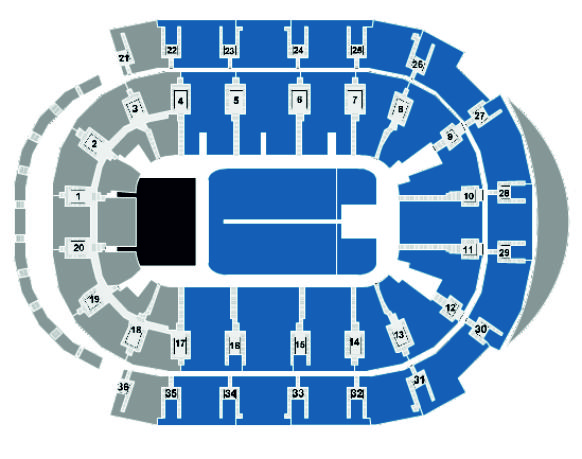 Malmo Arena Lionel Richie
Malmö Arena is the latest addition to northern Europe's growing number of modern, multi-purpose concert and event venues. Serving the rapidly growing and dynamic Öresund Region, Malmö Arena is the premier venue in the region for world-class sporting events, concerts, family shows, full-scale conferences and smaller meetings, wining and dining or a quick snack.
Getting to the venue
By train - Since a new railway link was introduced in December 2010, a travel between Malmö Central Station and Hyllie, where Malmö Arena is situated, takes only 7-9 minutes. Trains go also between Hyllie and stations in Copenhagen, Denmark, including Copenhagen Airport and Copenhagen City. Travel time between Copenhagen Airport and Hyllie Station is only 12 minutes. The trains run every 20 minutes. Trains from Malmö C departure every 10 minutes.
There are three types of trains that stop at Hyllie:
Öresundstågen connect Scania and the Southern Sweden with Kastrup and Copenhagen area. Those trains use the City Tunnel and the Öresund Bridge (Citytunneln and Öresundsbron), and stops at Malmö C, Triangeln, and Hyllie.
Pågatågen are local trains that come from the Northern Scania and also use the City Tunnel, making stop at every station.
Long-distance trains: some of those with final destination Copenhagen or Kastrup stop even at Hyllie.
By city bus - Malmö Arena can be reached by buses No. 5, 6 and 33 - they all stop on the west side of Stationstorget, just outside the train station Hyllie.
By regional bus - The Arena can be also reached by regional buses: No. 346 from Trelleborg, No. 300 from Falsterbo, and No. 170 from Lund. These buses stop at the south side of Stationstorg.
By Car - Carpooling helps reduce the risk of long queues and traffic congestion. For traffic from Sweden, the best route to Malmö Arena is to take the Outer Ring Road (Yttrering) towards Copenhagen and turn off at the last exit in Sweden (signposted 'Malmö V'), then follow the signs to Malmö Arena. For traffic from Denmark, cross the Öresund Bridge link and continue along the main E65 motorway for about 5 km, then take the exit road marked Malmö Väst and follow the signs to Malmö Arena.
Parking - There are three car parks currently open in the vicinity of Malmö Arena: P-väster (entrance from Lorensborgsgatan), P-öster (entrance from Pildammsvägen), and P-norr (entrance from Annetorpsvägen). The largest car park - P-öster - is situated on the east side at Pildammsvägen, and for major concerts and events it is recommended that this car park be used. This will lessen the risk of traffic congestion when an event is over and many leave the area at the same time.
All car parks are served by parking ticket automats. Payment (in advance) is in Swedish coins or by credit card. The automats accept Visa, MasterCard, Eurocard, American Express, Hydro, OKQ8, Preem, Shell, Statoil and VolvoCard, as well as SMS Parking and Easy Parking.