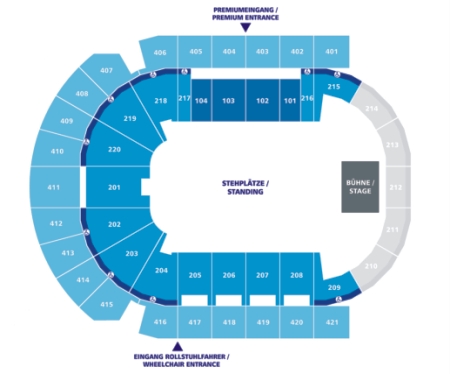 O2 World Berlin
Address
Mühlenstraße 12-30
10243 Berlin-Friedrichshain
By Bus or Train
Warschauer Straße
The suburban railway lines S3, S5, S7, S75 and S9 all stop at "Warschauer Straße" station, as well as the subway line U1, bus numbers 347 and N1 and tramway lines M10 and M13. The station is connected to the O2 World by a pedestrian bridge.
East Central Station (Ostbahnhof)
The O2 World is located in the immediate vicinity of East Central Station. For your convenience it may be advisable to take the suburban railway lines S3, S7, S5, S75 and S9 or bus number 140, 240, 347 or N40. There is a walkway leading from East Central Station to the O2 World. Please follow the signs. Furthermore, East Central Station is connected to the regional (Regional Express RE1, RE2, RE7, RB14) and nationwide rail transport, as well as to the ICE high speed train network, to provide a fast and convenient journey from supra-regional places.
Parking
We have reserved 2,000 parking sites for our guests which are divided into four different sectors.
P1 is reserved for our Premium customers only.
P2 and P3 are accessible from Tamara-Danz-Straße.
P4 can be entered from Marianne-von-Rantzau-Straße.
For parking at the O2 World we levy a parking charge of 5 € per event. The fee is paid on site and can currently not be booked online.