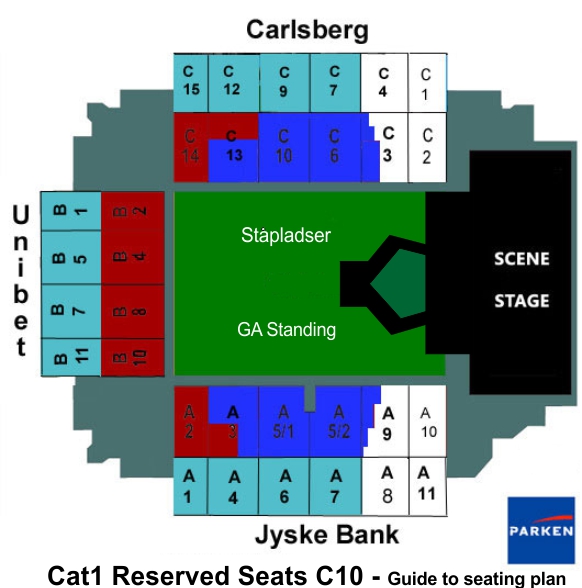 Parken - Lady Gaga 2012
Address
Øster Allé 50, 2100 København Ø

Directions
PARKEN is just 25 minutes drive from the airport, and trains run directly from the airport every 20 minutes via the Central Station to Østerport Station close to PARKEN.

The easiest way to reach PARKEN by car or bus is via the northern motorway (E47/E55 towards Copenhagen). At the end of the motorway keep straight on about 500 meters. Take a left hand turn where the signs say "Øster Alle". Follow this road for about 500 meters – then you have PARKEN on your left hand side.

If you arrive by train, the nearest station is "Østerport". From here there is a 15 minute walk. "Ryparken" station is also close – approximately a 15 minute walk.

Bus 15 arrives just outside PARKEN and can be reached from Østerport station, The Central Station and Kongens Nytorv. Bus 1A is also an option, and arrives at "Trianglen" – from here there is a two minute walk to PARKEN.

Information
Parken Stadium (English: the Park) is a football stadium in the Indre Østerbro (Inner Østerbro) district of Copenhagen, Denmark, built from 1990-1992. It currently has a capacity of 34,098 for football games, and is the home ground of F.C. Copenhagen and the Danish national football team. To concerts the capacity is 44,000.