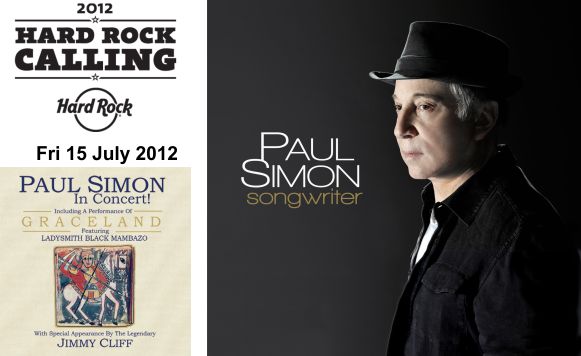 Paul Simon Hard Rock Calling 2012
Paul Simon VIP Ticket Experiences - Paul Simon Ticket and Hotel Packages
Paul Simon Confirmed To Headline Sunday July 15th - Hyde Park London

The legendary musician Paul Simon will Headline Hard Rock Calling 2012 on Sunday 15 July in Hyde Park, performing the groundbreaking Graceland in its entirety, along with some of his greatest hits.
Graceland is one of the most influential albums of the last three decades, and this performance will be part of its 24th anniversary celebrations. He'll be joined on stage by Jimmy Cliff on songs including Harder They Come and Too Many Rivers To Cross, before Ladysmith Black Mambazo take to the stage for a Graceland reunion, a UK first since 1987!
The wonderful Alison Krauss & Union Station featuring Jerry Douglas also join the line up in what promises to be one of the biggest weekends in the music calendar.
Paul Simon joins Bruce Springsteen & the E Street Band who were announced to headline Saturday 14 July in London's Hyde Park.
On Friday, John Fogerty and Lady Antebellum were announced as support acts for the Saturday, helping to shape this year's festival into an absolute must for any live music fan.
See you down the front!

Check out some wonderful Paul Simon VIP Ticket Experiences as well as overnight Ticket and Hotel Packages to ensure you enjoy this very special music highlight!


Hard Rock Calling at Hyde Park, London
Paul Simon VIP Ticket Experiences
Relax - Overnight Ticket and Hotel Package

Paul Simon Hard Rock Calling at Hyde Park, London

Hotel & Ticket Package includes:

General Admission Standing ticket
One nights hotel accommodation (additional nights can be added)
Buffet breakfast

Paul Simon VIP Ticket Experiences

Hard Rock Calling Club Experience

Hard Rock Calling Premium Club Experience


Club Experience Package includes:


One day ticket to Hard Rock Calling 2012 with headliner 'Paul Simon'
Private entrance to concert site
Exclusive chill-out area with undercover facilities and garden seating (Chill out area is located to the side of the stage; you are unable to view the acts performing from this area).
Luxury private restrooms
Resident DJ
BBQ with hot & cold food platters
Private cash bar facility
Commemorative festival pass
Event staff and hostesses in attendance throughout

PRICE £208 per person including VAT

Under 16s must be accompanied by an adult. The VIP area is unsuitable for children under the age of 12. All guests must have a valid ticket to the festival.

Premium Club Experience Package includes:


One day ticket to Hard Rock Calling 2012 with headliner 'Paul Simon'
VIP grandstand seating (tiered and reserved)
Private entrance to concert site
Exclusive chill-out area with undercover facilities and garden seating (Chill out area is located to the side of the stage; you are unable to view the acts performing from this area).
Luxury private restrooms
Resident DJ
BBQ with hot & cold food platters
Private Complimentary bar offering beer, wine and soft drinks
Commemorative festival pass
Event staff and hostesses in attendance throughout

PRICE £307 per person including VAT

*Due to the event being a festival there are several stages and no designated viewing areas with the exception of the VIP grandstand
seating providing viewing of the Main Stage. The Grandstand is uncovered and a non smoking area. Under-16s must be accompanied
by an adult. The VIP area is unsuitable for children under the age of 12. All guests must have a valid ticket to the festival. Ticket face value is £55.00