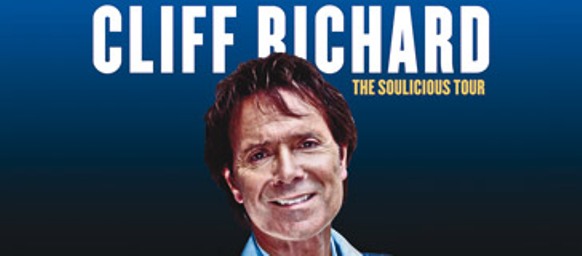 Cliff Richard bio - Cliff Richard Tour Dates
CLIFF RICHARD - THE SOULICIOUS TOUR
In this special UK Arena concert tour Produced and Directed by David Gest, Cliff will perform a selection of his greatest hits and will also duet with his "Soul Legends" guests, each of whom will also perform one of their own hits.
Cliff has been recording in Memphis with "soul partners" who have previously recorded iconic signature tracks of their own; for example, Percy Sledge (When a Man Loves a Woman), Candi Staton (Young Hearts Run Free), Freda Payne (Band of Gold), Dennis Edwards of The Temptations Review (Papa was a Rollin' Stone), Russell Thompkins, Jr. (You are Everything), Deniece Williams (Let's Hear it For the Boy), Billy Paul (Me and Mrs Jones), Lamont Dozier (Trying to Hold on To My Woman), Marilyn McCoo & Billy Davis, Jr. (Aquarius, Let the Sunshine In), Brenda Holloway (You've Made Me So Very Happy) .
Cliff Richard

Venue

Package

Book Now

Cliff Richard Tickets

15 October

Nottingham
Ticket and Hotel

Cliff Richard Tickets

22 October

Birmingham
Ticket and Hotel

Cliff Richard Tickets

23 October

Birmingham
Ticket and Hotel

Cliff Richard Tickets

25 October

London
VIP Package

Cliff Richard Tickets

26 October

London
Ticket and Hotel

TICKET & HOTEL PACKAGE includes:

Category 1 seated ticket
One night hotel accommodation (additional nights can be added)
Buffet breakfast

VIP PACKAGE includes:

Top priced ticket
Two and a half hour hospitality event before the show in a restaurant within O2 Centre
Three course menu
Complimentary bar of beers, wines, soft drinks and house spirits
One hour post show party with private cash bar
Exclusive, limited edition tour gift (Red Wine Aerator)
Commemorative 'Soulicious Tour' VIP laminate
Event co-ordinator in attendance throughout

PRICE £299 per person including VAT/Taxes
Cliff Richard News:-
March 2011 - Cliff Richard has said that he would like to collaborate with Lady Gaga and Adele.
The veteran 70-year-old singer said he was a fan of the US singer. Speaking about Adele and fellow British star Leona Lewis, Richards said: "Adele and Leona Lewis are both incredible, fantastic voices but only time will tell." In an interview with The Sun newspaper, Richards also revealed that he was working with Motown producer Lamont Dozier on his new album and that fans should expect a new direction. "Don't be shocked if there is a rap or two on the record," he said. "If we can finish this, I will have died and gone to heaven, it's a dream come true for me." The Cliff Richard record is due to be released later this year ..... Could this mean another Cliff tour - Lets hope so!

Cliff Richard Register now for more Cliff Richard Tickets and Tour News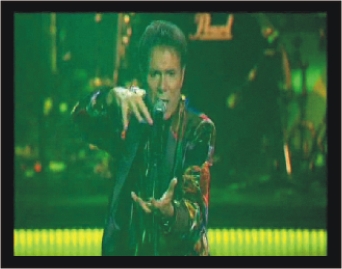 Tour Dates
Cliff Richard Tour
Legs
Tour
2010
Bold As Brass
UK Only / 6
Cliff Richard tickets
2009–2010
The Final Reunion Tour Cliff Richard and The Shadows
3 Legs / 56
Cliff Richard tickets
2008
Time Machine 50th Anniversary Tour
UK Only / 14
Cliff Richard tickets
2006–2007
The Here And Now Tour
3 Legs / 45
Cliff Richard tickets
2004
Cliff Richard - Live And Kicking
UK Only / 14
Cliff Richard tickets
2004
Summer Nights Concert Series
UK Only / 9
Cliff Richard tickets
2001
Cliff Richard - Off The Record
UK Only / 12
Cliff Richard tickets
2002–2003
Wanted World Tour
4 Legs / 55
Cliff Richard tickets
1999
The Countdown Concerts
UK Only / 10
Cliff Richard tickets
1998–1999
40th Anniversary Tour
5 Legs / 64
Cliff Richard tickets
1996
Heathcliff The Musical
UK Only
Cliff Richard tickets
1994–1995
The Hit List Tour
3 Legs / 59
Cliff Richard tickets
1992
Access All Areas
UK / Ireland Only
Cliff Richard tickets
1990–1991
From A Distance Tour
UK / Ireland / Australia Only / 38
Cliff Richard tickets
1990
Cliff Richard - Stronger
Australia Only / 18
Cliff Richard tickets
1988–1989
30th Anniversary World Tour
3 Legs / More than 106
Cliff Richard tickets
1987
Always Guaranteed
World Tour
Cliff Richard tickets
1986
Time The Musical
UK Only
Cliff Richard tickets
1984
The Rock Connection
World Tour
Cliff Richard tickets
1984
Cliff And The Shadows
UK Only
Cliff Richard tickets
1984
Tear Fund Gospel Tour
UK Only
Cliff Richard tickets
1982
Cliff Canadian Tour
Canada Only / 11
Cliff Richard tickets
1982
Gospel Concert Tour
UK Only
Cliff Richard tickets
1981
Cliff Tour
World Tour
Cliff Richard tickets
1981
Wired For Sound Tour
North American / UK / 64
Cliff Richard tickets
1980
Apollo - Victoria Theatre
UK Only
Cliff Richard tickets
1979
Cliff In Europe
Europe Only
Cliff Richard tickets
1978
Cliff Richard And The Shadows At The London Palladium
UK Only
Cliff Richard tickets
1978
Cliff In Concert - 20th Anniversary Tour
Cliff Richard tickets
1977
Cliff Richard In Concert
UK Only
Cliff Richard tickets
1976
I'm Nearly Famous Tour
Japan / Russia / India / 28
Cliff Richard tickets
1974
'Cliff with Welch tour
Japan only
Cliff Richard tickets
1973
Cliff Tour
Cliff Richard tickets
1973
The Cliff Richard Show At The London Palladium
Cliff Richard tickets
1972
'Cliff with Marvin & Farrar tour
Japan only
Cliff Richard tickets
1969
Cliff Concert
Cliff Richard tickets
1968
Autumn Show
UK Only
Cliff Richard tickets
1964
Cliff And The Shadows Tour
Cliff Richard tickets
1964
Aladdin And His Wonderfull Lamp At The London Palladium
UK Only
Cliff Richard tickets
1964
Cliff And The Shadows Tour
Cliff Richard tickets
1963
Cliff And The Shadows Tour
UK Only / 37
Cliff Richard tickets
1963
Holiday Carnival
UK Only / 192
Cliff Richard tickets
1963
Cliff And The Shadows Tour
UK Only / 28
Cliff Richard tickets
1962
Cliff And The Shadows Tour
Cliff Richard tickets
1962
Cliff And The Shadows Tour
Cliff Richard tickets
1961
The Cliff Richard Show
UK Only
Cliff Richard tickets
1961
Cliff And The Shadows Tour
Cliff Richard tickets
1961
Cliff And The Shadows Tour
Cliff Richard tickets
1960
Greyhound Tour of America
USA/Canada Tour
Cliff Richard tickets
1960
Stars In Your Eyes
UK Only / 300
Cliff Richard tickets
1959
Stars In Your Eyes At The London Palladium
UK Only
Cliff Richard tickets
1959
The Cliff Richard Show
UK Only
Cliff Richard tickets
1958
Cliff And The Drifters Tour
Cliff Richard tickets
Sir Cliff Richard was born Harry Rodger Webb on the 14 October 1940) and has sold over 260 million records worldwide.

With his backing group The Shadows, Cliff Richard was originally marketed as a rebellious rock and roll singer in the style of Little Richard and Elvis Presley. His catchy songs and good looks ensured he dominated the British popular music scene in the pre-Beatles period of the late 1950s and early 1960s. His 1958 hit single "Move It" is often described as Britain's first authentic rock and roll song.

With a career spanning over 52 years, Cliff Richard has become one of Britains greatest entertainers – amassing hundreds of gold and platinum discs and awards, including three Brit awards and two Ivor Novello awards. He has had more than 130 singles, albums and EPs make the UK Top 20, more than any other artist. He holds the record (with Elvis Presley) as the only act to make the UK singles charts in all of its first six decades (1950s–2000s). He has achieved 14 UK number one singles (or 18, depending on the counting methodology) and is the only singer to have had a number one single in the UK in six consecutive decades: the 1950s through to the 2000s. He is the biggest selling singles artist of all time in the UK, with total sales of over 27 million and UK album sales of over 18 million. He has sold more than 150 million singles worldwide.

Cliff Richard Register now for more Cliff Richard Live in concert Tickets and Tour News

top
Cliff Richard has said that he would like to collaborate with Lady Gaga and Adele. Cliff Richard, for more Cliff Richard Tickets and Tour News
Event Travel Ltd · Ground Floor Suite, The Paddocks, 347 Cherry Hinton Road, Cambridge, CB1 8DH |
Telephone +44 (0) 8444 721 222
|
Fax + 44 (0)1223 506 558
|
© 2010 Email
|
Site overview