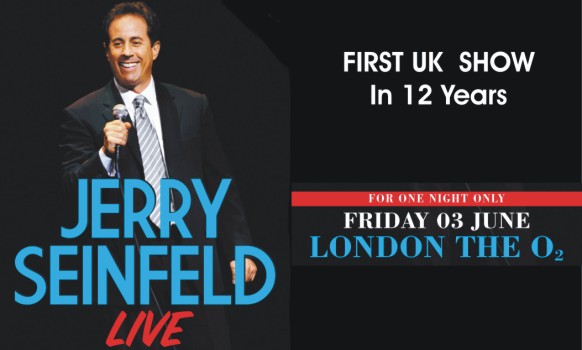 Book Jerry Seinfeld Tickets - Jerry Seinfeld Ticket Package Descriptions

JERRY SEINFELD LIVE!
Friday 3rd June 2011 at London's O2 Arena
Comedians don't get much bigger than global phenomenon Jerry Seinfeld, Don't miss out on this Exclusive One Night UK visit to London of Jerry Seinfeld on Friday 3rd June 2011 at London's O2 Arena. One of the biggest grossing comics in the world, this is the first time that Seinfeld has performed stand-up live in the UK since 1998.
Last time Seinfeld played in the UK 12 years ago, he played to sell-out crowds, despite a date clash with the World Cup final. The American comedy star has long touted the London stand-up scene as inspirational and he's looking forward to performing in front of a UK crowd again. Probably not as much as the UK crowd will be looking forward to his performance, though - This will be a Hot Show!

Event Travel are delighted to offer Official Jerry Seinfeld Ticket & Hotel Packages for this long awaited show.
Jerry Seinfeld
Date
Venue

Ticket & Hotel Packages

Jerry Seinfeld Tickets
3-Jun-2011
The O2 Arena, London


Jerry Seinfeld Ticket & Hotel Package includes:

Category 3 Reserved Seated Ticket
One nights hotel accommodation (additional nights can be added)
Buffet breakfast

PRICES from £199 per person inc VAT

Jerry Seinfeld Ticket Upgrades:

Category 2 Reserved Seated Ticket + £25
Category 1 Reserved Seated Ticket + £50


JERRY SEINFELD - Sunday Times 24 Match 2011
Slowly pimp-rolling into a dark and dingy midtown comedy club just off Eighth Avenue in New York, Jerry Seinfeld looks a million dollars. Well, maybe
$250,000. Lush leather jacket, watch the size of a barometer, teeth capped and polished, perhaps $5,000 a go.
By contrast the club, a cluttered dive with cheap red walls and laminated menus, charges as little as $10 a night.
He's been coming here ever since he stopped his TV sitcom, Seinfeld, in 1998, "'bout once a week", he says in his foghorn drawl, pulling out a chair and
sitting down. He orders coffee, sugar, cream. "And then 60, 70 shows a year."
"Oh, I'd guess more," purrs a PR.
"Maybe 80. These" — he motions to the stage — "are just workouts." He'll turn up at random and riff for 20-25 minutes on supermarket queues, cola, Pop-Tarts.
"I've been working on the Pop-Tarts routine for a year and a half," he sighs, hunching into the chair. "Pop-Tarts meant so much to me as a child. I've been
looking for a way to capture that. But there's no justifiable reason to spend that much time on Pop-Tarts."
These shows are just workouts. He'll turn up at random and riff for 20-25 minutes on supermarket queues, cola, Pop-Tarts Or any time at all. At 56, he could
easily do zip. As the co-creator and star of Seinfeld, arguably the most successful TV show of the 1990s, he is worth roughly about $800m.
To this day, he is still one of the highest-earning men in US television, thanks to gigantic syndication revenues. When the show ended — the final episode
attracted 76m viewers — he faced an enormous chasm. "The sitcom was so fulfilling in so many ways," he says now. His voice is rich, languorous, Long Island:
"no" is "neaww". "Candidly? There wasn't a bigger thrill."
He moved to Los Angeles, made a half-hearted attempt at films, but forgettable projects such as Bee Movie failed to turn him into Ben Stiller, "or one of
those guys", he says, with a swipe of the hand.
He found himself back "casting around, what to do next?": as desperate as when he got fired from a sitcom in 1979.
"I went from thinking I'm going to be this huge star to being thrown back in the water," he says. "You realise, oh, my fate was in their hands. That made me
angry. I'm never letting anybody do that to me again, control me. So I got really focused."
He decided to return to his "first love": stand-up. As a young comedian in New York, he had done more than a decade of gigs and TV appearances before NBC
telephoned him in 1988 about developing a sitcom. He was popular, successful, squeaky-clean; 10 years later, he was older, jaded and out of touch. He found
himself corpsing and panicking and sweating on stage; he'd go up and "have nothing to say". Often, they'd boo.
"I used to have this joke that goes, my life sucks, and then I would say, but I'm sure it doesn't suck quite as much as yours. They would boo at that," he
recalls. Eventually, he figured out that "if I say everyone's life sucks — your life sucks, my life sucks too — and then I say I'm sure mine doesn't suck
quite as much as yours, they love it". Was it wise to make jokes about how rich he is? "That's the only joke I've used to refer to that aspect of my life,"
he says, "but I think it's a really cool thing to get away with. There's a sound on that laugh that's unlike any other laugh I've gotten." Crying? "Kind of…
surprised."
Obviously, he realises the whole thing is slightly absurd. But then Seinfeld quite loves absurd. To promote Bee Movie, he put on a bee costume and flew over
the Croisette in Cannes; today, he travels to gigs in style, arriving in Alabama or Seattle by private jet and staying at five-star hotels, like a minor
Central Asian dictator obsessed with Justin Bieber concerts. At one point he tells me how he used a helicopter to get to a gig in New Jersey, two minutes
across the Hudson. "Sixty seconds!" he laughs. "I felt like James Bond."
And are the audiences ever tough?
"Sure," he shrugs.
But does he ever think, I really don't need this?
"No. I think the opposite! I think, I need to solve this puzzle."
And what if they say he's not funny? The bloodhound jowls contract in fury.
"Who would say that?" he bellows. "I mean, who would be so impolite to come up and make that point?"
No, no, in reviews.
"Oh! Well, I hope some people hate me. If people don't hate you, you're not doing anything." Mind you, he has never been terrifically controversial. His
favourite episode of Seinfeld is The Contest — in which the four main characters see who can go the longest without masturbation — "but I liked the
construction more than the subject matter". He never swears on stage, partly because he never could on TV, but also because "I just like to see if I can do
it without". His besuited routines, a mixture of light kvetching and smooth confidence, bought him widespread success on talk shows and tours throughout the
1980s, when he reportedly took up to $25,000 a weekend. His persona on the sitcom — a detached, faintly amused mummy's boy, with high-waisted jeans, a puffy
mullet and cute eccentricities — had global appeal.
I don't need attention. I don't need approval. I am only fascinated by the scientific challenge of comedy
But edgy? Never edgy. The edge came from his friend Larry David, his co-creator. They met on the comedy circuit in the late 1970s. Unlike Seinfeld, David was
ranty, auteurish and unpopular with audiences.
In one routine, he pretended he was a professional masturbator ("You must practise!" was his advice). He lost his rag if someone so much as ordered a drink.
And yet their chemistry was perfect. "Like, oh my God," gasps Seinfeld. "Two halves of a puzzle. We'd get ahold of something and we were off to the races."
So when the call came from NBC, he rang David.
They had an idea for a "show about nothing" based on a non-conversation they'd had about fig bars at a Korean deli.
The executives didn't get it, and disliked David, but commissioned a pilot nevertheless. A series followed: initially the show's awkward, downbeat characters
and byzantine plots baffled the viewers. For three seasons, they bumped along with "pretty low ratings". And then they changed the time slot and "it became a
hit", says Seinfeld, in a typically mechanical explanation. "Really weird. What's the difference between Wednesday and Thursday?" He shrugs. "I never got it.
For whatever reason, the show became a giant hit on Thursday. And then we were riding a big, energetic horse."
A shire horse?
"Yeah!"
He laughs, finally removes his jacket. He has been very closed up till now, wary, watchful, as if trying to figure the situation out. Perhaps he is unused to
interviews: he hardly ever gives them — "I believe in portion control," he says — and seems to think he shouldn't be giving this one either, if his puzzled
"is anyone going to see this?" is anything to go by. He certainly thinks that Britain, like, say, the Congo, has virtually no concept of him or the sitcom,
even though he is coming here for a massive one-off gig in June.
"A promoter called and said we'd love to have you perform at the O2," he says, eyes widening, "and I said, really? Do they know me there?"
But then he is also mesmerisingly confident, delivering the entire interview at performance volume. By the end, his publicist, the owner of the club, a
janitor, the photographer and his two assistants are all at the back of the club, laughing at his jokes.
"I can guarantee," he declaims at one point, "that if I did therapy I'd end up working on the doctor's problems. And I'm not doing that. I'm not paying to
help this jerk out." Cue raucous laughter.
Does he crave an audience? "No," he says briskly. "I apologise if that sounds disingenuous, but I don't need attention. I don't need approval. I am only
fascinated by the scientific challenge of comedy. A laugh…" he pauses, "is like an ink blot. It has size and shape and tone. It is a page of information. I
know exactly what the audience thinks from the way they laugh, the timing, the arc of it, the thrill of it…"
To be fair, the publicist had warned me that he might stray onto something he called "the architecture of comedy". In Comedian, there are countless late-
night jaw-offs with other megastars such as Jay Leno, Chris Rock, Bill Cosby. Apparently Seinfeld spends most of his time talking to comedians about comedy —
"though 15% of the time I'll talk about other stuff like the grapefruit-sized object the doctor just found in my abdomen", he laughs, so now he can't stop
saying things like "Comedy is very close to carpentry".

He clearly loved getting carried away with David: "Sometimes, we'd write a 70-page script in two days," he says. Does he miss the show? "I do," he admits,
almost mournfully. "Because it was perfect. We had incredible chemistry. That doesn't happen a lot."
David left Seinfeld just before the penultimate season to pursue his own material. In 1999, he produced a one-hour special entitled Larry David: Curb Your
Enthusiasm. The show was like Seinfeld in structure, but ruder and madder and sharper. He has now done seven series, with another due this year; Seinfeld
"loves" it. He even appeared on it last season, as part of a Seinfeld reunion. The cast had been pestered to do one for years, so David built an entire
series around the concept of Seinfeld meeting back up with George Costanza (the character originally based on David, played by Jason Alexander), Seinfeld's
ex-girlfriend Elaine (Julia Louis-Dreyfus) and Kramer (Michael Richards), the wedge-haired, cockeyed "hipster doofus" who lived across the hall. Appearing on
Curb Your Enthusiasm "was a perfect way of bringing the cast back together", says Seinfeld now. Will they ever do it again? "Never. That's it."
He decided to stop Seinfeld "because we had reached a perfect moment of excitement and satisfaction. I thought, if we get off stage now, they're going to be
surprised, a little shocked, disappointed, and they're going to think, that was great, as opposed to something just that 15 minutes longer, which was very
good".
He spends a lot of time on details like this, obsessing, philosophising, over-thinking everything: getting "aggravated", he says, is "one of the Jewish
traditions I observe". The older son of Jewish parents — his sister, Carolyn, is now his manager — he has always been a nitpicky neat-freak with an
unspeakable hairdo who "wants to complain about every single thing". Even watching adverts is a trial: "I have to be quiet, but I don't want to be. Like, oh,
my God, another guy who can't shave. Why can't these kids shave in the commercials?" he shouts.
Is he a control freak?
"That's a bad term. I don't like control freak and I don't like workaholic. These aren't problems in our society. When you buy a car, do you want it built by
a control freak or someone who knows how to have a good time?" He pauses. "I am just very disturbed by how other people do things."
In work, too, he is uncompromising. "I got very serious about what I was doing," he says of starting out. "So that I was, you know, making the decisions, and
if I was going to be on TV it was going to be my show, and I'm going to call the shots. And if it doesn't work, it's my fault."
But then he is also strangely Waspy: when he turns up to perform the next day, baseball cap wedged down, he looks like an off-duty hedgefunder. He arrives in
a Porsche: I read somewhere that he has something like 300 cars in an underground garage in Manhattan, although apparently the real figure is merely
"dozens".
If I did therapy I'd end up working on the doctor's problems. And I'm not doing that. I'm not paying to help this jerk out
He certainly doesn't have 11 Porsche Boxsters, all in different colours, as one fansite suggests: the attraction for him is not the quantity but the quality.
Eleven Porsche Boxsters would be "ridiculous, because it's the same experience", he says. He has been obsessed with cars since he was eight, regularly spends
all night looking them up.
When someone else in the room confesses that he has exactly the same problem and starts to produce pictures of an Iso Grifo, Seinfeld looks totally bewitched
and says: "Oh, he's a lucky man! He's found a place for his idiocy. The secret of life."
But why are they so exciting?
"How could they not be exciting?" he whoops. "The car is a capsule within which you can venture out and explore the dangerous world and come back safely.
You're out in the pouring rain, and have the drops pour around you, see them through glass, hear them on the roof, and you're going through it, and you're
completely dry. It's fantastic!" He seems momentarily overwhelmed. "I mean, there are so many aspects to this. I could do two hours on this. I could do a
whole interview."
Please, no. I should say at this point that beyond the 1,200 Porsches, 50 Boxsters, and a huge collection of sneakers — one source claimed 500, although
Seinfeld insists he only has "three" — his house in East Hampton, a sprawling compound complete with a 22-car garage, a baseball diamond and, apparently,
"two horses called Snoopy and Prickly Pete", is probably one of the most hilarious things I have ever seen, a kind of giant pony-themed Wendy house as
envisaged by Michael Jackson. He bought it from Billy Joel in 2000, to go with another house in Colorado, and a large apartment on the Upper West Side. He is
perfectly unapologetic about the $32m price tag. "You know, if you can, and you like it, you should," he shrugs.
He mostly lives in New York, in grey-and-white uptown splendour, with his three children and his wife, Jessica. The Seinfelds have been married 11 years: he
took quite a long time to settle, partly because of his career, partly because marriage is "ridiculous", he says. "A sitcom premise: what if you and I stay
together for the rest of our lives? That's ridiculous." Neither of his parents married young: Kal Seinfeld, who owned a sign-painting company (Signfeld
Signs), and Betty, now a 96-year-old widow living in Florida, were also "loners and individuals" and very proud of being independent.
He got his fingers burnt once, too, rushing into a first engagement around the age of 30.
"I felt like I'd gone as far as I was ever going to go in my career, so I should probably settle down and get married," he says. "I was young, I'd met this
girl, I rushed into an engagement. But I realised I wasn't ready, and we weren't two people who should be getting married, so I broke it off." He pauses.
"That was a traumatic moment."
He eventually recovered, refocused on his career, dated a few girls, including Carol Leifer, a writer on Seinfeld on whom some say the character of Elaine
was based, and, rather extraordinarily for a man who was then 39, a 17-year-old schoolgirl called Shoshanna Lonstein. In 1998, however, he met Jessica Sklar,
a 26-year-old publicist. He was 45, a toxic bachelor "deeply bored and wanting to go to the next planet", he says. He describes the feeling he had when he
met Sklar in an Upper West Side gym as "instinctual. Bestial. Not intellectual, that's for sure". He laughs. "The lion must kill the antelope. He doesn't
think, should I, shouldn't I? Is this the right antelope for me?"
Perhaps he should have: Sklar was already married. In fact, she had only just come back from honeymoon with her husband, Eric Nederlander, a member of a
wealthy New York theatre-owning family. She later insisted that the marriage had been over by the time they returned from honeymoon, but her relationship
with Seinfeld still caused a scandal. She was called a cheat and a gold-digger whose material extravagance was apparently confirmed when she sent Oprah
Winfrey 21 pairs of shoes after an appearance on her show. Seinfeld has publicly defended his wife on more than one occasion.
"I didn't realise what I was bringing into her life," he says now. "I always see it [celebrity] as all positive. We can go to all these great places, and
restaurants will seat us right away. What could be better? But there are a lot of things that are difficult for others. It's not been an easy thing for her.
She went from being a regular person to having a weird life. She's handled it beautifully."
At one point, he was even taken to court by a woman, Missy Chase Lapine, who claimed that Jessica had plagiarised an idea she had had for a recipe book.
Appearing on David Letterman's talk show, Seinfeld called her a "woodwork wacko", he says, "because when you have success, wackos come out of the woodwork. I
insinuated that she could be an assassin because she had three names. She sued me for defamation of character, which is, of course, ridiculous."
The case has now been thrown out, "but I really wanted to go to court", he whoops. "I wanted to invoke the first amendment, have my Lenny Bruce moment, fight
the system, say you can't tell me what to say." Did you quite… enjoy it? "Yeah. I felt edgy."
What is he like as a husband? In Comedian, there's a small clip of him romping up the beach in surfwear like a five-year-old as Jessica wearily looks on. His
wife "definitely" wears the trousers, he says, but then he describes how he dabbled in Scientology about 30 years ago and still uses some of their practical
techniques for settling rows, each putting their side of the argument and then working it out, "keeping it rational", he says. His approach is, he says,
"systematised". In some ways, the toddler act seems rather less frightening. Still, they sort out their differences: they argue "same as any couple".
Tonight they've got dinner, "or I'll come here and try out the Pop-Tart routine. Maybe tomorrow". He pauses, as if he's weighing something up. Then he says:
"Wanna come?"
He has always been a nitpicky neat-freak with an unspeakable hairdo who 'wants to complain about every single thing'
Sure.
"Okay! But you're gonna see the crude form."
That's good.
"I'm not coming up here to try and be good."
Understood.
At 8pm the following night the Gotham Comedy Club is heaving with thirtysomething office workers and single girls. Waitresses circulate with canapés and
martinis as a tall red-haired woman bellows "I'm a mother too, so I'm glad to be out on a Wednesday night" into the crowd.
The actor who plays Charlotte York's boyfriend in Sex and the City throws himself energetically around the stage shouting a heap of words Seinfeld wouldn't
touch. By the time the MC springs up on stage a third time, the crowd is hot, hot, hot. "Whooooddagguesstit?" he hollers, as Seinfeld bounds playfully onto
the stage.
The room whoops and cheers and cries and whistles.
They stand and stamp for 30 whole seconds: the Prince of New York! Seinfeld pauses, looks larky. "Well," he says. "Goodnight everybody!"
His set is slick and funny, although when he says "crude", what he really means is — gasp — "getting notes out". At one point, the audience, who are here to
raise money for a local school, fall silent when they find out his children go to extremely expensive Manhattan academies. "Did I mention I used to do this
huge show?" he hollers. They laugh. When he comes off the stage, he is steaming.
"I came home the other night and my wife, Jessica, said to me, your whole head feels hot, you need to stick the whole thing in a bucket of ice," he says,
pounding downstairs. He collapses on a sofa in the green room.
Happy? He sighs. "I'll be changing the Pop-Tart thing again."
Jerry Seinfeld performs at the O2 on June 3
Camilla Long Published: 27 March 2011

Jerry Seinfeld Tour Dates 2010/2011
Jerry Seinfeld Tickets - Dec 17 Chicago The Chicago Theatre
Jerry Seinfeld Tickets - Dec 18 Chicago The Chicago Theatre
Jerry Seinfeld Tickets - Dec 18 Chicago The Chicago Theatre
Jerry Seinfeld Tickets - Dec 26 Las Vegas Caesars Palace
Jerry Seinfeld Tickets - Dec 26 Las Vegas The Colosseum At Caesars Palace
Jerry Seinfeld Tickets - Dec 27 Las Vegas Caesars Palace
Jerry Seinfeld Tickets - Dec 27 Las Vegas The Colosseum At Caesars Palace
Jerry Seinfeld Tickets - Jan 7, 2011 Tampa Ruth Eckerd Hall
Jerry Seinfeld Tickets - Jan 8, 2011 Tampa Ruth Eckerd Hall
Jerry Seinfeld Tickets - Jan 8, 2011 Tampa Ruth Eckerd Hall
Jerry Seinfeld Tickets - Jan 14, 2011 Rochester Rochester Auditorium Theatre
Jerry Seinfeld Tickets - Jan 21, 2011 Cleveland Cleveland PlayhouseSquare State Theatre
Jerry Seinfeld Tickets - Jan 22, 2011 St. Louis Fabulous Fox Theatre
Jerry Seinfeld Tickets - Jan 22, 2011 Cleveland Cleveland PlayhouseSquare State Theatre
Jerry Seinfeld Tickets - Feb 11, 2011 Toledo, OH Stranahan Theatre
Jerry Seinfeld Tickets - Feb 12, 2011 Raleigh Durham Performing Arts Center
Jerry Seinfeld Tickets - Feb 25, 2011 Austin Bass Concert Hall
Jerry Seinfeld Tickets - Mar 11, 2011 Louisville Louisville Palace
Jerry Seinfeld Tickets - Mar 12, 2011 Atlanta Fabulous Fox Theatre
Jerry Seinfeld Tickets - May 13, 2011 Ledyard, CT Foxwoods Hard Rock Cafe
Jerry Seinfeld Tickets - May 13, 2011 Hartford MGM Grand at Foxwoods
Jerry Seinfeld Tickets - May 14, 2011 Ledyard, CT Foxwoods Hard Rock Cafe
Jerry Seinfeld Tickets - May 14, 2011 Hartford MGM Grand at Foxwoods
Jerry Seinfeld Tickets - Jun 3, 2011 London, United Kingdom The O2
Jerry Seinfeld Comedy, Jerry Seinfeld Comedy ticket packages, Jerry Seinfeld Comedy breaks, Jerry Seinfeld Comedy tickets
Event Travel Ltd · Ground Floor Suite, The Paddocks, 347 Cherry Hinton Road, Cambridge, CB1 8DH |
Telephone +44 (0) 8444 721 222
|
Fax + 44 (0)1223 506 558
|
© 2010 Email
|
Site overview