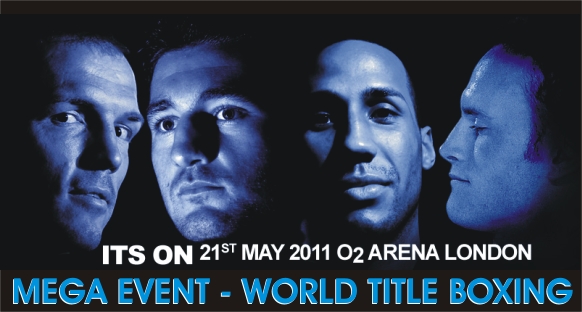 Jurgen Brahmer VIP Ticket Packages
-
Jurgen Brahmer Ticket and Hotel Packages

MEGA EVENT - WORLD TITLE BOXING
Jurgen Brahmer vs. Nathan Cleverly
THE WBO WORLD LIGHTWEIGHT-HEAVYWEIGHT CHAMPIONSHIP
James Degale vs. George Groves
THE BRITISH AND COMMONWEALTH SUPER MIDDLEWEIGHT CONTEST

THE O2 LONDON
21st MAY 2011
OFFICIAL VIP TICKET PACKAGES INCLUDING RINGSIDE SEATS
Prices from £425 inc VAT
OFFICIAL TICKET & HOTEL PACKAGES
Prices from £169 inc VAT
OFFICIAL JAMES DEGALE HOSPITALITY PACKAGES
BRONZE BOXING PACKAGE

Official Ticket (Floor/Tier)
Pre Fight Hospitality - with a set menu dinner, half bottle of wine and private bar within the O2 complex
VIP Gate Entry into the arena
Post Show Party at the newly opened Proud2 Club with welcome drinks
Event Hosts
Itineraries sent out in advance
Complimentary Fight Programme

Price : £399 exc VAT

SILVER BOXING PACKAGE

Official ticket (FLOOR)
Pre Fight Hospitality - with a set menu dinner, half bottle of wine and private bar within the O2 complex
VIP Gate Entry into the arena
Post Show Party at the newly opened Proud2 Club with welcome drinks
Event Hosts
Itineraries sent out in advance
Complimentary Fight Programme

Price : £450 exc VAT

GOLD BOXING PACKAGE

Official ticket (FLOOR)
Pre Fight Hospitality - with a set menu dinner, half bottle of wine and private bar within the O2 complex
VIP Gate Entry into the arena
Post Show Party at the newly opened Proud2 Club with welcome drinks
Event Hosts
Itineraries sent out in advance
Complimentary Fight Programme

Price : £599 exc VAT

PLATINUM BOXING PACKAGE

Ringside Ticket
Pre Fight Hospitality - with a set menu dinner, half bottle of wine and private bar within the O2 complex
VIP Gate Entry into the arena
Post Show Party at the newly opened Proud2 Club with welcome drinks
Event Hosts
Itineraries sent out in advance
Complimentary Fight Programme

Price : £899 exc VAT

BOXING TICKET AND HOTEL PACKAGE
Choice of Fight tickets
1 Night Hotel Stay (extra nights no problem)
Full Buffet Breakfast
Ticket and Event Pack sent by secure post

Prices from: £169 inc VAT

top17 March 2011
Nathan Cleverly challenges for the WBO light-heavyweight title against Jurgen Braehmer and on the same night James DeGale will take on bitter rival George Groves ..
This great double bill will rival the biggest nights in British boxing history claims frank Warren and takes place on May 21 at the O2 Arena, London. Promoter Frank Warren speaking at the press conference, Warren hailed DeGale and Groves' British and Commonwealth super-middleweight title clash as a throw back to the showdowns between Nigel Benn, Chris Eubank and Michael Watson in the 1980s and 1990s.
DeGale and Groves fought as amateurs with groves being the victor and have been bitter enemies ever since. Recently they have swapped insults, with DeGale insisting he will take revenge by knocking out his fellow Londoner.
British champion DeGale lifted the British title with a superb ninth-round stoppage of Paul Smith, while Groves - also unbeaten - is the long-reigning Commonwealth champion.
Nathan Cleverly's eagerly anticipated WBO clash with Braehmer finally is going to be a good one. The unbeaten Welshman is aiming to become one of the UK's youngest-ever world champions, and is already the interim WBO holder. - Hard-hitting Braehmer comes to the UK as a world class talent and bona fide world champion.
"This will be one of the best shows that I have ever put together," said Warren.
"The super-middleweight division has always had a special place in the hearts of the British public.
"I promoted some great champions in Joe Calzaghe, Chris Eubank, Steve Collins and Nigel Benn, but I believe DeGale can be better than all of them. - "This fight against Groves will be an absolute war though, and it's a massive test. It reminds me of all those great fights we had between Benn, Eubank, Collins and Calzaghe.
"Not only are the British and Commonwealth titles on the line, but pride is as well, and that makes this is a very special occasion.
"Let's not forget Cleverly and Braehmer as well because that's one hell of a fight too. - "Nathan Cleverly is one of our best prospects and this is his chance to make a massive statement. "And who knows, one day he might end up fighting James DeGale or George Groves up at light-heavy."
Warren has previously promoted two blockbuster cards at the O2, selling out the 20,000 capacity arena when Enzo Maccarinelli and David Haye fought for three world cruiserweight titles.
20 Jan 2011
Nathan Cleverly to get a shot at Jurgen Braehmer's WBO light heavyweight title. The Welshman Nathan Cleverly has been waiting in the wings since beating Karo Murat in an eliminator last year and now has the opportunity to meet with Cardiff and London possible venues.
Jurgen Braehmer has been described as a bit of a bully – a beefy version of middleweight plodder Sebastian Sylvester. Nathan Cleverly a maths graduate enjoyed a successful 2010 by winning the European title and becoming WBO "interim" champion last December.
The 23-year-old had faced a wait to challenge Braehmer for the full title as he was scheduled to meet Beibut Shumenov in a unification bout this month.
However, Braehmer had to pull out of that contest with illness and now must instead meet Cleverly or be stripped of his belt.
Nathan Cleverly Tickets
- More
Nathan Cleverly
Ticket and Fight news -
Register now
Jürgen Brähmer vs Nathan Cleverly in a great double bill event London O2 Arena 21 May 2011 - VIP Hospitlaity and other great boxing ticket packages - Too good to miss
Event Travel Ltd · Ground Floor Suite, The Paddocks, 347 Cherry Hinton Road, Cambridge, CB1 8DH |
Telephone +44 (0) 8444 721 222
|
Fax + 44 (0)1223 506 558
|
© 2010 Email
|
Site overview