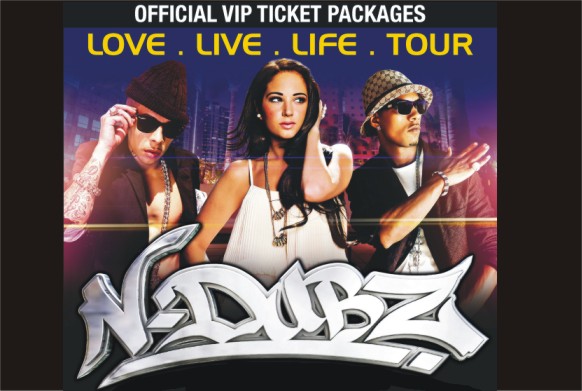 N-Dubz Tour dates 2011 - N-Dubz VIP Packages

N-Dubz are back on tour in 2011. N-Dubz will play 13 dates across the country with their Love Live Life Tour. Event Travel are delighted to offer N-Dubz fans exclusive N-Dubz Meet and Greet Ticket Packages and N-Dubz VIP Platinum Ticket Packages or Gold Ticket Packages. See Dappy, Tulisa and Fazer live in concert in 2011
Pre-sale begins 8 December 2010

Register for N Dubz Tickets and Tour News
N-Dubz

Location

Meet & Greet

Platinum
Gold
N-Dubz Tickets
12 April
Margate - Winter Garden

N-Dubz Tickets
13 April
Grimsby - Auditorium

N-Dubz Tickets
14 April
Doncaster - Dome

N-Dubz Tickets
16 April
Belfast - Waterfront

-

N-Dubz Tickets
17 April
Dublin - Olympia Theatre

-

N-Dubz Tickets
19 April
Nottingham - Concert Hall

-

N-Dubz Tickets
21 April
Glasgow - SECC

N-Dubz Tickets
22 April
Newcastle - Arena

N-Dubz Tickets
23 April
Bournemouth - BIC

N-Dubz Tickets
24 April
Plymouth - Pavilions

N-Dubz Tickets
26 April
Brighton - Centre

N-Dubz Tickets
28 April
Manchester - M.E.N

N-Dubz Tickets
29 April
Birmingham - LG Arena

N-Dubz Tickets
30 April
London - O2 Arena

N-DUBZ VIP Meet and Greet Package includes:

General Admission Standing Ticket (Seated ticket in Nottingham)
Early Entry
Exclusive access to pre-show Sound Check
Exclusive Meet and Greet with N-Dubz
Collectible Autographed Laminate
On site event hosts

PRICE from £199 - £215 excluding VAT

N-DUBZ VIP Platinum Package includes:

General Admission Standing Ticket (Seated ticket in Nottingham)
Early Entry
Entry to Sound Check
Collectible Platinum Wristband
On site event hosts

PRICE from £99 - £115 excluding VAT

N-DUBZ Gold Ticket Package includes:

General Admission Standing Ticket
Early Entry

PRICE £55 excluding VAT
N-Dubz BEST BEHAVIOUR available to Pre-Order now - N-Dubz new single 'Best Behaviour' is now available to pre-order on iTunes.

29 Nov 2010
N-Dubz Love.Live.Life - OUT TODAY! The brand new album by N-Dubz 'Love.Live.Life' is out Today!
Register for N Dubz Tickets and Tour News
N Dubz - N-Dubz Tour Dates
Sun 18 Jul, 2010
Magaluf - BCM
Wed 28 Jul, 2010
Ibiza - Es Paradis
Wed 18 Aug, 2010
The Summer Blow Out - Dublin, Ireland - Donnybrook Stadium
Thu 19 Aug, 2010
Cork, Ireland - Savoy, Cork
Fri 20 Aug, 2010
Ennis - Queens Nightclub
Sat 21 Aug, 2010
Worksop - Clumber Park
Fri 24 Sep, 2010
London - The Royal Albert Hall
Sun 26 Sep, 2010
Faversham, Kent - Willow Farm
N Dubz recent tour was a fantastic fan experience and the N Dubz VIP Package was a real treat to see Dappy, Tulisa and Fazer back-stage including attending the sound-check and to meet in person. - Their show was fast-paced with great music and superb set and treated their fans to some great dance scenes including a pillow fight and cool costume changes. The talent of this band offers appeal to a wide audience. Recent Reviews at their Leeds gig by the Guardiian included " With sexy numbers for Tulisa and weirdly Robert Mugabe-ish military-dictator chic for Fazer, they're edgier and funnier than rivals JLS. Shoulda Put Something On convincingly warns about teenage pregnancy, but Dappy causes uproar when he picks up a hurled bra and makes another hat. The party atmosphere chills just once, when he refers to his late father-manager (and Tulisa's uncle), Byron Contostavlos. In front of the former Mungo Jerry member's smiling image, Papa Can You Hear Me? provides an unexpectedly touching moment all ages could understand.

Register for N Dubz Tickets and Tour News

More N Dubz Tours 2010 include:-
WEEKEND AT WILLOW WITH N-DUBZ, WILEY, EAST 17, BANANARAMA, LEE RYAN, CHESNEY HAWKES, ASWAD, LIZ MCCL
Willow Farm Equestrian Centre, Faversham
When: 29TH-30TH MAY, doors at 12:00, starts at 12:00
Walsall F.C.
UB40, N-DUBZ, TINCHY STRYDER WITH NEVILLE STAPLES OF THE SPECIALS, THE BEAT, THE SELECTOR
Walsall MON 31/05/2010 14:00
WAKESTOCK
Abersoch North Wales 2ND-4TH JULY 10:00
N-DUBZ Somerset House Strand, London, WC2 SUN 11/07/2010 20:00
Previous N Dubz Tour Packages with Event Travel n dubz concert tickets
N Dubz VIP Package

includes:-
GA Standing Ticket or *Reserved Seat in the first 5 rows or Front Standing subject to venue
VIP Entrance
VIP Collectible Laminate
Exclusive access to pre-show Sound Check
Exclusive Meet and Greet with NDubz before the show (limited VIP Pass)
Itineraries and Pack sent out before the show
On site event hosts
N-Dubz are a highly talented rap trio from London, England staring Dappy, Tulisa and Fazer , who won a MOBO Award in 2007 for Best U.K. Newcomer before signing to the dance label All Around the World Records and releasing their full-length album debut, Uncle B (2008). Comprised of Dino "Dappy" Contostavlos, Tula "Tulisa" Contostavlos, and Richard "Fazer" Rawson, N-Dubz are based in the Camden Town area of London and originally met as schoolmates. Originally calling themselves as the "Lickle Rinsers Crew," the three began its recording career with underground releases such as "Bad Man Riddim" and "Life Is Getting Sicker by the Day" that were intended for pirate radio play. After changing their name to N-Dubz, the group began to experience modest chart success with the independently released singles "You Better Not Waste My Time" (2006), "I Swear" (2006), and "Feva Las Vegas" (2007) on LRC Records. These early singles earned N-Dubz a 2007 MOBO Award for Best U.K. Newcomer, followed by a short-lived recording contract with Polydor Records. Around this same point in time, "You Better Not Waste My Time" (the group's only release on Polydor) was reissued as a single and became their first hit to break into the Top 50, rising all the way to number 26 on the U.K. singles chart. In late 2008, after some time away from the limelight, N-Dubz signed a new recording contract, this time with the dance label All Around the World. "Ouch" was released as the lead single from the group's full-length album debut, Uncle B; both were major commercial success, charting number 22 and 11 respectively on the U.K. charts. Subsequent singles "Papa Can You Hear Me?" and "Strong Again" also proved popular. ~ Jason Birchmeier, Rovi - NDubz are a talented trio and provide NDubz fans with a fantastic live show - Register for N Dubz Tickets and Tour News N Dubz concert tickets N Dubz Lyrics
N DUBZ AGAINST ALL ODDS TOUR

N-Dubz at Royal Albert Hall, London, England - Sep 24 2010

N-Dubz at Weston-super-Mare Beach, Weston-super-Mare, England - Jul 3 2010
N-Dubz at HMV Hammersmith Apollo, London, England - Apr 17 2010
N-Dubz at Manchester Apollo, Manchester, England - Apr 9 2010
N-Dubz at O2 Academy Liverpool, Liverpool, England - Apr 8 2010

N-Dubz at O2 Academy Birmingham, Birmingham, England - Apr 7 2010
N-Dubz at O2 Academy Leeds, Leeds, England - Apr 6 2010

N-Dubz at O2 Academy Glasgow, Glasgow, Scotland - Apr 4 2010
N-Dubz at Derby Assembly Rooms, Derby, England - Apr 2 2010
N-Dubz at O2 Arena, London, England - Dec 5 2009

N-Dubz at Radio 1's Big Weekend, Swindon, England - May 10 2009
N-Dubz at IndigO2, London, England - Apr 19 2009
N-Dubz at Southampton Guildhall, Southampton, England - Apr 10 2009

N-Dubz at O2 Academy Birmingham, Birmingham, England - Apr 9 2009
N-Dubz at O2 Academy, Liverpool, England - Apr 6 2009
N-Dubz at ABC Glasgow, Glasgow, Scotland - Apr 3 2009
N-Dubz at Concorde 2, Brighton, England - Mar 28 2009
N-Dubz at Wulfrun Hall, Wolverhampton, England - Mar 27 2009
Typical n Dubz Setlist:-
1.I Swear Play Video
2.Better Not Waste My Time Play Video
3.Feva Las Vegas Play Video
4.Eye of the Tiger (Guitarist Solo) Play Video
5.Strong Again Play Video
6.Defeat You Play Video
7.Ndubz Vs Naa Play Video
8.Public Transport (Video Interlude) Play Video
9.Love for My Slum Play Video
10.Wouldn't You Play Video
11.Secrets Play Video
12.Torn (Natalie Imbruglia Cover, Tulisa Solo) Play Video
13.Drummer Vs. DJ (Interlude) Play Video
14.Sex (Dappy and Fazer only) Play Video
15.Don't Get Nine Play Video
16.About You Now/With You (Sugababes and Chris Brown Cover Medley) Play Video
17.Ouch Play Video
18.Papa Can You Hear Me? Play Video
19.Number 1 - with Tinchy Stryder Play Video
N Dubz Tour Stats - Set Play
Secrets Play Video 7

Against All Odds (Intro) Play Video 7

No One Knows Play Video 7

Don't Get Nine Play Video 7

The Man Who Can't Be Moved (The Script cover) Play Video 7

Better Not Waste My Time Play Video 7

Breakeven (The Script cover) Play Video 7

Feva Las Vegas Play Video 7

Comfortable Play Video 7

Defeat You Play Video 6

Eye of the Tiger (Guitarist Solo) Play Video 5

Number 1 - with Tinchy Stryder Play Video 5

Public Transport (Video Interlude) Play Video 5

Torn (Natalie Imbruglia Cover, Tulisa Solo) Play Video 5

Drummer Vs. DJ (Interlude) Play Video 5

Sex (Dappy and Fazer only) Play Video 5

Na Na (Feat Skepta) Play Video 5

Duku Man Skit Play Video 5

About You Now/With You (Sugababes and Chris Brown Cover Medley) Play Video 5

Costume Change Play Video 4

Public Transport (skit) Play Video 2

Sex Play Video 2

Na Na (featuring Skepta) Play Video 2

Duku Man Skit (featuring Fearless) Play Video 2

I Don't Wanna Go To Sleep Play Video 2

Defeat You (Performed with Tinchy Stryder at select dates Or Chipmunk as a surprise on some dates) Play Video 1

Torn (Natalie Imbruglia cover) Play Video 1

How I Feel About You Now (Sugababes cover) Play Video 1

Papa Play Video 1

Number One Play Video 1

About You Now - Sugababes cover Play Video 1

With You - Chris Brown cover. Altered lyrics Play Video 1

Say Its Over Play Video 1

Number 1 Play Video 1
Event Travel Ltd · Ground Floor Suite, The Paddocks, 347 Cherry Hinton Road, Cambridge, CB1 8DH |
Telephone +44 (0) 8444 721 222
|
Fax + 44 (0)1223 506 558
|
© 2010 Email
|
Site overview