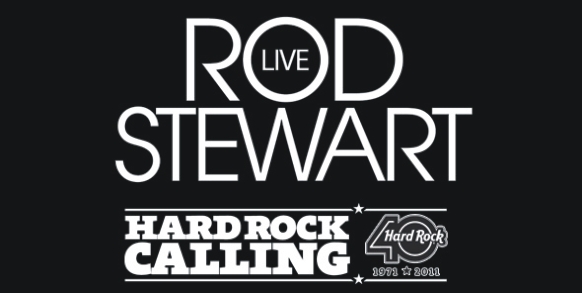 Book Rod Stewart Live Packages
-
Rod Stewart Platinium Tickets
-
Rod Stewart VIP Tickets
-
Rod Stewart Club Tickets
Living legend Rod Stewart has confirmed that he will headline Hard Rock Calling on Sunday 26 June.
With a career spanning nearly half a century, seven number-one hit singles and a further 27 top-ten albums in the UK alone, Rod Stewart is cemented in history as one of the biggest selling artists of all time, and is now set to grace the stage in what marks his first appearance at London's Hard Rock Calling 2011. - See Rod Stewart Live in London 2011
Stevie Nicks will be joining headliner Rod Stewart, both Stewart and Nicks are currently in rehearsal for their upcoming "Heart & Soul" US Tour. The upcoming appearances of Stewart and Nicks at this year's Hard Rock Calling join a long line of rock 'n' roll greats that have taken to the stage at this iconic location. Past acts have included Bruce Springsteen, Paul McCartney, Pearl Jam, Neil Young, The Who, Eric Clapton, Stevie Wonder, Aerosmith, Peter Gabriel, The Killers and The Police, who created what is now identified as the "must see" concert event on the UK festival circuit.
Event Travel are delighted to be able to offer exclusive Rod Stewart Hospitality Packages - Platinum, VIP and Club Experience. Hard Rock Calling with Rod Stewart Ticket & Hotel Packages also available
Hard Rock Calling

Venue

Package

Book Now

Rod Stewart Tickets

26 June

Hyde Park London
Platinum Experience

Rod Stewart Tickets

26 June

Hyde Park London
VIP Experience

Rod Stewart Tickets
26 June
Hyde Park London
Club Experience

Rod Stewart Tickets
26 June
Hyde Park London
Hotel & Ticket Package

Rod Stewart 'Platinum Experience' Ticket Package includes:

Part 1 – 'Handbags & Gladrags' at Harvey Nichols

Two and half hour reception at Harvey Nichols in Knightsbridge
A welcome glass of champagne followed by a specially created cocktail
Delicious canapés at the luxurious 'Fifth Floor' Bar
Full complimentary bar
Gourmet bowl food
Commemorative Hard Rock Calling Platinum laminate pass
Event staff and hostesses in attendance throughout

Part 2 - Hyde Park

One day ticket to Hard Rock Calling to see Rod Stewart headlining
VIP grandstand seating (tiered and reserved)
Private entrance to concert site
Exclusive chill-out area with undercover facilities and garden seating (Chill out area is located to the side of the stage; you are unable to view the acts performing from this area).
Resident DJ
Luxury private restrooms
BBQ with hot & cold food platters
Complimentary bar offering beer, wine and soft drinks
Commemorative VIP pass
Event staff and hostesses in attendance throughout

PRICE £481 per person excluding VAT

---

Rod Stewart 'VIP Experience' Ticket Package includes:

One day ticket to Hard Rock Calling to see Rod Stewart headlining
VIP grandstand seating (tiered and reserved)
Private entrance to concert site
Exclusive chill-out area with undercover facilities and garden seating (Chill out area is located to the side of the stage; you are unable to view the acts performing from this area).
Resident DJ
Luxury private restrooms
BBQ with hot & cold food platters
Complimentary bar offering beer, wine and soft drinks
Commemorative VIP pass
Event staff and hostesses in attendance throughout

PRICE £285 per person exluding VAT

---

Rod Stewart 'Club Experience' Ticket Package includes:

One day ticket to Hard Rock Calling to see Rod Stewart headlining
Choice of General Admittance ticket or access to the Golden Circle
Private entrance to concert site
Exclusive chill-out area with undercover facilities and garden seating (Chill out area is located to the side of the stage; you are unable to view the acts performing from this area).
Resident DJ
Luxury private restrooms
BBQ with hot & cold food platters
Private cash bar facilities
Commemorative Club pass
Event staff and hostesses in attendance throughout

PRICE from £174 - £219 per person exluding VAT

---

Rod Stewart Ticket & Hotel Package includes:

General Admission Ticket
One Nights hotel accommodation
Buffet breakfast

PRICE from £169 per person
Rod Stewart Tour dates 2011 - Rod Stewart Concert dates London Hyde Park - Hard Rock Calling
Event Travel Ltd · Ground Floor Suite, The Paddocks, 347 Cherry Hinton Road, Cambridge, CB1 8DH |
Telephone +44 (0) 8444 721 222
|
Fax + 44 (0)1223 506 558
|
© 2010 Email
|
Site overview