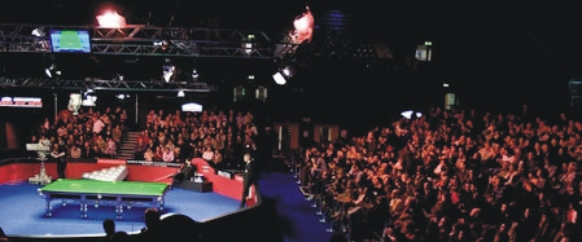 World Snooker Events Calender World Snooker Rankings

22 July 2010
Important Snooker Ticket News and VIP Snooker Ticket Packages - POWER SNOOKER LONDON INDIGO2 ON SALE FRIDAY 23 JUL more info
The world's best players go head to head in the global premiere of the NEW and EXPLOSIVE phenomenon that is Power Snooker ©2010 . TELEVISED in front of a live audience, the event features world class players such as Ronnie O'Sullivan, Ding Junhui, Neil Robertson, Allister Carter - be prepared for snooker as you have never seen it before. Private and Shared Tables of 8 & 10 persons available more info
Rules Of Power Snooker

The rules of the traditional game of snooker apply, subject to the following variations:
VIP POWER SNOOKER TICKET PACKAGES
Barry Hearn Happy with Start To Season and rumours of World Cup For Snooker - Following the first two Star Xing Pai Players Tour Championship events, Barry Hearn, Chairman of World Snooker, is said to be delighted at the successful start to the 2010/11 World Snooker Season.
18 May 2010
Snooker chief Barry Hearn believes the sport's close cousin of Twenty20 cricket could upset purists but bring a new generation of fans to the sport. Hearn has confirmed a one-frame knock-out event will take place in January next year, titled the World Snooker Shoot-Out. The three-day tournament will feature the world's top 64 players, who will all be subject to a 20-second shot clock and frames lasting a maximum of 12 minutes. There will also be a random draw, which could see top players paired together in the early rounds, and the tournament will be televised by Sky - the first time the broadcaster has shown a World Snooker event since 2004. 'It will be snooker at full throttle, testing the players to the limits of what they can do under pressure,' said World Snooker chairman Hearn.

Snooker stars Ronnie O'Sullivan and Steve Davis have expressed their excitement about the new tournaments on the expanded World Snooker calendar for the coming season.
In recent weeks, World Snooker, led by Chairman Barry Hearn, have added to the calendar a ranking event in Germany, a quick-fire Shoot-Out to be televised by Sky and a World Seniors Championship as well as the Player Tour Championship, a series of 12 short events culminating in a televised finale.
The calendar now consists of 24 snooker events, 20 of which will have world ranking points on offer for the players. Three-times World Champion O'Sullivan said: "It's great to see new ideas for the game. Barry is already delivering on his promises and I'm positive that there will be more to come."
Masters Snooker, World Snooker, Snooker Championship, Snooker Tickets, Snooker news, Snooker World Championship
Register now for some exciting snooker packages
World Snooker Rankings
1. John Higgins
2. Neil Robertson
3. Ronnie O'Sullivan
4. Allister Carter
5. Ding Junhui
6. Stephen Maguire
7. Shaun Murphy
8. Mark Williams
9. Mark Selby
10. Mark Allen
11. Stephen Hendry
12. Ryan Day
13. Graeme Dott
14. Marco Fu
15. Mark King
16. Liang Wenbo
17. Jamie Cope
18. Peter Ebdon
19. Joe Perry
20. Ricky Walden
21. Barry Hawkins
22. Steve Davis
23. Stephen Lee
24. Michael Holt
25. Matthew Stevens
26. Mark Davis
27. Judd Trump
28. Gerard Greene
29. Stuart Bingham
30. Ken Doherty
31. Dave Harold
32. Andrew Higginson
33. Mike Dunn
34. Rory McLeod
35. Stuart Pettman
36. Robert Milkins
37. Jamie Burnett
38. Nigel Bond
39. Joe Swail
40. Marcus Campbell
41. Tom Ford
42. Anthony Hamilton
43. Martin Gould
44. Adrian Gunnell
45. Dominic Dale
46. Alan McManus
47. Fergal O'Brien
48. Ian McCulloch
49. Rod Lawler
50. Peter Lines
51. Matthew Selt
52. Michael Judge
53. Andy Hicks
54. Tony Drago
55. David Gilbert
56. Jimmy Michie
57. Barry Pinches
58. Mark Joyce
59. David Morris
60. Jimmy White
61. Joe Delaney
62. Bjorn Haneveer
63. Jimmy Robertson
64. Paul Davies
65. John Parrott
66. Simon Bedford
67. Jin Long
68. James Wattana
69. Matthew Couch
70. Patrick Wallace
71. Anda Zhang
72. Shailesh Jogia
73. Michael White
74. Ben Woollaston
75. Xiao Guodong
76. Sam Baird
77. Craig Steadman
78. Thepchaiya Un-Nooh
79. David Gray
80. Lee Spick
81. Li Hang
82. Liu Song
83. Daniel Wells
84. Noppadol Sangnil
85. David Hogan
86. Atthasit Mahitthi
87. Brendan O'Donoghue
88. Mark Boyle
89. Mei Xiwen
90. Jordan Brown
91. Stephen Rowlings
92. Christopher Norbury
93. David Roe
94. Lee Page
95. Ian Preece
96. Andrew Norman
World Snooker Events Calender
2010/11 SEASON
World Seniors Snooker Championship Qualifiers 28-30 May 2010, Cue Gardens Bradford.
German Masters 2-6 February, Tempodrom, Berlin
World Open 18-26 September, SECC, Glasgow
Snooker Dates 2010
The Pokerstars.com Masters January 10-17, 2010 Wembley Arena
totesport.com Welsh Open Qualifiers January 19-22, 2010 Pontin's Prestatyn
totesport.com Welsh Open January 25-31, 2010
Sanyuan Foods 2010 World Snooker China Open Qualifiers February 2-5, 2010 Pontin's, Prestatyn
Pro Challenge 5 February 16-18 George Scott Snooker Club in Liverpool
Betfred.com World Snooker Championship Qualifiers February 26 - March 9
English Institute of Sport - Sheffield Sanyuan Foods 2010 World Snooker China Open March 29 - April 4, 2010
Beijing Students University Stadium April 2010
Betfred.com World Snooker Championship April 17 - May 3, 2010 The Crucible Theatre, Sheffield
Snooker Dates 2009
Roewe Shanghai Masters Qualifiers - August 3-6, 2009 Pontin's Prestatyn
Pro Challenge 2 - Super Sixes August 31 - September 1 Pontin's, Prestatyn
Roewe Shanghai Masters September 7-13, 2009
Grand Prix Qualifiers September 21-24, 2009 Pontin's, Prestatyn
Grand Prix October 3-11, 2009
Pokerstars.com Masters Qualifiers October 26-29, 2009 Pontin's, Prestatyn
Pro Challenge 3 Willie Thorne Snooker Centre, Leicester November 9-11
Pukka Pies UK Championship Qualifiers November 23-30, 2009 Pontin's Prestatyn
Pukka Pies UK Championship December 5-13, 2009 Telford International Centre
"We've had a great start so far! The support for the events from the players has been really strong and interest is growing. At each event we are seeing more and more of the top players competing," said Hearn. "We're giving them more chances to play and win prize money, which is exactly what they want!"
Nine reds are racked in a diamond, with the point of the diamond next to the pink.
The middle red is the PowerBall, once potted, this triggers a two minute PowerPlay during which every ball potted counts double – if a shot is missed during a PowerPlay, the clock stops and the player's opponent inherits the remaining time.
Each game lasts half an hour; the clock starts when the reds are broken, and stops as the final black of each frame is potted.
A shot clock limits players to twenty seconds for each shot.
If the twenty second shot clock is exceeded, there is a 20 point penalty and the player still has to take the shot.
Points count, frames don't. The most points scored after half an hour wins.
When a player breaks, two or more reds must hit a cushion otherwise the player's turn ends.
The area behind the baulk line is the PowerZone – if the cue ball is struck from within the PowerZone, any colour potted counts for double and during a PowerPlay, quadruple.
A century break in any frame is worth 50 bonus points. If this is repeated in the next frame, 100 bonus points. If this is repeated in the third frame, 200 bonus points.
The "ball in hand" principle applies following a foul shot. The cue ball can be positioned anywhere in the PowerZone.
The game will end after the half hour playing period and the player with the most points wins.
Event Travel Ltd · Ground Floor Suite, The Paddocks, 347 Cherry Hinton Road, Cambridge, CB1 8DH |
Telephone +44 (0) 8444 721 222
|
Fax + 44 (0)1223 506 558
|
© 2010 Email
|
Site overview