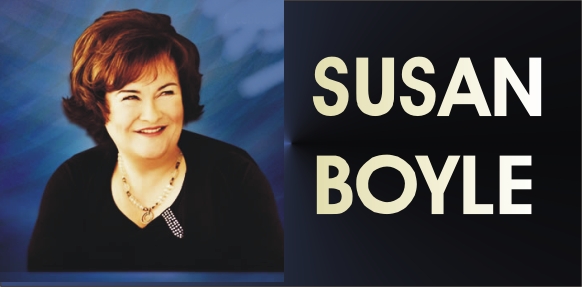 Susan Boyle Tickets
Susan Boyle Tickets more info coming soon Register Now

SUSAN BOYLE

Latest News 2011
Susan Boyle is currently working on a new album for 2011. There is wide-spread speculation that a tour is being prepared with a limited number of dates across the UK and Europe. Susan Boyle tickets will, no doubt, be in huge demand as her live performances have been extremely limited since her meteoric rise to fame.
Susan Boyle Tickets
No tickets are available right now for Susan Boyle - but why don't you register with us and sign up for the Event Travel newsletter to be among the first to hear about any new developments!

Susan Boyle Tickets and more Susan Boyle Tour info coming soon Register Now

Most notable moment to date
Susan Boyle's album reached Number One in the UK, Australia, Canada, Greece, Ireland, The Netherlands, New Zealand, Switzerland and the United States of America.

Sign up here for information on upcoming on-sale dates, times and venue information. Be the first to know when Susan Boyle tickets go on sale! Since all Susan Boyle tickets on Event Travel would be sold only as officially sanctioned tickets, you can rest assured that your purchase will be 100% guaranteed.
Susan Boyle's first album, I Dreamed a Dream, was released on 23 November 2009 and became Amazon's best-selling album in pre-sales.According to Billboard, "The arrival of I Dreamed a Dream ... marks the best opening week for a female artist's debut album since SoundScan began tracking sales in 1991. In only six weeks of sales, it became the biggest selling album in the world for 2009, selling 9 million copies.In September 2010, Susan Boyle was officially recognised by Guinness World Records as having had the fastest selling debut album by a female artist in the UK, the most successful first week sales of a debut album in the UK, and was also awarded the record for being the oldest person to reach number one with a debut album in the UK.

In the U.S., the album sold 701,000 copies in its first week, the best opening week for a debut artist in over a decade. It topped the Billboard chart for six straight weeks and although it narrowly failed to become the best-selling album of 2009, with sales of 3,104,000 compared to 3,217,000 for Taylor Swift's Fearless, it was one of only two albums to sell over 3 million copies in the U.S., and was also the top selling "physical" album of 2009, with only 86,000 of its sales coming from digital downloads.

In Italy, it was the first album of the month in the Italian #1 Account by a non-Italian artist ever. In only a week, it already sold more than 2 million copies worldwide, becoming the fastest selling global female debut album.

The Susan Boyle concert tour in November in the US was used as a vehicle for the release of her album. There was incredible demand both in the US and the UK for Susan Boyle tickets. On 13 December 2009 she appeared in her own television special "I Dreamed a Dream: the Susan Boyle Story", featuring a duet with Elaine Paige. It got ratings of 10 million viewers in the United Kingdom and in America was the TV Guide Network's highest rated television special in its history.

Boyle performed for Pope Benedict XVI on his tour of Britain in 2010

A biopic is being made starring Glenn Close as Susan Boyle.

Susan Boyle performing live.
Event Travel is your connection to everything surrounding Susan Boyle concerts. Here you can buy Susan Boyle concert tickets and get up to date information on Susan Boyle tour dates
Susan Boyle Tickets and more Susan Boyle Tour info coming soon Register Now