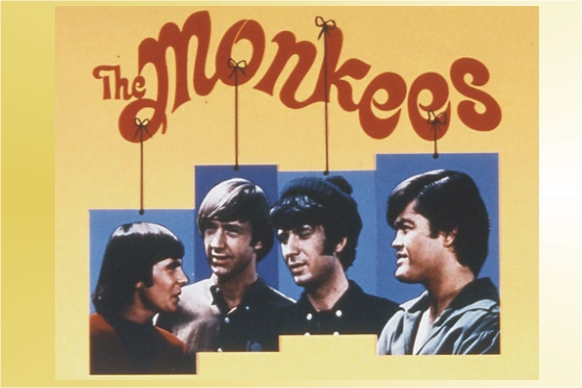 The Monkees
The Monkees former pop rock group were a huge draw in their " Hey "Day!. Based in Los Angeles they evolved in 1966 by Robert "Bob" Rafelson and Bert Schneider for the American television series The Monkees, which aired from 1966 to 1968. The band comprised of Americans Micky Dolenz, Michael Nesmith and Peter Tork, and Englishman Davy Jones. The band's music was initially supervised by producer Don Kirshner.
At the time its producers saw The Monkees as a Beatles-like band. At the start, the band members provided vocals, and were given some performing and production opportunities, but they eventually their hard fought talent allowed them the right to collectively supervise all musical output under the band's name. The Monkees went out on several tours as a live band as well as on the hit TV series. Although the TV show cam to an end in 1968, the band continued releasing hits until 1970. The group reached the height of fame from 1966 to 1968, and influenced many future artists. In 1986, the television show and music experienced a revival, which led to a series of reunion tours, and new records featuring various incarnations of the band's lineup. The Monkees as a band went on to sell 50 million records worldwide.
The Monkees had many international hits which are still played today the most famous being "I'm a Believer", "(I'm Not Your) Steppin' Stone", "Daydream Believer", "Last Train to Clarksville", and "Pleasant Valley Sunday".
Former "Monkees" lead singer Davy Jones has been quoted as saying they may look to reform with a tour in 2011.
For more The Monkees Tickets and Tour News more Register Now
Meet Micky Dolenz - Micky Dolenz is appearing in the award winning Hit Musical Hairspray - In recent years, Micky has appeared in theatre reproductions such as Hairspray, Pippin; Aida; A Funny Thing Happened on the Way to the Forum Grease; The Wonder Years; Remains to be Seen; The Point; Tom Sawyer His Film and TV credits include Rob Zombie's Halloween(MGM); The New Love Bug (Disney); The Brady Bunch(Paramount); Deadfall (Trimark) and Head (Columbia)., Gone Country 3; Drew Carey Show; Ben Stiller Show; Boy Meets World; Pacific Blue; Days of our Lives; and As The World Turns.
Micky has just released a new CD, King for a Day, a tribute to the songs of Carole King.
For more info on these special Micky Dolenz Meet and Greet Experience packages