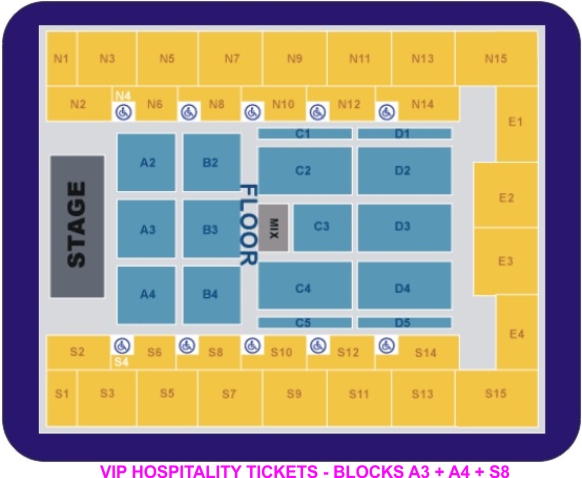 Wembley Arena Peace One Day
Address
Empire Way, Wembley
Middlesex
HA9 0DW

Directions
Car Parking Extensive open air and multi-storey car parking is available at the venue on a "pay-on-entry" basis. Public Transport Nearest British Rail - Wembley Central, Wembley Stadium. Nearest Tube - Wembley Park, Wembley Central.(Metropolitan & Jubilee Lines) STATION TIMETABLES – Due to the ongoing redevelopment works at all 3 Wembley stations, there may be changes to tube and train travel. For up-to-date details contact London Transport on 020 7222 1234; National Rail Enquiries 08457 48 49 50 24Hrs) Bus Transport Wembley Arena is served by bus numbers 79.83 92 and 182.

Information
Wembley Arena - One of the UK's famous live music venue first opened in 1934 as the Empire Pool and Sports Arena hosting the 1948 Olympics and numerous sporting and musical events. 73 years and a £35 million refurbishment later, the venue has been renowned for live music, for some of the famous tours and major recording artists each year. Wembley Arena has played host to some of the greatest music acts of all time, but is also well known as a sports and entertainment venue. Playing host to ice skating shows such as Disney on Ice, Holiday on Ice and Dancing on Ice, family events such as CBeebies and Thomas the Tank Engine and even becoming a luxury equestrian centre for the pampered horses of the Spanish Riding School. Audley Harrison and Amir Khan have both boxed at the venue recently and Masters Snooker retains it's historic links with Wembley following it's move from the Conference Centre last year. The Arena continues to play host to the greatest global recording artists, most popular sporting personalities and most enchanting children's shows and is looking forward to celebrating it's 75th anniversary in 2009!