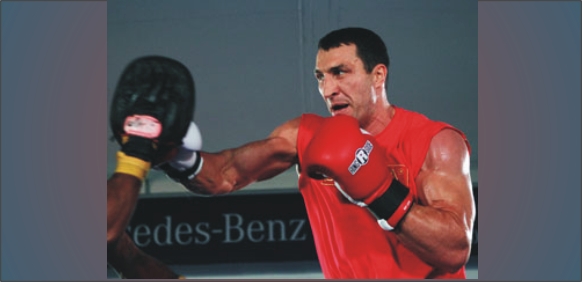 Wladimir Klitschko
Register Now for Wladimir Klitschko Ticket Packages and Boxing News

20/01/2011
The wait is finally over Klitschko vs Haye to take place on 02 July in Hamburg football stadium in Germany. The unification bout between IBF/WBO heavyweight champion Wladimir Klitschko (55-3, 49 Ko's) and WBC heavyweight champion David Haye (25-1, 23 KO's) has finally been agreed. The fight is now reportedly taking place at the 57,000 seat soccer stadium in Hamburg, Germany.
There had been a rumoured a number of other locations in Europe USA, UAE and Russia that were also considered but the strong contender was always Germany due to Wladimir's as fan base. Haye, a relative newcomer to the heavyweight division has only one title compared to Wladimir's two and is the lilkely underdog against 6'6" Ukrainian. We will see!
David Haye says he plans on retiring by his 31st birthday in October if he wasn't to fight both Klitschko brothers by then. This said this is a big jump for David Haye and could put in jeopardy his plans should he lose and he would also perhpas miss out on the oppoortunity with Vitali Klitschko.

Register Now for Wladimir Klitschko Ticket Packages and Boxing News

24/03/2011
Haye vs Klitschko - Reports coming says Moscow Makes a Bid of $10 Million
Numerous countries are bidding for the right to host the heavyweight unification between champions Wladimir Klitschko [IBO/WBO/IBF] and David Haye [WBA] It is reported that one contender, Moscow is very keen with a supposed bid of $10 million! The fight is going to happen on June 25 or July 2. Although several countries are bidding, the fight is still favorite to take place in Germany.

Register Now for more Wladimir Klitschko Ticket Boxing News

Wba champion Haye is signed to fight IBF-WBO holder Wladimir in a unification title fight that now looks set to take place on July 2 rather than June 25.
Whilst it is rumoured German football grounds in Gelsenkirchen, Dusseldorf and Frankurt are under consideration for the bout, six other countries are also battling it out to host boxing's biggest showdown this year: Russia, the UAE, Monaco, Switzerland, South Africa and America.
Booth discussed venues with Germany-based Klitschko's manager Bernd Boente and they fly to New York to talk to American broadcasters HBO and Showtime this week.
He said: "I think it will be wrapped up in the third week of April and it will be in Europe. It's taking a while to do as there are so many offers and venues to consider.
"Ideally the venue will be in Europe and indoors because we don't want to have to worry about rain.
"It's a bigger fight now than it was two years ago when David pulled out. Wladimir or Vitali have not had a fight as big as this before. When Vitali fought Lennox Lewis he was a late substitute remember and it wasn't a massive fight.
"There is no other fight as big as fighting David, so why would it not happen? It's as about as personal a fight as David has ever had."
Boente insists Wladimir will have recovered from the stomach muscle injury that forced him to pull out of defending his belts against Londoner Dereck Chisora on April 30.
He said: "I think he'll be fit. He'll start his training in mid-April or the start of May. We are waiting on different offers from venues.
"It could take place in Germany and there are two other options. It would be in a European time zone."
Haye's fight with Wladimir is needed to boost the credibility of an ailing heavyweight division which took another blow with Vitali's one-round win over Cuban Odlanier Solis.
Solis, 30, lost his unbeaten record when a glancing blow caused him to lose balance and stagger backwards, injuring his left knee in the process. The 2004 Olympic gold medallist crumbled to the canvas and his corner declared a suspected cruciate knee ligament injury meant he could not continue.
Scans yesterday reportedly showed Solis had torn a cruciate ligament.

07 March 2011
Wladimir Klitschko heavyweight unification showdown with David Haye is on after finally signing to meet his Ukrainian rival over the weekend.

Haye has agreed for the fight to be in Germany, with his WBA title and Klitschko's IBF and WBO belts on the line following years of on-off talks. If David Haye returns victorious against 34-year-old Klitschko his sights will turn to Wladimir's older brother Vitali who retains his WBC title, they will then meet later this year with the undisputed linear heavyweight championship on the line. David Haye has always maintained he will then retire in October, when he turns 31.


Date and location should be announced in the coming days, with venues in Gelsenkirchen, Dortmund and Kaiserslautern in the fray.
Match details are still being finalised however early indications suggest will take place on either 25th June or 2nd July 2011. Event Travel will be offering ticket, hotel and package options for this log awaited showdown - Day Return Flight Package is also being worked on with celebratory drinks after match before flight home .....
Register Now for more Wladimir Klitschko Ticket Boxing News

There is even a Klitschko ' back-up plan' - David Haye will fight Vitali Klitschko if Wladimir fails to recover in time from an injury, the brothers' manager has confirmed so it will still be a Klitschko vs Haye in Germany.
----------------------------------------------------------------------------------------------------------------------------------
Klitschko Brothers - last name begins with "K" and ends in an "O" but that only just starts to describe the hard-hitting Klitschko Brothers. Vitali and Wladimir stand at 6-foot-8, the other 6-foot-7. Inside the ring they have a combined 70-2 with 66 KOs and already the only highest sibling's team in heavyweight boxing history. Bizarrely the Klitschko Brothers are both doctors. with charming personalities, usually very polite, disciplined, well mannered and acticulate. Klitschko Brothers speak four languages - English, German, Ukrainian and Russian. The blood brothers are extremely close they are forever in each other's corner, even for fights. They also possess a healthy rivalry which serves to encourage the other's competetiveness to excel and manitain their extreme performance.
Vitali (pronounced "Italy" with a "V" at the start) is 31. He is five years older and one inch taller than Wladimir. Vitali was born in Belovodsk (Kirghizia). Nicknamed "Dr. Iron Fist," he was the first to get a doctorate and was the first to a world title - the World Boxing Organization (WBO) heavyweight championship. He is 31-1 with 30 knockouts, 24 of the stoppages inside three rounds.
Wladimir, who was born in Semipalatinsk (Kazakhstan), is the current WBO heavyweight champion. The winner of the gold medal in the 1996 Olympic Games in Atlanta, Ga., is nicknamed "Steelhammer" for good reason. He is 39-1 with 36 knockouts, 27 of the knockouts coming inside three rounds. Wladimir captured the WBO title by soundly thrashing Chris Byrd, the southpaw boxer who won the title from Vitali in a bout stopped due to an injury.

When they were young boys, the brothers spent many years traveling throughout the Soviet Union with their father, Wladimir Rodionovich, an Air Force colonel, and their mother, Nadezhda (Nadia) Ulyanovna, a schoolteacher. They moved to the Ukraine in 1985.
Both showed interest in a variety of sports growing up. Vitali quickly settled on kickboxing and went on to win six kickboxing championships. Wladimir concentrated on boxing. Upon returning home after winning the Olympics gold medal, he was honored by the President of the Ukraine, Leonid Kuchma, and the Ukranian Minister of Defense, Alexander Kuzmuk.
The brothers started boxing in their early teens, Vitali at 13, Wladimir at 14.
"A trainer came to the school and asked who would like to box," Vitali said. "Everybody wanted to and everybody tried, and everybody went to train. A month later a few were left, and a year later only a couple people were left. At that point, I had the feeling that I could make something of myself as a boxer. Then, I really started to train.''
Wladimir Klitschko: "There were various reasons to box, like boredom, the chance to give me the opportunity to travel, but also because my brother was boxing.''
Fritz Sdunek, who is Germany's leading trainer, knew the brothers had potential.
"From the time they were amateurs, they were very good anatomically because they were very big and very good athletically," he said. "For their size, they were very quick with good reflexes. But when we took them on they fought in the Russian style and we needed to work on them so that they could fight more professionally. That was the most difficult thing for me at first.''
Both were extradinary amateurs. Vitali went 195-15 with 80 knockouts and was the 1995 Military world champion. Wladimir amassed a record of 134-6 and brought home the Olympic gold. After declining offers from many boxing promoters, including Don King, they turned professional for Klaus-Peter Kohl's Hamburg-based Universum Box-Promotion group in November 1996. Sdunek trains them both.
The Klitschko Brothers quickly became household names in the Ukraine, and heroes in their adopted homeland of Germany. They have represented Ukraine at numerous social and political events, including a presentation on the "New Ukraine" in Bonn, Germany, in May 1997.
Wladimir is quoted as having said "Many Europeans associate Ukraine with our pain - Chernobyl, and with our pride - the Kiev "Dinamo" soccer team, However, that country is rich in history and culture, talented people and great potential. We'd like the world to know our country better,''
The Klitschko Brothers established the International "Sport - the XXI century" fund. Its purpose was to support young, talented sportsmen, established coaches and sports veterans who need assistance. The opening ceremony took place in the Higher Physical Training School in Brovary, where Wladimir studied years before. The Klitschkos funded a new designed boxing gym.
Wladimir said. "I graduated from that school seven years ago," "The pleasure of being there was slightly clouded with the fact that nothing had changed for the last seven years. I saw the same old boxing ring where I was coached and the same equipment. I am glad we could change that.''
Vitali: "New equipment is good, but neither money or presents is a substitute for hard work and the desire to win. If anything, this should inspire the youth athletes who train here."
On Dec. 5, 1998, their "Sport - the XXI century'' staged a boxing card in Kiev. More than 12,000 fans were in attendance, including many students from boarding and sporting schools that were given complimentary passes by the Klitschkos. On a show in which nine million others watched on German and Ukraine television, Wladimir suffered his lone professional setback.
During a recent visit to the Ukraine, the brothers celebrated the 10th anniversary of the Ukraine's Independence Day.

21/03/2011
It is being reported
Wladimir Klitschko
vs
David Haye's
fight against could end up being held outside of Germany, with Moscow and the United Arab Emirates now being considered. Haye's manager/trainer
Adam Booth
was ringside in Cologne on Saturday to see Wladimir's elder brother Vitali defend his WBC world heavyweight title.