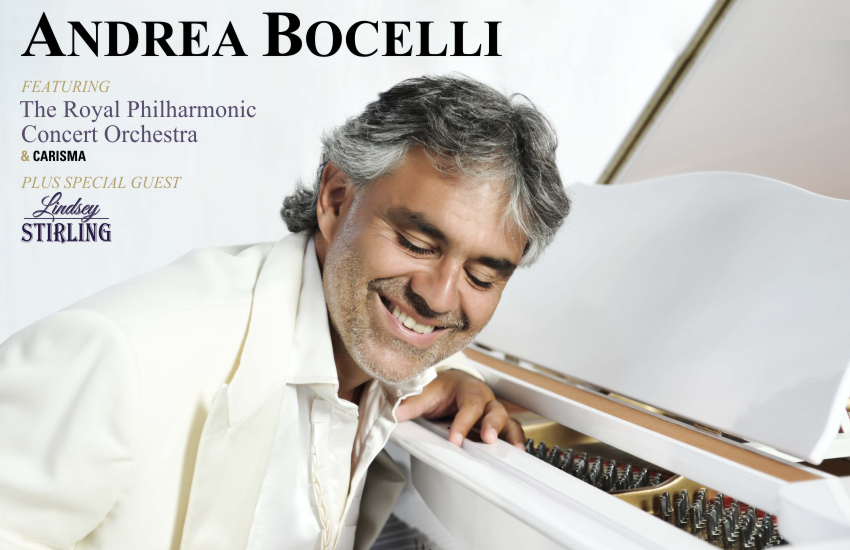 Home - Andrea Bocelli VIP Ticket Experiences - Andrea Bocelli Tour Dates
Lindsey Stirling announced as Special Guest Chart-topping violinist and YouTube Sensation Youth Choirs to Perform Live with Bocelli for thousands of fans
**** LIMITED NUMBER OF VIP TICKETS JUST RELEASED LONDON O2 ARENA 20/11 ****

One of the most exciting emerging talents in the classical music world will join the maestro Andrea Bocelli for his UK and Ireland tour. Lindsey Stirling is the American violinist who is revolutionising the classical world, amassing over 757 million YouTube views, topping the Billboard charts and selling out tours worldwide. Lindsey masterfully fuses classical violin styles with futuristic electronic beats. Her latest album Shatter Me topped the US Billboard Top Classical Albums, Dance/Electronic Albums and Independent Albums charts when it arrived in April. Like Bocelli before her, she is bringing classical music to new audiences and generations.

"The stage is a magical place," says Andrea, "one can experience something very intimate: the compelling relationship and harmony between two artists, when they come together in music. I am really excited to see what will happen with Lindsey Stirling – an eclectic artist, full of energy and talent. Music and dance coexist within her. Lindsey has a truly contagious sound!"

"I am excited, nervous, honoured, and even shocked to think that I get to perform with the greatest opera singer in the world," adds Lindsey, "Wow, where is my violin? I need to start practicing immediately for this! But really, this is a huge honour and I can't wait."
Andrea Bocelli is returning to the UK this November to perform 3 Dates including Liverpool Echo Arena, London O2 Arena and Birmingham LG Arena.
Andrea Bocelli, the world's premiere classical music star, returns with shows featuring the repertoire that has made him famous throughout the world as a unique artist able to cross boundaries between classical and pop.
Two guests are to be announced - a soprano to accompany Bocelli through the classical section and pop star to showcase his chart career. While some stars sing 'crossover', Bocelli is able to keep his classical and pop repertories separate, excelling at both as distinct disciplines.
To make your Evening Even More Unique we have a limited number of Very Special Premium Seats including Front Row as well as a Range of Fantastic Reserved Seats in prime locations.

Please see the full range of Andrea Bocelli VIP Ticket Experiences below:-
Andrea Bocelli Front Row Experience

Andrea Bocelli Platinum Seat Experience

Front Row (Centre Block)
Programme (1 per 2 Guests) + Printed Commemorative Bag
Welcome Glass of Champagne or during Interval
VIP Wristband
Itinerary and Tickets sent in advance
On-Site Event Staff
24/7 Customer Support

Premium Floor Seat (Centre Block) Rows 2-4
Programme (1 per 2 Guests) + Printed Commemorative Bag
Welcome Glass of Champagne or during Interval
VIP Wristband
Itinerary and Tickets sent in advance
On-Site Event Staff
24/7 Customer Support

Andrea Bocelli Silver/ Gold Seat Experience

Andrea Bocelli Platinum Ticket and Hotel Experience

Premium Floor Seat (Centre Block) Rows 5-6
Programme (1 per 2 Guests) + Printed Commemorative Bag
Welcome Glass of Champagne or during Interval
VIP Wristband
Itinerary and Tickets sent in advance
On-Site Event Staff
24/7 Customer Support

** Silver Tickets Front Blocks A1,A2,A3 (Within Rows 8-12) London O2 Arena**

Premium Floor Seat (Centre Block) Rows 2-4
Overnight Hotel Accommodation inc Buffet Breakfast
Welcome Glass of Champagne or during Interval
VIP Wristband
Itinerary and Tickets sent in advance
On-Site Event Staff
24/7 Customer Support



Andrea Bocelli Gold Ticket & Hotel Experience

Andrea Bocelli Silver Ticket & Hotel Experience
(London The O2 Arena)

Premium Floor Seat (Centre Block) Rows 5-6
Overnight Hotel Accommodation inc Buffet Breakfast
Programme (1 per 2 Guests) + Printed Commemorative Bag
Welcome Glass of Champagne or during Interval
Itinerary and Tickets sent in advance
On-Site Event Staff
24/7 Customer Support

Top Price Floor Front Seats (A1,A2.A3) Rows 8-14
Overnight Hotel Accommodation inc Buffet Breakfast
Programme (1 per 2 Guests) + Printed Commemorative Bag
Welcome Glass of Champagne or during Interval
Itinerary and Tickets sent in advance
On-Site Event Staff
24/7 Customer Support