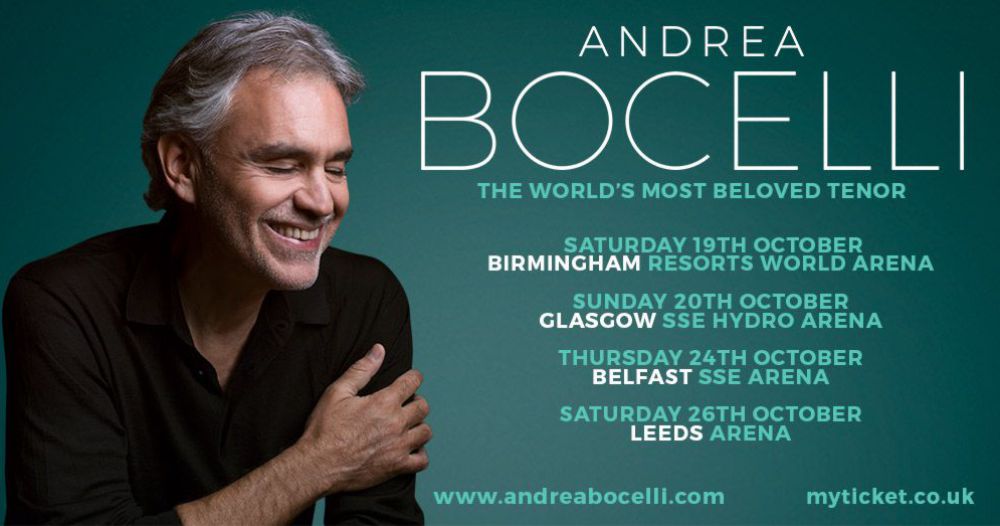 HOME PAGE -
ANDREA BOCELLI TOUR DATES 2019
-
ANDREA BOCELLI PREMIUM TICKET DESCRIPTIONS
** ON SALE NOW **
NEW LONDON O2 DATE JUST ANNOUNCED 16 OCTOBER 2020 - more info
ANDREA BOCELLI
and Special Guest Beverley Knight

The world's most beloved tenor, Andrea Bocelli, will be returning to the UK for a 4-date arena tour this autumn, visiting Birmingham - Genting Arena - 19 October, Glasgow - Hydro Arena, 20 October, Belfast - Arena 24 October, Leeds - Arena 26 October 2019
Andrea Bocelli will releases his highly anticipated new 16-track album 'Si' last October – his first brand new material in 14 years – billed as "a celebration of love, family, faith and hope". 'Si' will feature tracks co-written with Ed Sheeran and Tiziano Ferro as well as duets with Dua Lipa, fellow contemporary classical star Josh Groban and soprano Aida Garifullina. The album also sees Bocelli's 20-year old son Matteo collaborate with him on the track 'Fall On Me' which appears on the soundtrack to the Disney movie The Nutcracker and The Four Realms.
Bocelli has performed for four US Presidents, two Popes and many Royal families across the world, as well as at high-profile ceremonies for the Olympic Games and the World Cup. The Maestro has countless music awards to his name over past 25 years in music and even boasts a Star on the Hollywood Walk of Fame, which he received in 2010 for his contribution to live theatre.
To make your evening even more special we have a limited number of Official Ticket and VIP Ticket Experiences with an overnight Hotel and Premium Tickets....
ANDREA BOCELLI TOUR DATES and PREMIUM TICKET EXPERIENCES 2019
ANDREA BOCELLI VIP TICKET EXPERIENCES!
Platinum Premium "A" Ticket and Hotel
To include:-
Choice of Premium A Cat 1 Floor or Lower Tier Reserved Seat
Overnight Hotel Accommodation inc Buffet Breakfast
Programme (1 per 2 Guests) + Printed Commemorative Bag
Itinerary and Tickets sent in advance
On-Site Event Staff
24/7 Customer Support day of concert

Please check individual booking Pages for Ticket locations
Prices From £299 inc VAT
Book
Gold Premium "B" Ticket and Hotel
To include:-
Premium B Cat 1 Floor or Lower Tier Reserved Seat
Overnight Hotel Accommodation inc Buffet Breakfast
Programme (1 per 2 Guests) + Printed Commemorative Bag
Itinerary and Tickets sent in advance
On-Site Event Staff
24/7 Customer Support on day of concert

Please check individual booking Pages for Ticket locations
Prices From £289 inc VAT
Book
IMPORTANT: ANY PACKAGES FOUND TO BE OFFERED FOR RE-SALE WILL BE CANCELLED WITHOUT REFUND TICKETS WILL BE INVALIDATED