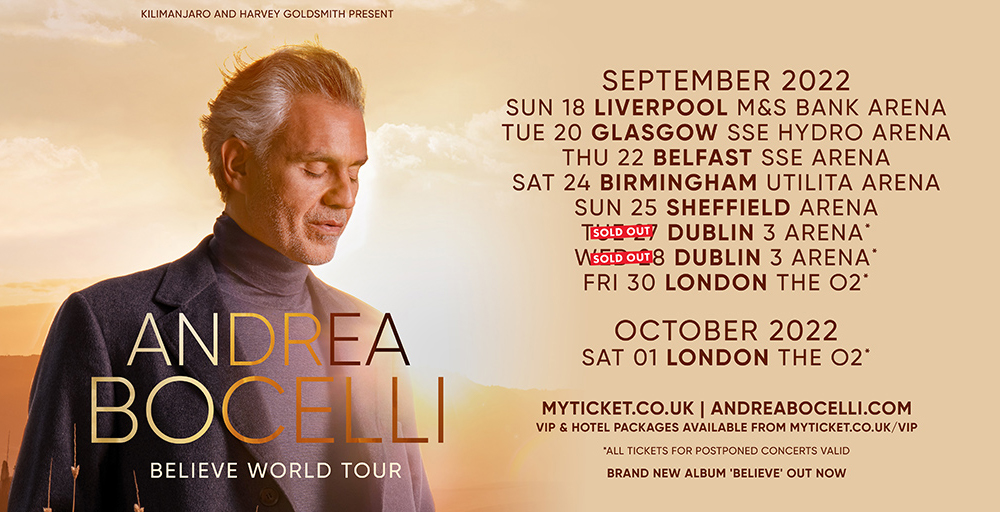 HOME PAGE -
ANDREA BOCELLI TOUR DATES 2022
-
ANDREA BOCELLI PREMIUM TICKET DESCRIPTIONS
** SOLD OUT **
ANDREA BOCELLI 2022 DATES!
The world's most beloved tenor, Andrea Bocelli, has announced a welcome return to the UK and Ireland in September and October 2022. Bocelli will be visiting Liverpool, Glasgow, Belfast, Birmingham and Sheffield and will also be performing rescheduled show dates at The O2 London.

Despite the global pandemic in 2020, Bocelli was able to create new music – his album Believe contains an uplifting personal collection of songs celebrating the power of music to soothe the soul.With a decorated career spanning more than a quarter of a century, having amassed millions of fans around the world with his emotive and instantly recognisable voice, Bocelli has collaborated with a host of A-list stars including Luciano Pavarotti, Ariana Grande, Jennifer Lopez, Christina Aguilera, Ed Sheeran, Dua Lipa, Céline Dion, Alison Krauss, Tony Bennett and many more.
Commenting on the 2022 tour, Andrea said: "Andrea Bocelli Foundation is proud to partner with PLUS1 ensuring that for every ticket sold, £1 will support "ABF Educational Projects" in Haiti, empowering children from the most vulnerable areas of the Country, offering them the opportunity to express their true potential. www.andreabocellifoundation.org "
To make your evening even more special we have a limited number of Official Premium Ticket Experiences including an overnight concert hotel stay - see you there for another memorable experience.
ANDREA BOCELLI TOUR DATES and PREMIUM TICKET EXPERIENCES 2022
ANDREA BOCELLI VIP TICKET EXPERIENCES! - 2022
Platinum Premium "A" Ticket and Hotel
To include:-
Choice of Premium A Cat 1 Floor or Lower Tier Reserved Seat
Overnight Hotel Accommodation inc Buffet Breakfast
Programme (1 per 2 Guests) + Printed Commemorative Bag
Itinerary and Tickets sent in advance
On-Site Event Staff
24/7 Customer Support day of concert

Please check individual booking Pages for Ticket locations
Prices From £299, €344, $410 inc VAT
Book
Gold Premium "B" Ticket and Hotel
To include:-
Premium B Cat 1 Floor or Lower Tier Reserved Seat
Overnight Hotel Accommodation inc Buffet Breakfast
Programme (1 per 2 Guests) + Printed Commemorative Bag
Itinerary and Tickets sent in advance
On-Site Event Staff
24/7 Customer Support on day of concert

Please check individual booking Pages for Ticket locations
Prices From £289, €333, $396 inc VAT
Book
IMPORTANT: ANY PACKAGES FOUND TO BE OFFERED FOR RE-SALE WILL BE CANCELLED WITHOUT REFUND TICKETS WILL BE INVALIDATED