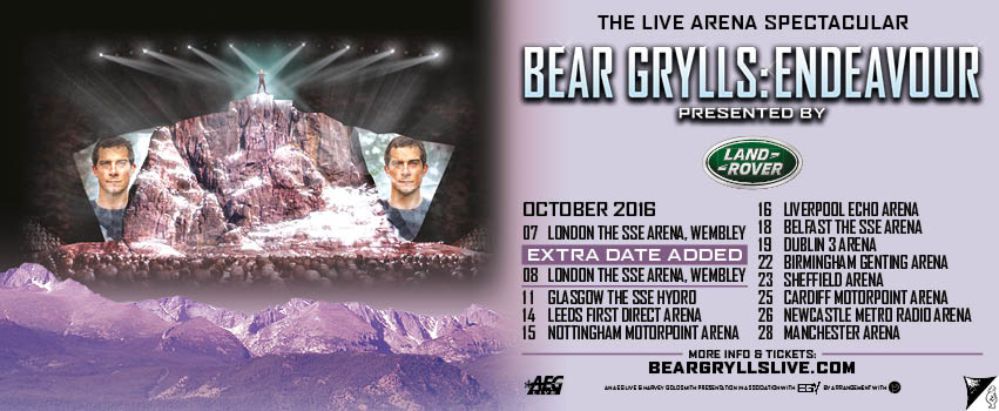 BEAR GRYLLS VIP TICKET EXPERIENCES
BEAR WILL TAKE AUDIENCES ON AN IMMERSIVE EXPEDITION
ACROSS THE GLOBE
USING GROUNDBREAKING TECHNOLOGY
CELEBRATING SOME OF THE GREATEST FEATS OF COURAGE, ENDURANCE
AND ENDEAVOUR THROUGH THE AGES
08AUG: SHEFFIELD ARENA NOW SUNDAY 23 OCTOBER 2016

Adventurer, writer and TV host Bear Grylls announces his very first live arena spectacular. Partnering with AEG Live and Harvey Goldsmith the tour kicks off in London on 7 October 2016, he will bring the spectacle to 12 venues across the UK and Ireland including London's SSE Wembley Arena with his ground breaking interactive experience. Audiences will join the adventurer as he transports them to multiple environments in this edge-of-your-seat, action-packed two hour show. A mind-blowing live action and adventure show designed and hosted by Bear Grylls alongside a cast of expert aerial artists and stunt crew, Endeavour: Your Adventure Awaits will take the audience on a hair-raising, immersive, theatrical expedition across the globe using state of the art video mapping technology and stunning special effects. Celebrating some of the greatest feats of courage, endurance and endeavour through the ages, fans will witness the heroism and adventure that have shaped our world.
Bear will guide the audience on a journey, uncovering true life stories of survival from frozen Antarctica and the cruel winds of Everest, to the humid jungle and shark-infested waters. The audience will be swept into the heart of the action, with worlds that appear and fade away before them, they will see the tiny detail of rock crumbling beneath Bear's feet as he climbs and witness him seemingly swimming with sharks before their very eyes. Through dizzying aerial stunts and intimate storytelling, Bear will reveal the wonder of our planet and the important value of mankind's indomitable human spirit. A truly breathtaking experience.
Bear Grylls said: "I am so excited to see this show truly come to life, and to be able to take people on this incredibly inspiring journey of courage, heroism and survival against all the odds - We are privileged to offer BEAR GRYLLS FANS some Exciting VIP TICKET EXPERIENCES too to make the night even more enjoyable! Including a limited number of FRONT ROW SEATS, AMAZING PREMIUM HOT SEAT TICKETS and more - See you there!
BEAR GRYLLS SHOW DATES and VIP TICKET EXPERIENCES
FOR DUBLIN and BELFAST BOOK HERE
BEAR GRYLLS VIP TICKET EXPERIENCES
FRONT ROW VIP TICKET EXPERIENCE
To include:-
Front Row Floor Blocks ( Central to Stage Locations)
Programme
Commemorative Ticket Wallet
Exclusive Signed Print and Merchandise Gift
Itinerary and Tickets sent in advance
On-Site Event Management & VIP Hosts
24/7 Customer Support on Night of Show
Prices From £159 inc VAT
Book
THE PREMIUM HOT SEAT EXPERIENCE
To include:-
Premium Cat1 Reserved Seat (Centre Floor Block/First Tier Seats
Rows 2-6)
Exclusive Merchandise Gift including Programme
Commemorative Ticket Wallet
On-Site Event Management & VIP Hosts
Tickets and Itinerary Sent in Advance
24/7 Customer Support on Night of Show
Prices from £149 inc VAT
Book
BEAR GRYLLS VIP TICKET EXPERIENCES
THE GOLD HOT SEAT EXPERIENCE
To include:-
Premium Cat1 Reserved Seat (Centre Floor Block/First Tier Seats
Rows 7-10)
Exclusive Merchandise Gift including Programme
Commemorative Ticket Wallet
On-Site Event Management & VIP Hosts
Tickets and Itinerary Sent in Advance
24/7 Customer Support on Night of Show
Prices From £139 inc VAT
Book
NB: Please check individual Booking Pages for Seat Locations - A full Itinerary will be provided with tickets usulaly despatched no later than 7-10 days before using secure delivery (but in many cases earlier)

IMPORTANT: ANY PACKAGES FOUND TO BE OFFERED FOR RE-SALE WILL BE CANCELLED WITHOUT REFUND - TICKETS WILL BE INVALIDATED