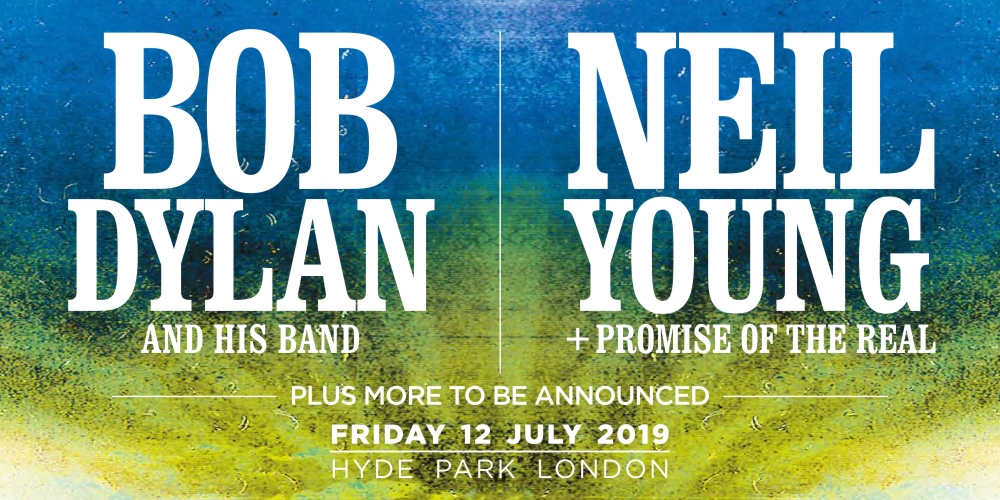 Home - Bob Dylan and Neil Young Tickets & VIP Info - Bob Dylan and Neil Young Tour Dates - Hyde Park Map 2019 - The Ultimate Bar Experience
BOB DYLAN and NEIL YOUNG
London Hyde Park Friday 12th July 2019
Plus Laura Marling, Cat Power and Sam Fender, Boy Azooga, Vista Kicks, Adia Victoria, Hardwicke Circus and The Big Society!
Book
BOX OFFICE TICKET ONLY SALES!
Bob Dylan and his band and
Neil Young
+ The Promise of the Real, will perform on Friday 12th July, 2019 in Hyde Park London - two of the greatest musicians of all time on one HISTORIC night. Bob Dylan and Neil Young are joint headliners.
Bob Dylan's impact on popular music and culture is immeasurable. The recipient of the Presidential Medal of Freedom and the 2016 Nobel Prize in Literature, he is responsible for some of the most influential albums of all time, such as 'The Freewheelin' Bob Dylan', 'Highway 61 Revisited', and 'Blonde on Blonde'. He continues to be vibrant and on the cutting edge, Bob Dylan has received 10 GRAMMY Awards (including wins for Love And Theft, Modern Times and the Album of the Year GRAMMY for Time Out of Mind), as well as the Academy Award for Best Original Song for 'Things Have Changed' in 2002.
Neil Young remains the only artist of the rock era to compare to Dylan. Classic albums like 'Harvest', 'After The Goldrush' and 'On The Beach' are some the best in the whole genre. But Young remains hugely relevant and prolific, releasing 2 albums within months of each other in 2017/2018, as well as a stream of archive albums from classic live shows over the years, underlining his incredible live legacy. This time, he brings Promise of the Real, with whom he recorded 2017's album 'The Visitor', their second studio album together and this year released the soundtrack album 'Paradox'. The band features Willie Nelson's sons Lukas and Micah. They also star in Bradley Cooper and Lady Ga Ga acclaimed new movie 'A Star Is Born', with Lukas as musical consultant.
This will be another iconic music experience in London's Royal Park 2019! - Relax and enjoy your weekend to the full with a Ticket or VIP Ticket and Overnight Hotel Stay or checkout ** THE ULTIMATE BAR EXPERIENCE ** to add further enjoyment to your day - including VIP Garden Tickets with access to GOLD CIRCLE STANDING or choice of DIAMOND CIRCLE Tickets right in front of the Great Oak stage! - Arrive to a Welcome Glass of Fizz, Complimentary Bar, Comfortable occasional Seating, (The Ultimate Bar is an Exclusive Area restricted to The Ultimate Bar Pass Holders Only) The Ultimate Bar opens @ 1PM (TBC) - Public Doors 2PM - Whatever is right for you, Hyde Park offers all the ingredients to enjoy your day with an incredible line-up of Artists and music! Bob Dylan and Neil Young Ticket and Hotel include a choice Primary Entry (early entry), Gold Circle, VIP Garden, Diamond Circle and The Terrace tickets and a comfortable night in UK's capital city - Extra nights stays are also available.
OFFICIAL TICKET and VIP TICKET EXPERIENCES 2019
GUIDE TO CONCERT LAYOUT MAP
Provisional Times - Gates Open: 14:00H – please note the gates will be open approx. 60 minutes early for those customers who select Primary Entry, Gold Circle, Summer Garden, Diamond Circle, The Terrace and *The Ultimate Bar * Opens @ 13:00H or arrive at your leisure - Age restrictions - Anyone under 16 must be accompanied by a parent or guardian (18 or over) - Disabled Access - All tickets are available via the festival website or AXS.com. There is a Wheelchair platform and an Ambulant area. All tickets come with 1 free personal assistant. We regret that special access tickets are only bookable via the Hyde Park website.
BOB DYLAN and NEIL YOUNG TICKET and VIP TICKET EXPERIENCES
Primary Entry Ticket & Hotel Experience
To include:-
Choice of Overnight Hotel Accommodation
(including Complimentary Breakfast)
General Admission ticket through a dedicated entrance for Primary Entry customers
Early Entry to the event up to one hour before the gates open to General Admission customers
Access to an extensive range of bars, food traders and toilets in the main arena
Commemorative Ticket Wallet
Itinerary and tickets sent in advance
All Taxes





PRICES FROM £245, €279, $323 inc VAT
Book
Gold Circle Ticket Experience
To include:-
Choice of Overnight Hotel Accommodation
(including Complimentary Breakfast)
Dedicated Entrance for Gold Circle customers
Entry to the event up to one hour before the gates open to General Admission customers
Access to an extensive range of bars, food traders and toilets in the main arena
Exclusive Gold Circle standing viewing area to watch Great Oak Stage performances, allowing you to leave and return from the Gold Circle area
into general admission as you wish
Commemorative Ticket Wallet
Itinerary and tickets sent in advance
All Taxes



PRICES FROM £345, €393, $454 inc VAT
Book
BOB DYLAN and NEIL YOUNG TICKET and VIP TICKET EXPERIENCES
VIP Garden Ticket & Hotel
To include:-
Choice of Overnight Hotel Accommodation
(including Complimentary Breakfast)
Dedicated entrance for VIP Garden customers
Entry to the event up to one hour before the main gate opens
Access to Gold Circle standing viewing area to watch Great Oak Stage
performances, allowing you to leave and return from the from the Gold
Circle into the VIP Summer Garden and general admission
areas as you wish
Access also to an extensive range of bars, food traders and toilets in the main arena
Commemorative Ticket Wallet
Itinerary and tickets sent in advance
All Taxes





PRICES FROM £399, €454, $525 inc VAT
Book
Diamond CircleTicket & Hotel Experience
To include:-
Choice of Overnight Hotel Accommodation
(including Complimentary Breakfast)
Diamond View standing ticket
(The Diamond Circle is a dedicated premium standing viewing area in front
of the Great Oak Stage with unrivalled views of all the Great Oak Stage
performances, allowing you to leave and return between the Diamond View
and VIP Garden and general admission area as you wish)
Dedicated entrance for Diamond View ticket customers
Entry to the event up to one hour before the main gate opens
Access to The VIP Garden - (an exclusive area offering
VIP bars, premium food outlets, comfortable seating, separate toilet facilities
and cloakroom)
Access also to an extensive range of bars, food traders and toilets in the
main arena
Commemorative Ticket Wallet
Itinerary and tickets sent in advance
All Taxes
PRICES FROM £509, €579, $670 inc VAT
Book
BOB DYLAN and NEIL YOUNG TICKET and VIP TICKET EXPERIENCES
The Terrace Ticket and Hotel Experience
To include:-
Choice of Overnight Hotel Accommodation
(including Complimentary Breakfast)
Terrace Standing Ticket
Dedicated entrance for The Terrace customers
Entry to the event up to one hour before the main gate opens
(The Terrace is a tiered covered standing grandstand from where you will
have amazing views of the Great Oak Stage and be able to watch all
performances).
Access to The VIP Garden - (an exclusive area offering
VIP bars, premium food outlets, comfortable seating, separate toilet facilities
and cloakroom)
Access also to an extensive range of bars, food traders and toilets in the main arena
Commemorative Ticket Wallet
Itinerary and tickets sent in advance
All Taxes

SEE ALSO: PREMIUM STANDING TERRACE TICKET OPTION (without hotel) - £365, €415, $481
PRICES FROM £509, €579, $670 inc VAT
Book
The Ultimate Bar Ticket Experience
To include:-
Either a Summer Garden Ticket - (Providing Access to
GOLD CIRCLE standing area to watch Great Oak Stage performances)
or the exclusive DIAMOND CIRCLE (Premium Standing Area,directly in-front
of the Great Oak Stage!) both sections allowing you to leave and return
as you wish!
Entrance to The Ultimate Bar for the day to relax in style
(Exclusive Bar serving a wide Range of Quality Beverages to satisfy your
desire, with relaxed part covered seating and fenced off area with easy
access to the VIP Garden and concert areas.)
Arrive to a Welcome Glass of Fizz
Complimentary Bar serving a range of quality Wine/Beer/Spirits
/Non-Alcoholic Drinks
Commemorative VIP Laminate and Lanyard/Wristband
Access to The VIP Garden (an exclusive area offering VIP bars,
premium food outlets, additional comfortable seating, separate
restroom facilities)
Enjoy a complimentary choice of Premium Food Offerings VIP Garden
(Voucher Activated)
Complimentary T-Shirt (Please select your
requested size during booking process)
Additional Restroom Facilities Exclusively for The Ultimate Bar
Dedicated Entrance - With Entry to the event up to 1 hour before the
main gates open
Commemorative Ticket Wallet
Itinerary and tickets in advance
All Taxes

(The Ultimate Bar has a combination of Standing and Seating Areas
Additional seating is also available in the adjacent Summer Garden)
PRICES FROM £399, €454, $525 inc VAT/TAX
Book



THE ULTIMATE BAR - For more images - Cick here
BOB DYLAN and NEIL YOUNG TICKET and VIP TICKET EXPERIENCES
THE ULTIMATE BAR EXPERIENCE - BRITISH SUMMER TIME 2019
To include:-
Either a VIP Garden Ticket - (Providing Access to GOLD CIRCLE standing area to watch Great Oak Stage performances) or the
exclusive DIAMOND VIEW (Premium Standing Area, directly in-front of the Great Oak Stage!) both sections allowing you to leave and return as you wish!
Entrance to The Ultimate Bar for the day to relax in style (Exclusive Bar serving a wide Range of Quality Beverages to satisfy your desire, with relaxed part
covered seating and fenced off area with easy access to the VIP Garden and concert areas.)
Arrive to a Welcome Glass of Fizz
Complimentary Bar serving a range of quality Wine/Beer/Spirits/Non-Alcoholic Drinks
Commemorative VIP Laminate and Lanyard/Wristband
Access to The VIP Garden (an exclusive area offering VIP bars, premium food outlets, additional comfortable seating, separate restroom facilities)
Enjoy a complimentary choice of Premium Food Offerings VIP Garden (Voucher Activated)
Complimentary T-Shirt (Please select your requested size during booking process)
Additional Restroom Facilities Exclusively for The Ultimate Bar
Dedicated Entrance - With Entry to the event up to 1 hour before the main gates open
Commemorative Ticket Wallet
Itinerary and tickets in advance
Event management and hosts in attendance throughout the day
All Taxes

(The Ultimate Bar has a combination of Standing and Seating Areas - Additional seating is also available in the adjacent VIP Garden)
PRICES FROM £399, €454, $525 inc VAT/TAX
Book
MPORTANT: ANY PACKAGES FOUND TO BE OFFERED FOR RE-SALE WILL BE CANCELLED WITHOUT REFUND TICKETS WILL BE INVALIDATED