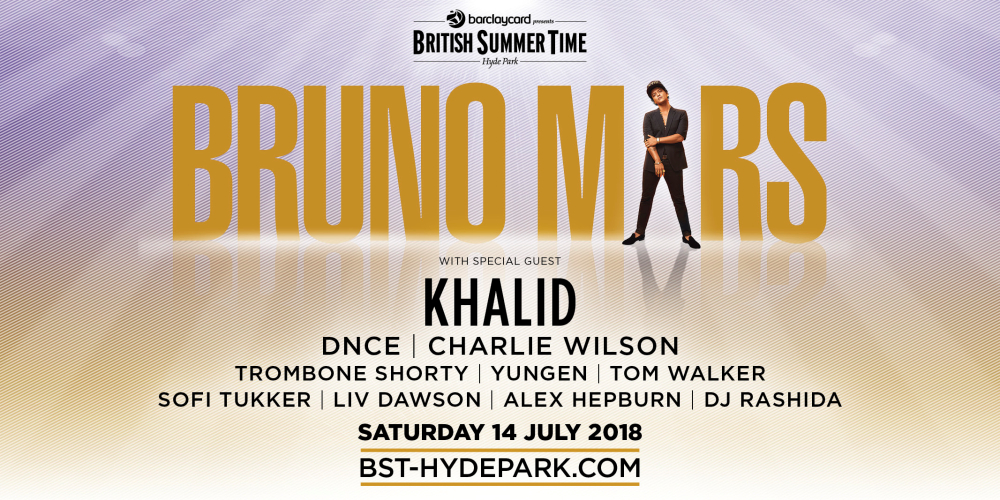 Home - Bruno Mars Tickets & VIP Info - Bruno Mars Tour Dates - Hyde Park Map 2018 - The Ultimate Bar Experience - General info - Images
Bruno Mars
London Hyde Park 14th July 2018
+ Special Guest Khalid
19/04: More Special Guests announced to join Bruno Mars:- DNCE, Charlie Wilson, Trombone Shorty, Yungen, Tom Walker,Sofi Tukker, Liv Dawson, Alex Hepburn, DJ Rashida - One of the biggest pop stars of the 21st century, the multiple Brit and Grammy Award winner Bruno Mars. The multi-platinum superstar Bruno Mars will be appearing at Barclaycard presents British Summer Time Hyde Park on 14th July 2018, fresh off the back of his '24K Magic World Tour', which spans over 172 shows across five continents in support of his double platinum album 24K Magic. The UK leg of the tour included four critically acclaimed shows at London's O2 Arena. Now, Mars is set to return to the UK, taking to the Great Oak Stage in Hyde Park with a dazzling visual production and a set-list crammed full of his chart-topping hits.
Mars will be joined by special guest, Khalid. At just 19, he's the winner of 2017's MTV VMA award for Best New Artist and broke the internet with debut single 'Location'. The single, taken from his platinum selling debut album American Teen, amassed over 700 million streams across all platforms, lending to Khalid being Spotify's most streamed artist in the world for 4 consecutive days. The breakout star recently supported Lorde across Europe with her 'Melodrama' tour, plus has announced his first UK headline tour for 2018.
With Bruno Mars headlining 14th July this will be one of the highlights of BST in London's Royal Park! - Relax and enjoy your weekend to the full with a Ticket or VIP Ticket and Overnight Hotel Stay or checkout ** THE ULTIMATE BAR EXPERIENCE ** to enjoy your day in style - including a choice of Diamond or Barclaycard VIP Summer Garden Tickets - Arrive to a Welcome Glass of Champagne, Complimentary Bar, Comfortable Seating, (The Ultimate Bar is an Exclusive Area restricted to The Ultimate Bar Pass Holders Only) and much more ... The Ultimate Bar opens @ 12PM (TBC) - Public Doors 1PM - Whatever is right for you Briitish Summer Time will provide all the ingredients to enjoy your day in the capital's Hyde Park with an incredible line-up of Artists and music! Bruno Mars BST Ticket and Hotel include a choice Primary Entry (early entry), Gold Circle, Barclaycard VIP Summer Garden, The Terrace and even Diamond Circle tickets and a comfortable night in London's famous capital - Extra nights stays are also available.
14th July 2018
OFFICIAL BRUNO MARS TICKET and VIP TICKET EXPERIENCES BST 2018
GUIDE TO CONCERT LAYOUT MAP
Provisional Times - Gates Open: 13:00H – please note the gates will be open approx. 60 minutes early for those customers who select Primary Entry, Gold Circle, Barclaycard VIP Summer Garden, The Terrace and *The Ultimate Bar * Opens @ 12:00H or arrive at your leisure
Age restrictions - Anyone under 16 must be accompanied by a parent or guardian (18 or over) - Disabled Access - All tickets are available via the festival website or AXS.com. There is a Wheelchair platform and an Ambulant area. All tickets come with 1 free personal assistant

BRUNO MARS TICKET and VIP TICKET EXPERIENCES
Primary Entry Ticket & Hotel Experience
To include:-
Choice of Overnight Hotel Accommodation (including Complimentary Breakfast)
General Admission ticket through a dedicated entrance for Primary Entry customers
Early Entry to the event up to one hour before the gates open to General Admission customers
Access to an extensive range of bars, food traders and toilets in the main arena
Commemorative Ticket Wallet
Itinerary and tickets sent in advance
All Taxes
PRICES FROM £239 inc VAT
Sold Out
Gold Circle Ticket Experience
To include:-
Choice of Overnight Hotel Accommodation (including Complimentary Breakfast)
Dedicated Entrance for Gold Circle customers
Entry to the event up to one hour before the gates open to General Admission customers
Access to an extensive range of bars, food traders and toilets in the main arena
Exclusive Gold Circle standing viewing area to watch Great Oak Stage performances, allowing you to leave and return from the Gold Circle area
into general admission as you wish
Commemorative Ticket Wallet
Itinerary and tickets sent in advance
All Taxes



PRICES FROM £329 inc VAT
Sold Out
BRUNO MARS TICKET and VIP TICKET EXPERIENCES
VIP Summer Garden Ticket & Hotel
To include:-
Choice of Overnight Hotel Accommodation (including Complimentary
Breakfast)
Dedicated entrance for Barclaycard VIP Summer Garden customers
Entry to the event up to one hour before the main gate opens
Access to Gold Circle standing viewing area to watch Great Oak Stage
performances, allowing you to leave and return from the from the Gold
Circle into the Barclaycard VIP Summer Garden and general admission
areas as you wish
Access also to an extensive range of bars, food traders and toilets in the main arena
Commemorative Ticket Wallet
Itinerary and tickets sent in advance
All Taxes




PRICES FROM £389 inc VAT
Sold Out
Diamond Circle Ticket & Hotel Experience
To include:-
Choice of Overnight Hotel Accommodation (including Complimentary Breakfast)
Diamond Circle standing ticket
(The Diamond Circle is a dedicated premium standing viewing area in front
of the stage with unrivalled views of all the Great Oak Stage performances,
allowing you to leave and return between the Diamond Circle into the
Barclaycard VIP Summer Garden and general admission area as you wish)
Dedicated entrance for Diamond Circle ticket customers
Entry to the event up to one hour before the main gate opens
Access to the Barclaycard VIP Summer Garden - (an exclusive area offering
VIP bars, premium food outlets, comfortable seating, separate toilet facilities
and cloakroom)
Access also to an extensive range of bars, food traders and toilets in the
main arena
Commemorative Ticket Wallet
Itinerary and tickets sent in advance
All Taxes
PRICES FROM £489 inc VAT
Sold Out
BRUNO MARS TICKET and VIP TICKET EXPERIENCES
The Terrace Ticket and Hotel Experience
To include:-
Choice of Overnight Hotel Accommodation (including Complimentary Breakfast)
Terrace Standing Ticket
Dedicated entrance for The Terrace customers
Entry to the event up to one hour before the main gate opens
(The Terrace is a tiered covered standing grandstand from where you will
have amazing views of the Great Oak Stage and be able to watch all
performances).
Access to the Barclaycard VIP Summer Garden - (an exclusive area offering
VIP bars, premium food outlets, comfortable seating, separate toilet facilities
and cloakroom)
Access also to an extensive range of bars, food traders and toilets in the main arena
Commemorative Ticket Wallet
Itinerary and tickets sent in advance
All Taxes
PRICES FROM £479 inc VAT
Sold Out
The Ultimate Bar Ticket Experience
To include:-
Either a Barclaycard VIP Summer Garden Ticket - (Providing Access
to GOLD CIRCLE standing area to watch Great Oak Stage performances)
or DIAMOND CIRCLE Ticket, directly in front of the Great Oak Stage,
allowing you to leave and return as you wish)
Entrance to The Ultimate Bar for the day to relax in style
(Exclusive Bar serving a wide Range of Quality Beverages to satisfy your
desire, with relaxed part covered seating and fenced off area with easy
access to the VIP Garden and concert areas.)
Arrive to a Welcome Glass of Champagne
Complimentary Bar serving a range of quality Wine/Beer/Spirits
/Non-Alcoholic Drinks
Commemorative VIP Laminate and Lanyard/Wristband
Access to VIP Summer Garden (an exclusive area offering VIP bars,
premium food outlets, additional comfortable seating, separate
restroom facilities)
Enjoy a complimentary choice of Premium Food Offerings VIP Garden
(Voucher Activated)
Complimentary British Summer Time T-Shirt
Additional Restroom Facilities Exclusively for The Ultimate Bar
Dedicated Entrance - With Entry to the event up to 1 hour before the
main gates open
Commemorative Ticket Wallet
Itinerary and tickets in advance
All Taxes
PRICES FROM £429 inc VAT
Sold Out
THE ULTIMATE BAR - For more images - Cick here


BRUNO MARS TICKET and VIP TICKET EXPERIENCES
THE ULTIMATE BAR EXPERIENCE
To include:-
Either a Barclaycard VIP Summer Garden Ticket - (Providing Access to GOLD CIRCLE standing area to watch Great Oak Stage performances) or DIAMOND CIRCLE Ticket, directly in front of the Great Oak Stage, allowing you to leave and return as you wish)
Entrance to The Ultimate Bar for the day to relax in style (Exclusive Bar serving a wide Range of Quality Beverages to satisfy your desire, with relaxed part covered seating and fenced off area with easy access to the VIP Garden and concert areas.)
Arrive to a Welcome Glass of Champagne
Complimentary Bar serving a range of quality Wine/Beer/Spirits/Non-Alcoholic Drinks
Commemorative VIP Laminate and Lanyard/Wristband
Access to VIP Summer Garden (an exclusive area offering VIP bars, premium food outlets, additional comfortable seating, separate restroom facilities)
Enjoy a complimentary choice of Premium Food Offerings VIP Garden (Voucher Activated)
Complimentary British Summer Time T-Shirt (Please select your requested size during booking process)
Additional Restroom Facilities Exclusively for The Ultimate Bar
Dedicated Entrance - With Entry to the event up to 1 hour before the main gates open
Commemorative Ticket Wallet
Itinerary and tickets in advance
All Taxes
Prices from £429 inc VAT
Sold Out


IMPORTANT: ANY PACKAGES FOUND TO BE OFFERED FOR RE-SALE WILL BE CANCELLED WITHOUT REFUND TICKETS WILL BE INVALIDATED