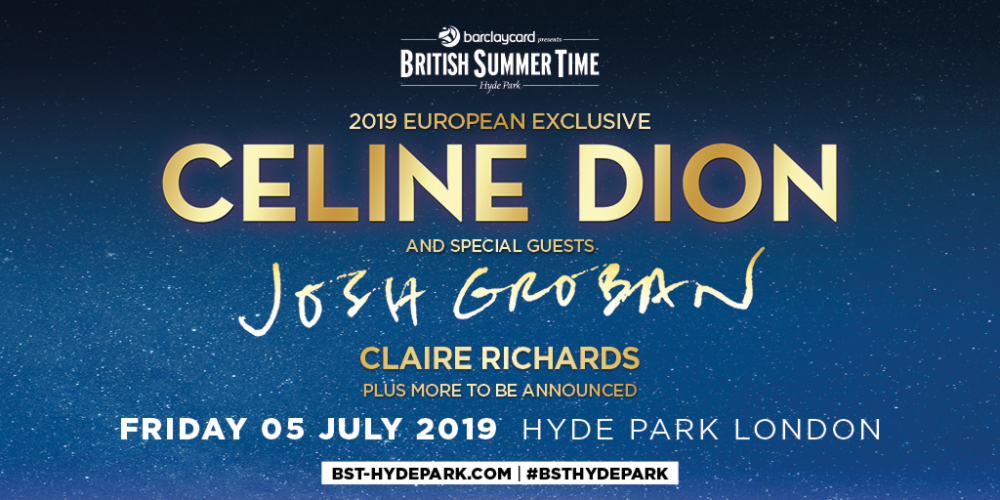 Home - Céline Dion Tickets & VIP Info - Céline Dion Tour Dates - Video - Hyde Park Map 2019 - FAQ's

CÉLINE DION
London Hyde Park Friday 05th July 2019
Plus More Acts To Be Announced
Book
ON-SALE NOW!
Céline Dion will headline the Great Oak Stage at Barclaycard presents British Summer Time Hyde Park London on Friday 5th Julywith Special Guests to be announced. The legendary Canadian vocal powerhouse – Celine Dion has sold over 240 million records worldwide (more than any other BST Hyde Park headliner to date) and is renowned for incredible live shows and a monumental vocal range. She will be one of the most unforgettable acts to have ever graced the Great Oak Stage in Hyde Park. "It's my first time doing a show in beautiful Hyde Park.... I'm so excited. I love London and it's a great honour for me to be part of the Barclaycard presents BST Hyde Park concerts. I can't wait.... summertime in London, here we come!"
James King, Senior Vice President, AEG Presents comments: "Celine's record-breaking career has seen her perform her many iconic songs on the globe's most iconic stages, yet never before in Hyde Park. It is therefore with the utmost excitement that we are bringing Celine Dion to Hyde Park for her only European show of 2019."
To add to the enjoyment of your special day in London's Hyde Park, you can choose from a range of Official Ticket Experiences including the exclusive
** ULTIMATE BAR EXPERIENCE **
with the option of a
Barclaycard VIP Summer Garden
Tickets with access to
GOLD CIRCLE STANDING
or
choice of
DIAMOND CIRCLE
Tickets being right in front of the Great Oak stage! - Arrive to a Welcome Glass of Fizz, Complimentary Bar, Comfortable occasional Seating, (The Ultimate Bar is an Exclusive Area restricted to The Ultimate Bar Pass Holders Only) The Ultimate Bar opens @ 1PM (TBC) - Public Doors 2PM
See also
Official BST Premium Ticket and Hotel Experiences -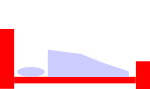 FRIDAY 05 July 2019
OFFICIAL CÉLINE DION TICKET and VIP TICKET EXPERIENCES
GUIDE TO CONCERT LAYOUT MAP
Provisional Times - Main Gates Open: 14:00H – please note the gates will be open approx. 60 minutes early for those customers who have Diamond View and Barclaycard VIP Summer Garden tickets * The Ultimate Bar * Opens @ 13:00H or arrive at your leisure. Age restrictions - Anyone under 16 must be accompanied by a parent or guardian (18 or over) - Disabled Access - All tickets are available via the festival website or AXS.com. There is a Wheelchair platform and an Ambulant area. All tickets come with 1 free personal assistant. We regret that special access tickets are only bookable via the BST website.
CÉLINE DION TICKET and VIP TICKET EXPERIENCES
THE ULTIMATE BAR EXPERIENCE
To include:-
Either a Barclaycard VIP Summer Garden Ticket - (Providing Access to GOLD CIRCLE standing area to watch Great Oak Stage performances)
or DIAMOND CIRCLE Ticket, directly in front of the Great Oak Stage, allowing you to leave and return as you wish
Entrance to The Ultimate Bar for the day to relax in style (Exclusive Bar serving a wide Range of Quality Beverages to satisfy your desire, with relaxed seating, part canopy covered)
(The Ultimate Bar is a fenced off area with easy access to the VIP Garden and concert areas.)
Arrive to a Welcome Glass of Fizz
Complimentary Bar serving a range of quality Wine/Beer/Spirits/Non-Alcoholic Drinks
Commemorative VIP Laminate and Lanyard/Wristband
Access to VIP Summer Garden (an exclusive area offering VIP bars, premium food outlets, additional comfortable seating, separate restroom facilities)
Enjoy a complimentary choice of Premium Food Offerings VIP Garden (Voucher Activated)
Complimentary British Summer Time T-Shirt (Please select your requested size during booking process)
Additional Restroom Facilities Exclusively for The Ultimate Bar
Dedicated Entrance - With Entry to the event up to 1 hour before the main gates open
Commemorative Ticket Wallet
Itinerary and tickets in advance
Event management and hosts in attendance throughout the day
All Taxes

(The Ultimate Bar has a combination of Standing and Seating Areas - Additional seating is also available in the adjacent Summer Garden)
PRICES FROM £429, €488, $564 inc VAT/TAX
Book

IMPORTANT: ANY PACKAGES FOUND TO BE OFFERED FOR RE-SALE WILL BE CANCELLED WITHOUT REFUND TICKETS WILL BE INVALIDATED