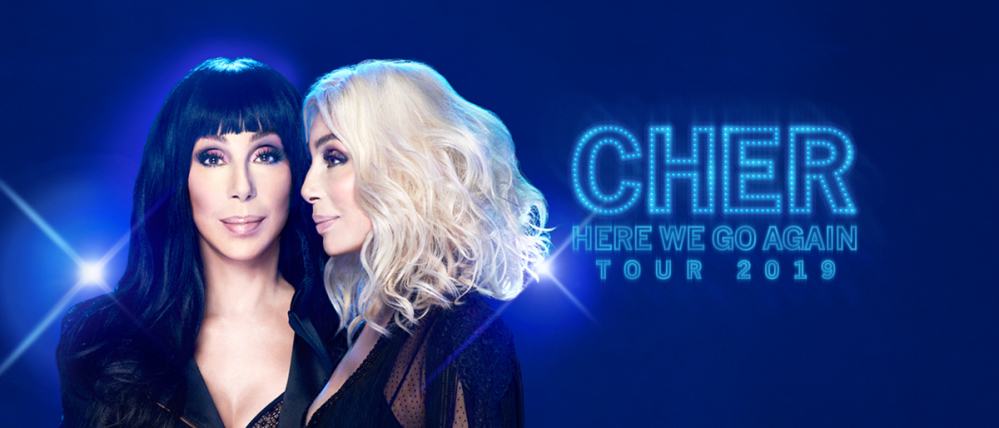 Home - Cher Tickets & VIP Ticket Experience Descriptions - Cher Tour Dates
CHER
HERE WE GO AGAIN TOUR
HER FIRST UK and EUROPEAN DATES IN OVER 14 YEARS
CHER TICKET and VIP TICKET EXPERIENCES ON-SALE NOW!
The legendary Cher is heading to the UK and Europe for her first live dates in over 14 years. The multi-talented Oscar, Emmy and Grammy Award-winning icon, is set to delight European fans when she plays 18 dates across the continent in September, October and November as part of her Here We Go Again World Tour.
Cher will treat audiences to an array of hits from her huge repertoire as well as new songs from the Dancing Queen album – Cher's tribute to the music of ABBA – which is out now.
Following the recent global success and rave reviews for Cher's role in the Mamma Mia 2 – Here We Go Again film, the multi-award winning singer, actress and show-stopping performer will be sure to thrill her fans when she arrives here later this year. We are delighted to offer Cher Fans a limited number of Cher Ticket and VIP Ticket Experiences to make your evening even more enjoyable!
OFFICIAL CHER TICKET and VIP TICKET EXPERIENCES UK and EUROPE 2019
CHER TICKET and VIP TICKET EXPERIENCES
Front Row Ticket Experience
To include:-
Package to include:
One (1) front row reserved seated ticket
Priority check-in and entrance*
Merchandise item designed and created exclusively for VIP
package purchasers
Complimentary programme
Collectible VIP laminate to remember your evening
Onsite check-in staff
Ticket and Information pack sent in advance
Customer support
All Taxes
PRICES FROM £506, €567, $625 inc VAT
Book
Diamond Hot Ticket Experience
To include:-
One (1) premium price reserved seated ticket
Priority check-in and entrance*
Merchandise item designed and created exclusively for
VIP package purchasers
Complimentary programme
Collectible VIP laminate to remember your evening
Onsite check-in staff
Ticket pack sent in advance
Customer support
All Taxes

PRICES FROM £374, €419, $462 inc VAT
Sold Out
CHER TICKET and VIP TICKET EXPERIENCES
Gold Hot Ticket Experience
To include:-
One (1) Price Level One reserved seated ticket
Priority check-in and entrance*
Merchandise item designed and created exclusively for VIP package purchasers
Complimentary programme
Collectible VIP laminate to remember your evening
Onsite check-in staff
Ticket pack sent in advance
Customer Support
All Taxes
PRICES FROM £304, €341, $375 inc VAT
Book
Silver Hot Ticket Experience
To include:-
One (1) Price Level Two reserved seated ticket
Priority check-in and entrance*
Merchandise item designed and created exclusively for VIP package purchasers
Collectible VIP laminate to remember your evening
Onsite check-in staff
Ticket pack sent in advance
Customer Support
All Taxes

PRICES FROM £220, €247, $272 inc VAT
Book
CHER TICKET and VIP TICKET EXPERIENCES
Premium Ticket and Hotel Experience
To include:-
Package to include:
One (1) Price Level One reserved seated ticket
One (1) night accommodation in a hotel close to the venue
Additional nights available upon request
Complimentary breakfast
Ticket pack sent in advance
Customer Support
All Taxes







PRICES FROM £304, €341, $375 inc VAT
Book
VIP Ticket and Hospitality Experience
To include:-
Package to include:
One (1) Price Level One reserved seated ticket
Priority check-in and entrance*
Merchandise item designed and created exclusively for VIP package purchasers
Complimentary programme
Collectible VIP laminate to remember your evening
Pre show reception offering complimentary drinks, luxury bowl food and canapés
Onsite check-in staff
Ticket pack sent in advance
Customer Support
All Taxes

*where applicable
PRICES FROM £440, €593, $543 inc VAT/TAX
Book

IMPORTANT: ANY PACKAGES FOUND TO BE OFFERED FOR RE-SALE WILL BE CANCELLED WITHOUT REFUND - TICKETS WILL BE INVALIDATED