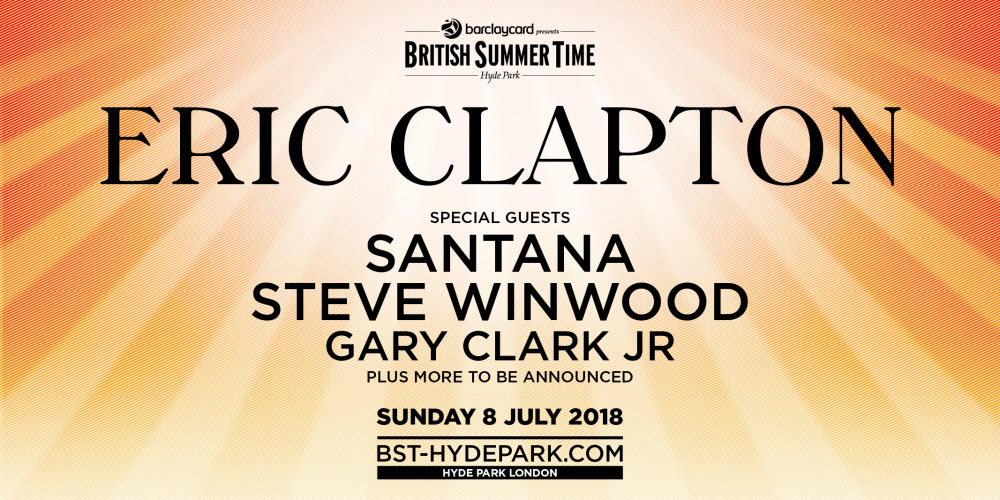 Home - Eric Clapton Tour Dates - Hyde Park Map 2018 - The Ultimate Bar Experience - General info - Images
Eric Clapton
Live In Hyde Park - Exclusive 2018 UK Show
With Special Guests: Santana - Steve Winwood - Gary Clark Jr. - More to be announced…….
One of music's greatest artists will headline Barclaycard presents British Summer Time Hyde Park 2018. Eric Clapton is set to play a very special concert on July 8th 2018, continuing the legacy of all-time greats gracing the Great Oak Stage. With a decades-long career and countless accolades to his name, Eric Clapton is also something of a local, having first played Hyde Park with Blind Faith on June 7th, 1969 alongside band mates Ginger Baker, Steve Winwood and Rick Grech to a 120,000 strong audience – it was the band's debut.He returned to the Royal Park in 1996, recording a classic live concert that raised money for The Prince's Trust, again in 2008 and has played over 200 times at the nearby Royal Albert Hall.

With Eric Clapton headlining Sunday 08th July this will be one of the highlights of BST in London's Royal Park! - To make your day an even more special occasion look no further than ** THE ULTIMATE BAR EXPERIENCE ** providing added style - with choice of Diamond Circle or Barclaycard VIP Summer Garden Tickets - Arrive to a Welcome Glass of Champagne, Complimentary Bar, Comfortable Seating, (The Ultimate Bar is an Exclusive Area restricted to The Ultimate Bar Pass Holders Only) and much more ... The Ultimate Bar opens @ 12PM (TBC) - Public Doors 1PM - Whatever is right for you Briitish Summer Time wil provide all the ingredients to enjoy your day in the capital's Hyde Park with an incredible line-up of Artists and music!
See also Official BST Premium Ticket and Hotel Experiences -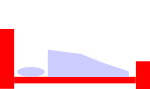 SUNDAY 08 July 2018
OFFICIAL ERIC CLAPTON TICKET and VIP TICKET EXPERIENCES
GUIDE TO CONCERT LAYOUT MAP
Provisional Times - Gates Open: 13:00H – please note the gates will be open approx. 60 minutes early for those customers who select Primary Entry, Gold Circle, Diamond Circle - *Barclaycard VIP Summer Garden *The Terrace * The Ultimate Bar * Open @ 12:00H or arrive at your leisure


ERIC CLAPTON TICKET and VIP TICKET EXPERIENCES
THE ULTIMATE BAR EXPERIENCE
To include:-
Either a Barclaycard VIP Summer Garden Ticket - (Providing Access to GOLD CIRCLE standing area to watch Great Oak Stage performances)
or DIAMOND CIRCLE Ticket, directly in front of the Great Oak Stage, allowing you to leave and return as you wish
Entrance to The Ultimate Bar for the day to relax in style (Exclusive Bar serving a wide Range of Quality Beverages to satisfy your desire, with relaxed seating, part canopy covered)
(The Ultimate Bar is a fenced off area with easy access to the VIP Garden and concert areas.)
Arrive to a Welcome Glass of Champagne
Complimentary Bar serving a range of quality Wine/Beer/Spirits/Non-Alcoholic Drinks
Commemorative VIP Laminate and Lanyard/Wristband
Access to VIP Summer Garden (an exclusive area offering VIP bars, premium food outlets, additional comfortable seating, separate restroom facilities)
Enjoy a complimentary choice of Premium Food Offerings VIP Garden (Voucher Activated)
Complimentary British Summer Time T-Shirt (Please select your requested size during booking process)
Additional Restroom Facilities Exclusively for The Ultimate Bar
Dedicated Entrance - With Entry to the event up to 1 hour before the main gates open
Commemorative Ticket Wallet
Itinerary and tickets in advance
All Taxes
Prices from £389 inc VAT
Sold Out

IMPORTANT: ANY PACKAGES FOUND TO BE OFFERED FOR RE-SALE WILL BE CANCELLED WITHOUT REFUND TICKETS WILL BE INVALIDATED