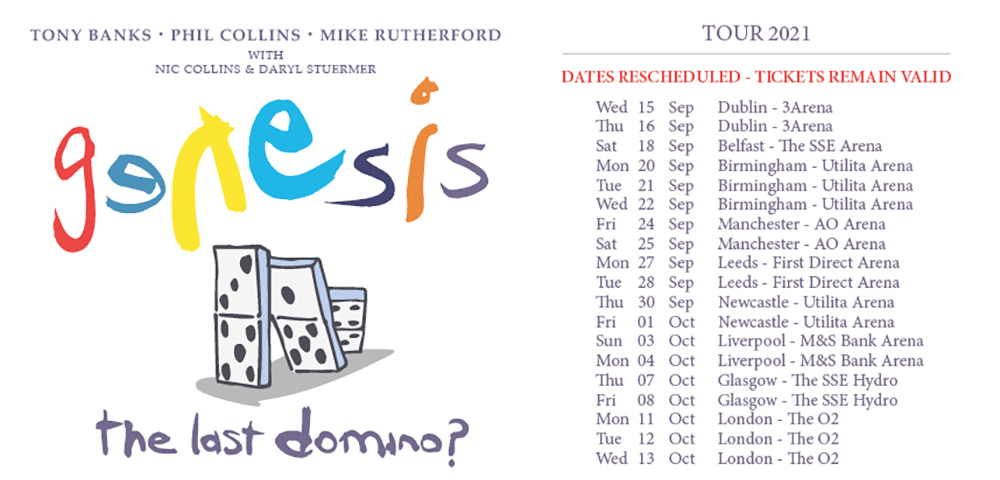 HOME PAGE -
GENESIS TOUR DATES 2021
-
GENESIS PREMIUM TICKET and HOTEL DESCRIPTIONS
** GENESIS SEPTEMBER & OCTOBER 2021 DATES ON SALE NOW! **
Flexible Payment Options - Pay Just Deposit - (Balance 8 Weeks Before Event) or Staggered Interim Payments or Pay In Full
GENESIS UK & IRELAND 2021 DATES!
THE LAST DOMINO? TOUR
Re-schedule to September and October2021
Their first tour in 14 years
Tony Banks - Phil Collins - Mike Rutherford
Existing Ticket Descriptions and Hotel Arrangements remain valid as part of the advertsised Official Ticket and Hotel Experience.
Genesis, who are among the biggest selling recording artists of all time and one of Britain's most internationally renowned bands. The Last Domino? Tour 2021 will now start in Dublin on Wednesday 15 September and will be Tony Banks, Phil Collins and Mike Rutherford's first live outing together since the globe-trotting, sell-out Turn It On Again: The Tour in 2007. They will be joined on stage by Nic Collins on drums, and the bands long time lead guitar and bass player Daryl Stuermer.
The decision to move the tour again is due to the global pandemic and even with the roll out of the vaccine, there are still a huge amount of uncertainties and unanswered questions that make a tour in April difficult for everyone. It is appreciated, that for whatever reason, those planning on attending the shows may not feel comfortable doing so, so by moving the tour we can alleviate some of those concerns and in turn that will allow the band and the crew to prepare with less unpredictability and create a show that both the band and fans alike will treasure and enjoy.
To make your evening even more special we have a limited number of Official Premium Ticket Experiences including an overnight stay and Top Price Tickets! Official Genesis Ticket Packages on sale now!
GENESIS TOUR DATES and PREMIUM TICKET & HOTEL EXPERIENCES 2021
GENESIS OFFICIAL PREMIUM TICKET EXPERIENCES
Official Ticket and Hotel Package
Includes:-
Choice of Premium Cat 1 Floor or Lower Tier Reserved Seat
Overnight Hotel Accommodation inc Buffet Breakfast
Programme (1 per 2 Guests) + Printed Commemorative Bag
Itinerary and Tickets sent in advance
On-Site Event Staff
24/7 Customer Support day of concert

NB: Please check individual booking Pages for Ticket locations
Under 14s should be accompanied by an adult - See show pages for any age or venue restrictions and seating/site plans ....
Prices From: £325, €374, $445 inc VAT/TAX
See FAQs - Promoters Terms and Conditions
IMPORTANT: ANY PACKAGES FOUND TO BE OFFERED FOR RE-SALE WILL BE CANCELLED WITHOUT REFUND