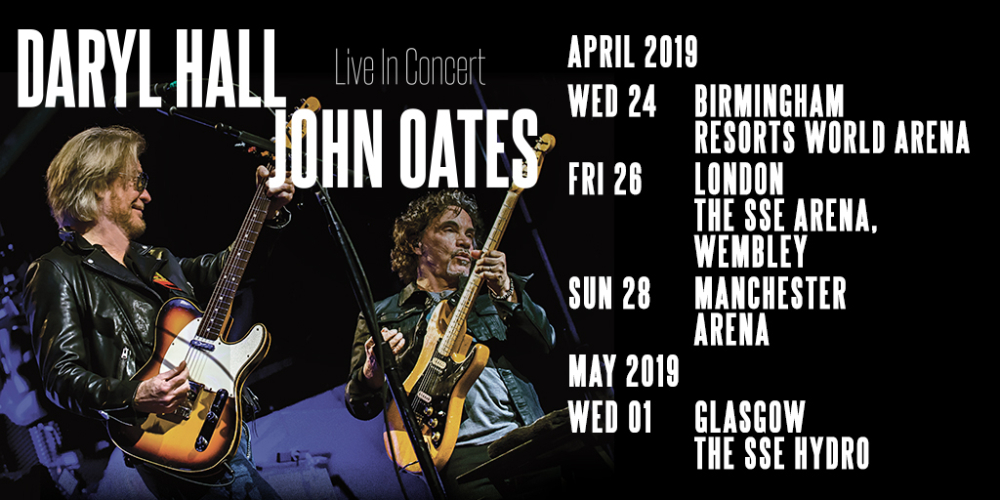 HOME PAGE -
DARYL HALL - JOHN OATES TOUR DATES 2019
-
DARYL HALL - JOHN OATES PREMIUM TICKET DESCRIPTIONS
DARYL HALL & JOHN OATES
Announce First UK Tour In Five Years
Daryl Hall & John Oates, the biggest selling music duo in HISTORY, have announced four arena shows through the UK in April and May 2019. This will be the first Daryl Hall & John Oates headline tour in the UK for five years. After another incredible touring year, which included such legendary venues as Madison Square Garden and The Forum, Daryl Hall & John Oates will will return to the U.K. for three dates in April, including the Resorts World Arena in Birmingham (Wednesday 4/24), London's Wembley SSE Arena (Friday 4/26) and the Manchester Arena (Sunday 4/28).
In May, the Rock and Roll Hall of Fame inductees will perform at Glasgow's SSE Hydro Arena (Wednesday 5/1) in Scotland. Added Daryl: "I've been in and out of the UK for a lot of years and it's always great to come home. Can't wait to play these shows."
To make your evening even more special we have a limited number of Official Ticket Experiences including an overnight Hotel and Top Price and Premium Tickets....
DARYL HALL - JOHN OATES - PREMIUM TICKET EXPERIENCES 2019
DARYL HALL - JOHN OATES TICKET EXPERIENCES!
Gold Ticket and Hotel Experience
To include:-
Choice Cat 1 Floor or Lower Tier Reserved Seat
Overnight Hotel Accommodation inc Buffet Breakfast
Complimentary Programme (1 per 2 Guests)
Itinerary and Tickets sent in advance
24/7 Customer Support day of concert

Please check individual booking Pages for Ticket locations
Prices From £225, €255, $297 inc VAT
Book
IMPORTANT: ANY PACKAGES FOUND TO BE OFFERED FOR RE-SALE WILL BE CANCELLED WITHOUT REFUND TICKETS WILL BE INVALIDATED