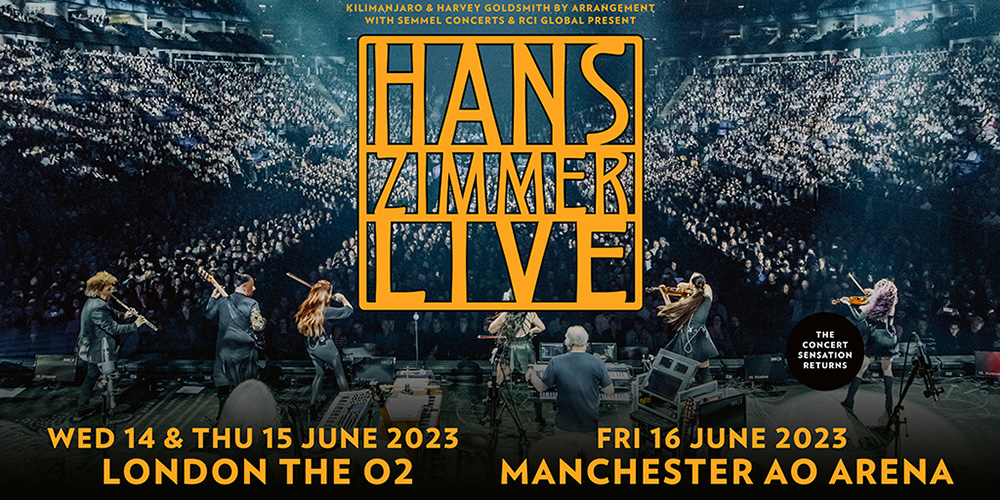 HOME PAGE
-
HANS ZIMMER LIVE UK TOUR DATES 202
3 -
HANS ZIMMER LIVE TICKETS and PACKAGE DESCRIPTIONS
THE WORLD OF HANS ZIMMER 2024 - PREMIUM TICKET and HOTEL - OFFICIAL PACKAGES ON-SALE NOW!!
HANS ZIMMER LIVE EUROPE 2023
UK TOUR DATES - SOLD OUT
The Concert Sensation Returns - Following the major success of his recent tour across Europe, Hans Zimmer is excited to announce the continuation of this smash-hit tour. Starting in April 2023, the world-renowned film composer will return to Europe including the UK with his extraordinary band and orchestra for the "Hans Zimmer Live – Europe Tour 2023". This arena tour will comprise 32 concerts in 15 countries. In a groundbreaking audio and visual show, the multiple Academy Award® and Grammy winning Zimmer, his band and the Odessa Opera Orchestra & Friends will perform the composer's worldwide successes. The newly arranged concert suites include music from GLADIATOR, PIRATES OF THE CARIBBEAN, THE DARK KNIGHT, INTERSTELLAR, THE LION KING, THE LAST SAMURAI and DUNE, for which Zimmer received his second Academy Award® during his previous tour stop in Amsterdam - "I'm thrilled to return to the stage for another tour in Europe and excited to share this phenomenal show that the band and I are preparing for," said Zimmer. "I'm grateful to be able to play our music that brings together so many people for a truly unforgettable experience." - The tour includes three huge 2023 UK Dates: London The O2 Wednesday 14th + Thursday 15th June 2023 Manchester AO Arena Friday 16th June 2023 "Performed live, the magnitude of his music is more powerful than ever… ★★★★★" The i paper "This show proved he is a true musical genius….. ★★★★★" The Sun "A cinematic juggernaut of a show" The Daily Telegraph "There are packed stadiums where pop stars or elite footballers aren't adored as much as this." Manchester Evening News - The Academy Award®, Golden Globe and Grammy winner Hans Zimmer and his team have worked on the arrangements and the impressive production for a full fifteen months to create an absolutely unique live experience for the fans. In addition to a ground-breaking sound and light show, his nineteen-strong band, Hans Zimmer himself and the Odessa Opera Orchestra & Friends will showcase the Hollywood composer's worldwide successes using three hundred different instruments.
With the "Hans Zimmer Live – Europe and UK Tour 2023" you can share the spectacle and unique music experience and enjoy an overnight stay close to the venue, including Premium Hans Zimmer Tickets and more... Official Hans Zimmer Premium Ticket and Hotel Experiences
HANS ZIMMER LIVE - 2023 UK TOUR DATES
Official Premium Ticket and Hotel Packages
HANS ZIMMER LIVE - OFFICIAL PREMIUM TICKET EXPERIENCES
PREMIUM HANS ZIMMER TICKET and HOTEL EXPERIENCE
INCLUDING::-
Premium Cat 1 Reserved Seat (Front Floor Blocks) or Front First Tier Locations within the first 15 Rows
Overnight Hotel Accommodation inc Buffet Breakfast (based on 2 persons sharing Twin or Double Room)
(Single rooms available and Extra Nights as required)
Complimentary Programme + Printed Commemorative carrier (1 per 2 Guests)
Pre-Show Glass of Prosecco
Itinerary and Tickets sent in advance
Commemorative Ticket Holder
24/7 Customer Support (Day of concert)
Important:- Please see show descriptions for Exact Ticket Locations
Prices From: £279 , €333 , $363
Book
NB: Tickets sold as seated together
IMPORTANT: ANY PACKAGES FOUND TO BE OFFERED FOR RE-SALE WILL BE CANCELLED WITHOUT REFUND - TICKETS WILL BE INVALIDATED