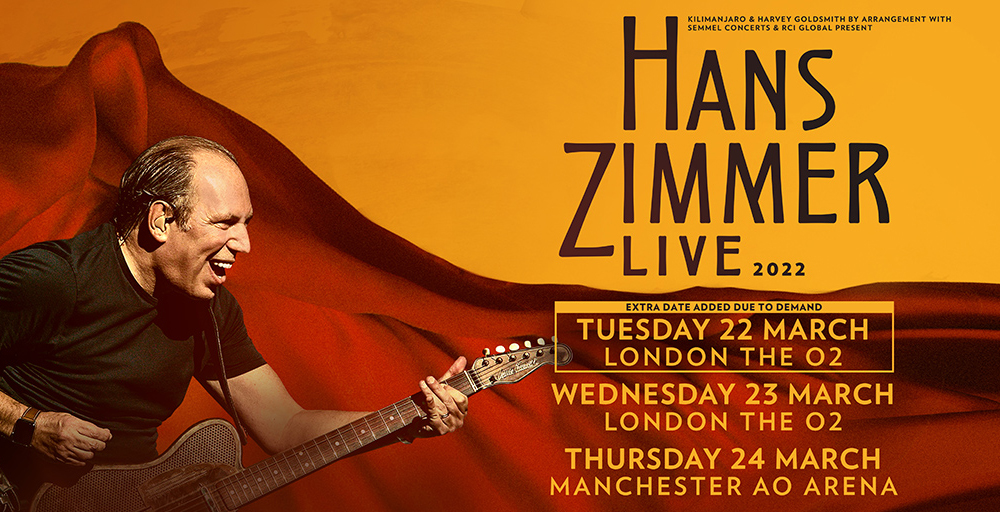 HOME PAGE
-
HANS ZIMMER LIVE UK TOUR DATES 2022
-
HANS ZIMMER LIVE TICKETS and PACKAGE DESCRIPTIONS
*** REVISED DATES FOR 2022 JUST ANNOUNCED ***
HANS ZIMMER LIVE - PREMIUM TICKET and HOTEL OFFICIAL PACKAGES
HANS ZIMMER LIVE TICKETS 2022 - UK TOUR DATES
STOP PRESS: Monday 19 October 2020 @ 2pm (BST) - For all Hans Zimmer Live - band members, crew, team and Hans Zimmer himself it is currently not possible to implement a logistically reasonable solution for the planned European live tour route starting in February 2021, due to the different health and safety guidelines in all countries and cities worldwide. As a result, Hans Zimmer and his team have decided to postpone their planned European tour 2021 until 2022.

Hans Zimmer: "As much as I would have loved to play live for you all across Europe next year with the Hans Zimmer Live band, our orchestra and choir, we have made the difficult decision to delay the tour until 2022. We are all convinced that this is the only way to offer you, as well as us, a great and safe live tour for everyone. See you in 2022!

NB: Please note all booked ticket arrangements for 2021 will remain as booked for 2022 revised dates.
Following a world tour which drew over one million fans to arenas, stadiums and open air sites, Oscar, Grammy and Golden Globe Award-winning composer Hans Zimmer returns to the stage for a major new arena tour through Europe 2022. It will be a new show with Zimmer joined by a band, orchestra and choir to perform hit compositions from fan favorite films as well as newer material and pieces not often performed live. Hans Zimmer has created some of the best-known and most influential film scores of our time. The composer – who received his 11th Oscar nomination in 2018 for the film score of Christopher Nolan's box office hit Dunkirk – has reinvented the format for live film music performance.The audience can expect another lavish set of performances. Zimmers previous show "Hans Zimmer Live", which ran from 2014 – 2019, surprised both: audiences and critics. Instead of a maestro or projected film scenes, Hans Zimmer took centre stage as musician and host alongside an orchestra, choir, and band, allowing listeners to completely immerse themselves in his much-loved film soundtracks.
With the "Hans Zimmer Live – Europe Tour 2022" the popular film composer is back live on stage by popular demand. The German-born composer chose Berlin to launch his new live tour in 2022 and you can share the spectacle and unique music experience and enjoy an overnight stay close by, including Premium Hans Zimmer Tickets and more... Official Premium Ticket and Hotel Experiences onsale now!
HANS ZIMMER LIVE LIVE - 2022 TOUR DATES - Official Ticket Packages
HANS ZIMMER LIVE - OFFICIAL PREMIUM TICKET EXPERIENCES
PREMIUM HANS ZIMMER TICKET and HOTEL EXPERIENCE
INCLUDING::-
Premium Cat 1 Reserved Seat (Front Floor Blocks) First 12 Rows
Overnight Hotel Accommodation inc Buffet Breakfast
Complimentary Programme + Printed Commemorative Bag (1 per 2 Guests)
Pre-Show Glass of Prosecco
Itinerary and Tickets sent in advance
Commemorative Ticket Holder
24/7 Customer Support (Day of concert)
Important:- Please see show descriptions for Exact Ticket Locations
Book
NB: Tickets sold as seated together
IMPORTANT: ANY PACKAGES FOUND TO BE OFFERED FOR RE-SALE WILL BE CANCELLED WITHOUT REFUND - TICKETS WILL BE INVALIDATED