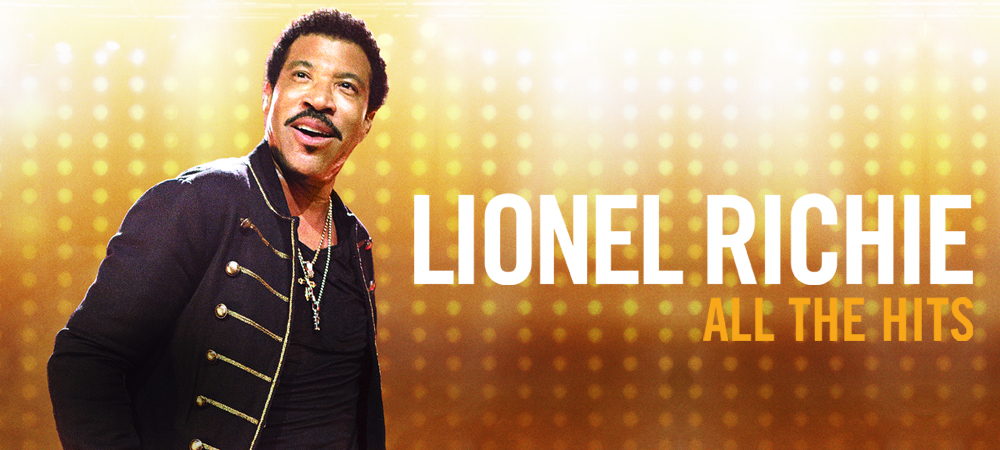 Home Page - Lionel Richie VIP Ticket Experience - Lionel Richie Tour Dates 2016
Book Lionel Richie VIP Tickets
LIONEL RICHIE - 'ALL THE HITS' TOUR 2016
LIONEL RICHIE VIP TICKET EXPERIENCES

also Lionel Richie is Thrilled to announce an additional date in Italy with special guest, Earth Wind & Fire - July 11th at Anfiteatro Camerini in Piazzola Sul Brenta/ Padua! ,

2016 UK Arena dates follow a phenomenal year in the UK for Lionel, which saw a sell out tour with incredible live reviews, a Number One Album, a GQ Award and a truly sensational Glastonbury moment!
"a sincere affirmation of his real standing in pop culture as a hit-maker of the highest order."
Daily Telegraph (***** 5 stars)
"Lionel Richie; party starter, people pleaser, a Glastonbury highlight."
Guardian (**** 4 stars)
"…may just have proven himself the greatest rock star on the planet."
The Independent
International superstar Lionel Richie will return to the UK in 2016 performing at Manchester Arena and London's The O2.
Performing 'All The Hits' from his extensive and much loved repertoire spanning decades, all the way from the Commodores to the present day. Lionel's shows are world renowned for their party atmosphere and audiences will be able to join Lionel in singing along to classics such as 'Hello', 'Easy', 'Dancing on the Ceiling', 'Say You Say Me' and 'All Night Long'.
Lionel said:
"It's been an unforgettable year and I can't wait to return to the UK to see my fans. It's always been a really special place for me and this year in particular the UK has been incredible to me. I'm excited to be getting out there and seeing some new faces and I'm sure some old ones too!"
The UK fell back in love with Lionel last year following a sellout tour that received glittering reviews and culminated in a phenomenal Glastonbury performance. After drawing the biggest crowd of the weekend with over 100,000 people flocking to the Pyramid Stage, Lionel's album 'The Definitive Collection' reached Number 1 on the UK album charts for the first time in 23 years.

We are delighted to also feature some Amazing Lionel Richie VIP Ticket Experiences to make your night even more special including a Meet with Lionel Richie, Front Row Seats, pre-show Hospitality and even Ticket and Hotel options too - See you there!
LIONEL RICHIE TOUR DATES 2016
LIONEL RICHIE VIP TICKET EXPERIENCES
MEET and GREET Experience
To include:-
One premium reserved seated ticket within rows 2-4
Meet & Greet with LIONEL RICHIE
Photo opportunity with LIONEL RICHIE
VIP entrance (where available)
Merchandise item designed and created exclusively
for package purchasers
Tour programme
Collectible laminate to commemorate your evening
Bespoke ticket wallet and full itinerary sent in
advance
Onsite event check-in


Prices from £355 - €500 inc tax
Book
FRONT ROW Experience
To include:-
One Front Row reserved seated ticket
VIP entrance (where available)
Merchandise item designed and created
exclusively for package purchasers
Tour programme
Collectible laminate to commemorate your
evening
Bespoke ticket wallet and full itinerary sent in
advance
Onsite event check-in
Full itineraries sent in advance


Prices from £245 - €345 inc tax
Book
LIONEL RICHIE VIP TICKET EXPERIENCES
HOSPITALITY Experience
To include:-
One Top Priced reserved seated ticket
VIP entrance (where available)
Pre show reception including a specially
selected menu and complimentary drinks*
Merchandise item designed and created exclusively
for package purchasers
Complimentary Tour Programme
Collectible laminate to commemorate your evening
Bespoke ticket wallet and full itinerary sent in
advance
Onsite VIP Hosts

* Menus specific to each venue
Prices from £295 - €415 inc tax
Book
GETAWAY (Hotel and Ticket) Experience
To include:-
One premium reserved seated ticket within rows 8-12
One night hotel accommodation
Buffet Breakfast
24/7 Customer service
Bespoke ticket wallet and full itinerary sent in
advance
Prices from : £245 - €345 inc tax
Book
IMPORTANT: ANY PACKAGES FOUND TO BE OFFERED FOR RE-SALE WILL BE CANCELLED WITHOUT REFUND TICKETS WILL BE INVALIDATED