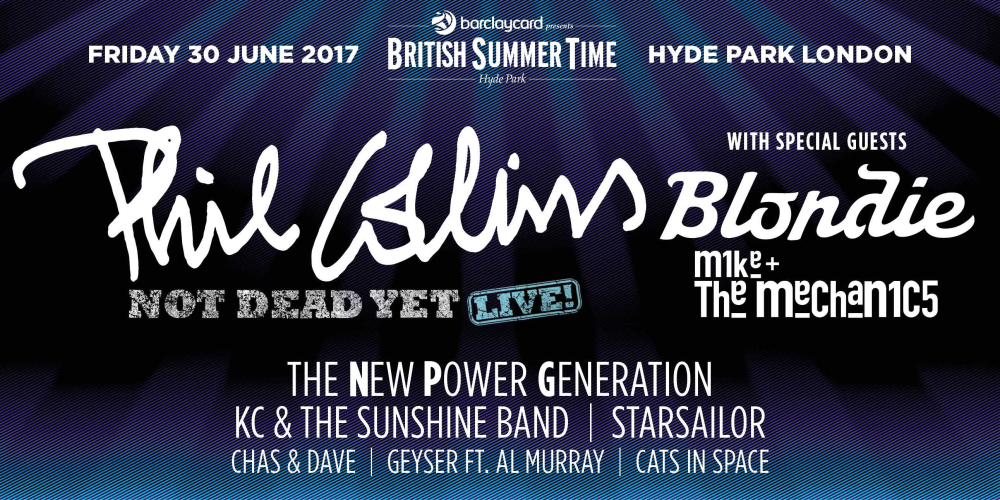 Home - Phil Collins Tickets & VIP Info - Phil Collins Tour Dates - Hyde Park Map 2017 - The Ultimate Bar Experience - General info
PHIL COLLINS
London Hyde Park Friday 30th June 2017
Special Guests
BLONDIE plus M1ke + The Mechan1c5
THE NEW POWER GENERATION|KC & THE SUNSHINE BAND |STARSAILOR
CHAS & DAVE | GEYSER FT. AL MURRAY | CATS IN SPACE
Book
ON SALE NOW!
Another Day of Paradise lined up for summer 2017 in Hyde Park…. this will be Phil's Only UK And European Festival Performance of 2017 - Phil Collins will be headlining his own day in the Royal Park - his biggest solo show ever. - This follows Phil Collins recent announcement that he is coming out of retirement for his first live shows in ten years, the mischievously named Not Dead Yet: Live tour. According to the man himself, "I will be playing all of the songs that people love." Phil Collins says: "The reaction from the British public has been overwhelming. I can't wait to play Hyde Park and see everyone there." - One the most successful artists of his generation, with more UK Top 40 singles than any other artist of the 1980s, Phil Collins came to prominence first as drummer and then as frontman of Genesis, making his solo debut with 1981's album Face Value, containing smash hit single 'In The Air Tonight.
We are delighted and honoured to offer a range of Official Premium Ticket Experiences for what will be an amazing day in London's Hyde Park! - Chose from Priority Entry, Gold Circle, Barclaycard VIP Summer Garden, The Terrace and even Diamond View tickets! Select an overnight stay and you can just relax and enjoy all that British Summertime has on offer! Provisional Times - Gates Open: 14:00H – please note the gates will be open approx. 60 minutes earlier for those customers who select Priority Entry, Premium View, - *Barclaycard VIP Summer Garden *The Terrace * The Ultimate Bar * Open @ 13:00H but arrive at your leisure
Looking for something extra special ** THE ULTIMATE BAR EXPERIENCE ** Enjoy your day in Style at The Ultimate Bar, with a choice of a Barclaycard VIP Summer Garden or Diamond View Ticket - Arrive to a Welcome Glass of Champagne, Complimentary Bar, Comfortable Seating (an Exclusive Area restricted to The Ultimate Bar VIP Pass Holders only) and much more ...
FRIDAY 30th June 2017
OFFICIAL PHIL COLLINS TICKET and VIP TICKET EXPERIENCES
GUIDE TO CONCERT LAYOUT MAP

Provisional Times - Gates Open: 14:00H – please note the gates will be open approx. 60 minutes early for those customers who select Priority Entry, Premium View, - *Barclaycard VIP Summer Garden *The Terrace * The Ultimate Bar * Open @ 13:00H but arrive at your leisure

PHIL COLLINS TICKET and VIP TICKET EXPERIENCES
Priority Entry Ticket & Hotel Experience
(with Early Entrance)
To include:-
Choice of Overnight Hotel Accommodation (including Complimentary Breakfast)
General Admission ticket through a dedicated entrance for Priority Entry customers
Entry to the event up to one hour before the gates open to General Admission customers
Access to an extensive range of bars, food traders and toilets in the main arena
Commemorative Ticket Wallet
Itinerary and tickets sent in advance
All Taxes
PRICES FROM £229 inc VAT
Book
Gold Circle Ticket Experience
(with Early Entrance)
To include:-
Choice of Overnight Hotel Accommodation (including Complimentary Breakfast)
Dedicated Entrance for Gold Circle customers
Entry to the event up to one hour before the gates open to General
Admission customers
Access to an extensive range of bars, food traders and toilets in the
main arena
Exclusive Gold Circle standing viewing area to watch Great Oak Stage
performances, allowing you to leave and return from the Gold Circle area
into general admission as you wish
Access to an extensive range of bars, food traders and toilets in the
main arena
Commemorative Ticket Wallet
Itinerary and tickets sent in advance
All Taxes




PRICES FROM £359 inc VAT
Book
PHIL COLLINS TICKET and VIP TICKET EXPERIENCES
VIP Summer Garden Ticket & Hotel Experience
(with Early Entrance)
To include:-
Choice of Overnight Hotel Accommodation (including Complimentary
Breakfast)
Dedicated entrance for Barclaycard VIP Summer Garden customers
Entry to the event up to one hour before the main gate opens
Access to Gold Circle standing viewing area to watch Great Oak Stage
performances, allowing you to leave and return from the from the Gold
Circle into the Barclaycard VIP Summer Garden and general admission
areas as you wish
Access to the Barclaycard VIP Summer Garden - (an exclusive area offering
VIP bars, premium food outlets, additional comfortable seating, separate
toilet facilities and cloakroom)
Access to an extensive range of bars, food traders and toilets in the main arena
Exclusive Barclaycard presents British Summer Time Hyde Park Phil Collins
Event Lanyard and Laminate
Commemorative Ticket Wallet
Itinerary and tickets sent in advance
All Taxes
PRICES FROM £499 inc VAT
Book
Terrace Ticket & Hotel Experience
(with Early Entrance)
To include:-
Choice of Overnight Hotel Accommodation (including Complimentary Breakfast)
Terrace Standing Ticket
Dedicated entrance for The Terrace customers
Entry to the event up to one hour before the main gate opens
(The Terrace is a tiered covered standing grandstand from where you will
have amazing views of the Great Oak Stage and be able to watch all
performances).
Access to the Barclaycard VIP Summer Garden - (an exclusive area offering
VIP bars, premium food outlets, comfortable seating, separate toilet facilities
and cloakroom)
Access to an extensive range of bars, food traders and toilets in the main arena
Exclusive Barclaycard presents British Summer Time Hyde Park Phil Collins
Event Lanyard and Laminate
Commemorative Ticket Wallet
Itinerary and tickets sent in advance
All Taxes
PRICES FROM £679 inc VAT
Book
PHIL COLLINS TICKET and VIP TICKET EXPERIENCES
THE ULTIMATE BAR EXPERIENCE
To include:-
Either a Barclaycard VIP Summer Garden Ticket - (Providing Access to GOLD CIRCLE standing area to watch Great Oak Stage performances) or DIAMOND VIEW Ticket, directly in front of the Great Oak Stage, allowing you to leave and return as you wish)
Entrance to The Ultimate Bar for the day to relax in style (Exclusive Bar serving a full Range of Quality Beverages and Cocktails to satisfy your desire, with relaxed seating and part covered open canopy fenced off area with easy access to the VIP Garden and concert areas.)
* Arrive to a Welcome Glass of Champagne
Complimentary Bar serving Selected Wine/Beer/House Spirits/Non-Alcoholic Drinks - (A Full Bar
Service will be operating for other drink preferences to purchase on the day)
Commemorative VIP Laminate and Lanyard
Access to VIP Summer Garden
(an exclusive area offering VIP bars, premium food outlets, additional comfortable seating,
separate restroom facilities)
Enjoy a complimentary choice of Premium Food Offerings VIP Garden (Voucher Activated)
* Complimentary British Summertime T-Shirt
Additional Restroom Facilities Exclusively for The Ultimate Bar
Dedicated Entrance - With Entry to the event up to 1 hour before the main gates open
Commemorative Ticket Wallet
Itinerary in advance
All Taxes

* Not included in the Gold Experience
Prices from £489 inc VAT (GOLD EXPERIENCE)
Book


IMPORTANT: ANY PACKAGES FOUND TO BE OFFERED FOR RE-SALE WILL BE CANCELLED WITHOUT REFUND TICKETS WILL BE INVALIDATED