Principality Stadium Cardiff 2022 - Ed Sheeran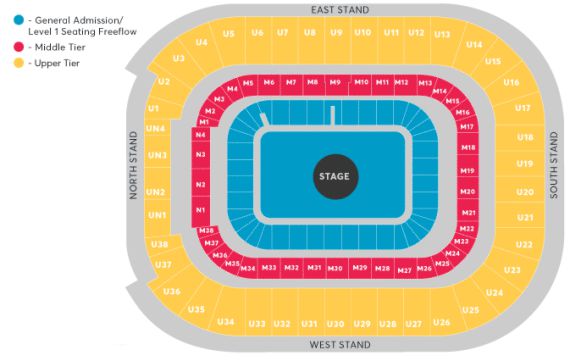 Venue Information
Since opening in June 1999, the Millennium Stadium has welcomed, on average, over 1.3 million visitors per year. Sporting the first fully-retractable roof in the UK, the venue is at the leading edge as a multi-purpose, multi-faceted event venue. The Millennium Stadium boasts a UEFA 5-Star rating and has hosted matches from two Rugby World Cups including the Final in 1999, witnessed three Wales Grand Slam successes in the RBS Six Nations, staged six showpiece FA Cup Finals plus hosted the major artists of the music business with a plethora of major concerts and motorsports events on its CV.
The installation of a partition drape system in July 2005 now means that the bowl of the Millennium Stadium can be used for multiple concert mode configurations and for staging exhibitions. The new Desso pitch installed in the summer of 2015 means the stadium will be retains it reputation of being one of most modern stadia in the world.
Directions
By Rail
Cardiff Central is the nearest station to the Stadium and operates mainline services from West Wales, the Midlands, the South Coast and London. Cardiff Queen Street Station is a 15 minute walk to the east of the Stadium and offers local rail services across Cardiff and from the South Wales Valleys.
A queuing system is generally in operation at Cardiff Central Station after each event so please check the Arriva Trains website before travelling for further information. When arriving from Cardiff Central station passengers should bear left along Wood Street for Gates 5, 6 and 7 or bear right along Wood Street to Westgate Street for Gates 4, 3, 2 continuing around to Gate 1 on Castle Street.
By Coach
You can travel to Cardiff by coach from most UK cities including London, Birmingham, Manchester, Newcastle and Edinburgh. There are also with regular buses services between most town/cities in Wales if you staying outside of Cardiff.
Cardiff Central Bus Station is a five minute walk from the stadium, passengers exit the bus station and bear left along Wood Street for Gates 5, 6 and 7 or bear right along Wood Street to Westgate Street for Gates 4, 3, 2 continuing around to Gate 1 on Castle Street. Coach parking on event days is usually located at Sophia Gardens which is just a five minute walk away, following the river.
By Road
Cardiff's location on the M4 corridor makes it easily accessible by car and is within two hours drive of London and the East Midlands. There is no dedicated spectator car parking at, or near, the stadium or matches days but there is plenty of parking available in the City Center itself.
We would advise spectators take advantage of the Park and Rides available on events days located at Leckwith. You can book this through the website www.parkjockey.com which is run by Park Jockey London Limited and which is independent of Principality Stadium.
By Foot
If you live in or are staying in Cardiff then walking to the stadium may be your best option as local transport systems can be very busy on event days. If you are staying in Cardiff Bay you can also take a boat taxi to the City Centre.
By Air
Principality Stadium is located within 30 minutes' drive of Cardiff Airport and 45 minutes' drive of Bristol Airport. An express bus service (T9) operates directly from the terminal to the City Centre.
A short shuttle bus journey connects the Airport to the train station at Rhoose, which is a 30-minute rail journey to Cardiff Central Station.
General Rules
Entry to the stadium will be denied to any person carrying alcohol, any drink containers, recording equipment, photographic equipment, airhorn, or any article (for example, a firework or flag stick) which may be used as a weapon or missile.

Please be aware that smoking is not permitted in any area of the stadium.

No duplicate ticket will be issued in the event of the original ticket being misplaced or lost.

For full terms and conditions
The stadium is non smoking
Children Rules
The age limit whereby a spectator needs a ticket to enter the Principality Stadium for a rugby event is 12 months old. Concerts may differ and age restrictions do apply to age of children able to stand on pitch and seating - Please refer to show pages.
Miscellaneous
Fast food and Licensed bars

No personal food or drink items allowed.