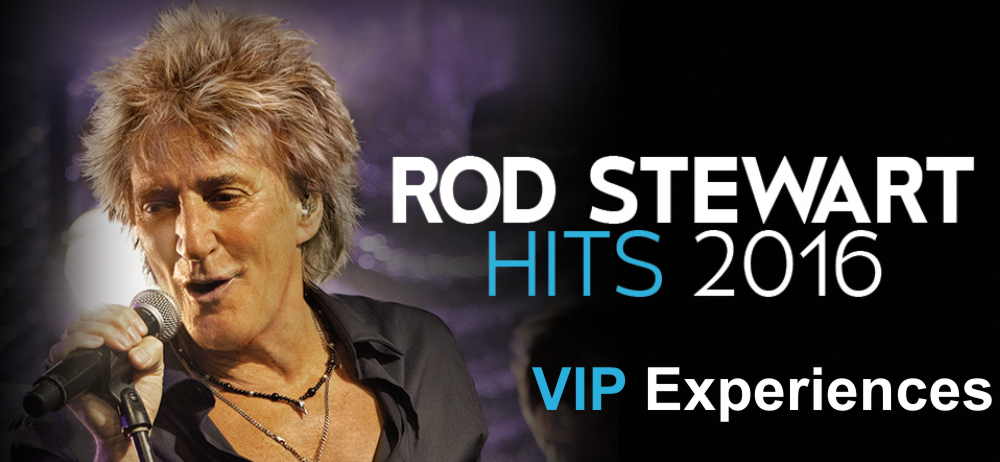 HOME PAGE
-
ROD STEWART TOUR DATES 2016
-
ROD STEWART VIP TICKET DESCRIPTIONS
ROD STEWART VIP TICKET EXPERIENCES
ROD STEWART
'FROM GASOLINE ALLEY TO ANOTHER COUNTRY' THE HITS 2016 UK TOUR
STOP PRESS 23/11 5PM (LONDON 25 and 26 November Dates Re-Scheduled to 26th & 27th February 2017)
EXTRA TICKETS THE O2 LONDON - MONDAY 12 DECEMBER ** JUST RELEASED **

UK ARENA TOUR NOVEMBER-DECEMBER 2016
Anticipated start time 7:30PM
Rod Stewart to perform 'From Gasoline Alley to Another Country Hits 2016' arena tour that is set to delight fans up and down the UK as he takes to the stage from November – December 2016 bringing with him his biggest hits from 1970 to 2016. Demand for Rod Stewart's spectacular live shows are as strong as ever following the recent release of musical legend's 29th critically acclaimed platinum selling album 'Another Country', which shot straight to #2 in October 2015.
With no shortage of chart topping tracks to choose from, this show is guaranteed to live up to the name featuring timeless classics such as: You Wear It Well, Maggie May, Da Ya Think I'm Sexy, Baby Jane, The First Cut is the Deepest, I Don't Want To Talk About It, Tonight's The Night and Sailing.
Rod Stewart commented, "What a great line-up of venues. These are some of my favourite buildings in my favourite cities. I give you fair warning – fasten your seat belts. I'm pulling out all the stops! "

We are privileged to offer ROD STEWART FANS some Exciting VIP TICKET EXPERIENCES too to make the night even more enjoyable! Including a limited number of FRONT ROW SEATS, AMAZING PREMIUM HOT SEAT TICKETS, HOSPITALITY with GREAT SEATS or RELAX with AN OVERNIGHT HOTEL and PREMIUM TICKETS - See you there!
ROD STEWART TOUR DATES and VIP TICKET EXPERIENCES
ROD STEWART VIP TICKET EXPERIENCES
FRONT ROW VIP TICKET EXPERIENCE
To include:-
Front Row ( Floor Block A & C)
Programme
Exclusive Signed Print and Merchandise Gift
Itinerary and Tickets sent in advance
On-Site Event Management & VIP Hosts
24/7 Customer Support
Prices From £325 inc VAT
Book
HOSPITALITY TICKET EXPERIENCE
To include:-
Premium Seat (Front Floor Blocks/First Tier Blocks)
Welcome Cocktail On Arrival
2/3 Course Dining/Buffet/Sumptuous Bowl Recipes
Complimentary Bar Serving Wine Beer and Soft Drinks
VIP Commemorative ID Card/Laminate
Programme
Bespoke Ticket Wallet
Itinerary and Tickets sent in advance
On-Site Event Management & VIP Hosts
24/7 Customer Support
Prices from £249 inc VAT
Book
NB: Please check individual Booking Pages for Seat Locations and Hospitality Offerings
ROD STEWART VIP TICKET EXPERIENCES
THE PREMIUM HOT SEAT EXPERIENCE
To include:-
Premium Seat (Front Floor Blocks/First Tier Blocks)
Programme (1 per 2 Guests)
Exclusive Merchandise Gift
Bespoke Ticket Wallet
Itinerary and Tickets sent in advance
On-Site Event Management & VIP Hosts
24/7 Customer Support
Prices From £195 inc VAT
Book
THE GOLD HOT SEAT EXPERIENCE
To include:-
Premium Seat (Floor Blocks/First Tier Blocks)
Programme (1 per 2 Guests)
Exclusive Merchandise Gift
Bespoke Ticket Wallet
Itinerary and Tickets sent in advance
On-Site Event Management & VIP Hosts
24/7 Customer Support
Prices from £179 inc VAT
Book
ROD STEWART VIP TICKET EXPERIENCES
THE PREMIUM TICKET AND HOTEL EXPERIENCE
To include:-
Premium Seat (Front Floor Blocks/First Tier Blocks)
Overnight Hotel Stay including buffet breakfast
Programme (1 per 2 Guests)
Bespoke Ticket Wallet
Itinerary and Tickets sent in advance
On-Site Event Management & VIP Hosts
24/7 Customer Support
Prices From £229 inc VAT
Book
THE GOLD TICKET AND HOTEL EXPERIENCE

To include:-
Premium Seat (Floor Blocks/First Tier Blocks)
Overnight Hotel Stay including buffet breakfast
Programme (1 per 2 Guests)
Bespoke Ticket Wallet
Itinerary and Tickets sent in advance
On-Site Event Management & VIP Hosts
24/7 Customer Support
Prices from £209 inc VAT
Book
NB: Please check individual Booking Pages for Seat Locations and Hospitality Offerings - Anticipated On Stage start time 7:30PM to be confirmed - A full Itinerary will be provided with tickets


IMPORTANT: ANY PACKAGES FOUND TO BE OFFERED FOR RE-SALE WILL BE CANCELLED WITHOUT REFUND TICKETS WILL BE INVALIDATED