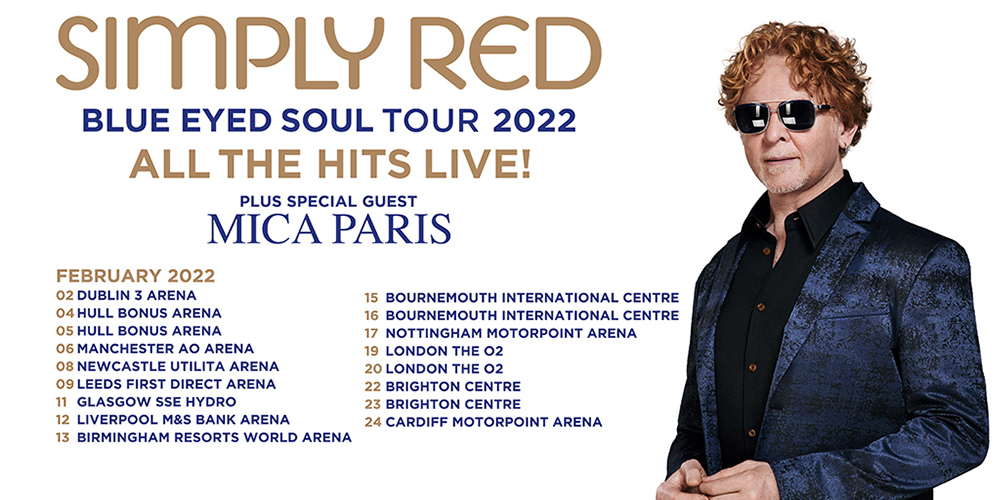 HOME PAGE - SIMPLY RED UK TOUR DATES 2022 - SIMPLY RED UK PREMIUM TICKET DESCRIPTIONS
New Album 'Blue Eyed Soul' Out Now
SIMPLY RED UK VIP TICKETS!
BLUE EYED SOUL - ALL THE HITS LIVE!
Plus Special Guest MICA PARIS

Hailed as one of the most successful live acts ever to come out of the UK, Simply Red will be firing on all cylinders delivering their all-time classic hits from a stellar career, such as 'Stars', 'Holding Back The Years', 'Fairground' and 'Money's Too Tight To Mention', as well as some raw and soulful new grooves, including latest single 'Thinking Of You'. They will be joined on all dates by special guest Mica Paris.
To make your Simply Red evening even more special, we have a limited number of Official Simply Red Ticket and VIP Ticket Experiences with an overnight Concert Hotel and Premium Tickets :-
SIMPLY RED UK TOUR DATES and PREMIUM TICKET EXPERIENCES 2022
SIMPLY RED PREMIUM TICKET EXPERIENCES - 2022
Premium Ticket and Hotel
To include:-
Premium (Central Floor Block Seat) or First Tier
1 Night Hotel Stay including Buffet Breakfast (Night of concert)
Complimentary Tour Programme (1 per 2 Guests)
Bespoke Ticket Holder
Itinerary and Tickets sent in advance
24/07 Customer Support on day of concert
All Taxes


Please check individual booking Pages for Ticket locations
Prices From £209, €241, $287 inc VAT
Book
Gold Ticket and Hotel
To include:-
Premium (Floor Block Seat) /First Tier Blocks
1 Night Hotel Stay including Buffet Breakfast (Night of concert)
Complimentary Tour Programme (1 per 2 Guests)
Bespoke Ticket Holder
Itinerary, Information and Tickets sent in advance
24/07 Customer Support on day of concert
All Taxes


Please check individual booking Pages for Ticket locations
Prices From £199, €229, $273 inc VAT
Book
IMPORTANT: ANY PACKAGES FOUND TO BE OFFERED FOR RE-SALE WILL BE CANCELLED WITHOUT REFUND TICKETS WILL BE INVALIDATED