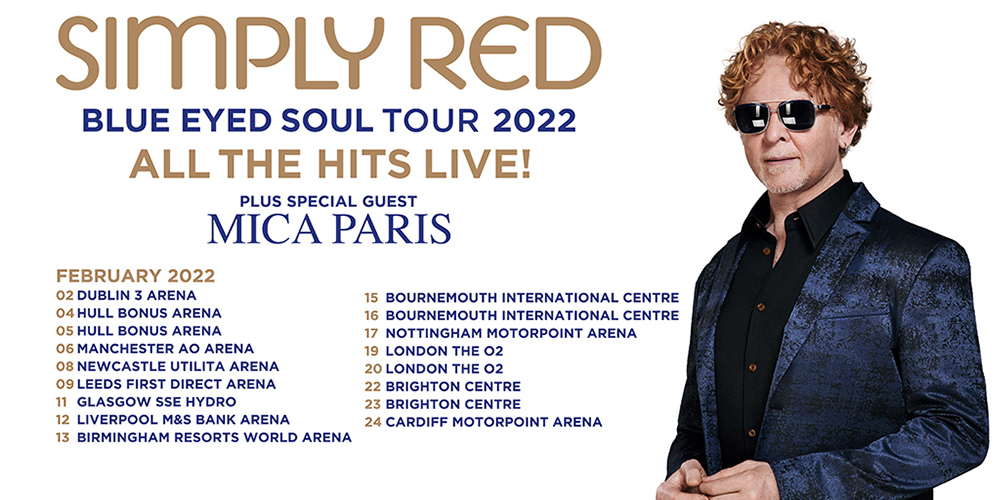 HOME PAGE -
SIMPLY RED UK TOUR DATES 2022
-
SIMPLY RED UK PREMIUM TICKET DESCRIPTIONS
New Album 'Blue Eyed Soul' Out Now
SIMPLY RED UK FEB 2022 TOUR DATES!
BLUE EYED SOUL - ALL THE HITS LIVE!

Monday 12th April 2021 12:00H:- (Promoter Statement) Due to the ongoing uncertainty surrounding the easing of Covid-19 restrictions and in order to be 100% sure we can go ahead with the Simply Red tour, we have taken the decision to move the dates to February 2022. Whilst we are all saddened to be bringing you the announcement that the shows will no longer take place in 2021 and acknowledge the disappointment this will bring, we want to allow people time to plan their travel and ensure our fans will feel safe and happy to attend. All purchased Ticket Experiences will remain valid for the new dates.
To make your Simply Red evening even more special, we have a limited number of Official Simply Red Ticket and VIP Ticket Experiences with an overnight Concert Hotel and Premium Tickets :-
SIMPLY RED UK TOUR DATES and PREMIUM TICKET EXPERIENCES 2022
SIMPLY RED PREMIUM TICKET EXPERIENCES - 2022
Premium Ticket and Hotel
To include:-
Premium (Central Floor Block Seat) or First Tier
1 Night Hotel Stay including Buffet Breakfast (Night of concert)
Complimentary Tour Programme (1 per 2 Guests)
Bespoke Ticket Holder
Itinerary and Tickets sent in advance
24/07 Customer Support on day of concert
All Taxes


Please check individual booking Pages for Ticket locations
Prices From £209, €241, $287 inc VAT
Book
Gold Ticket and Hotel
To include:-
Premium (Floor Block Seat) /First Tier Blocks
1 Night Hotel Stay including Buffet Breakfast (Night of concert)
Complimentary Tour Programme (1 per 2 Guests)
Bespoke Ticket Holder
Itinerary, Information and Tickets sent in advance
24/07 Customer Support on day of concert
All Taxes


Please check individual booking Pages for Ticket locations
Prices From £199, €229, $273 inc VAT
Book
IMPORTANT: ANY PACKAGES FOUND TO BE OFFERED FOR RE-SALE WILL BE CANCELLED WITHOUT REFUND TICKETS WILL BE INVALIDATED