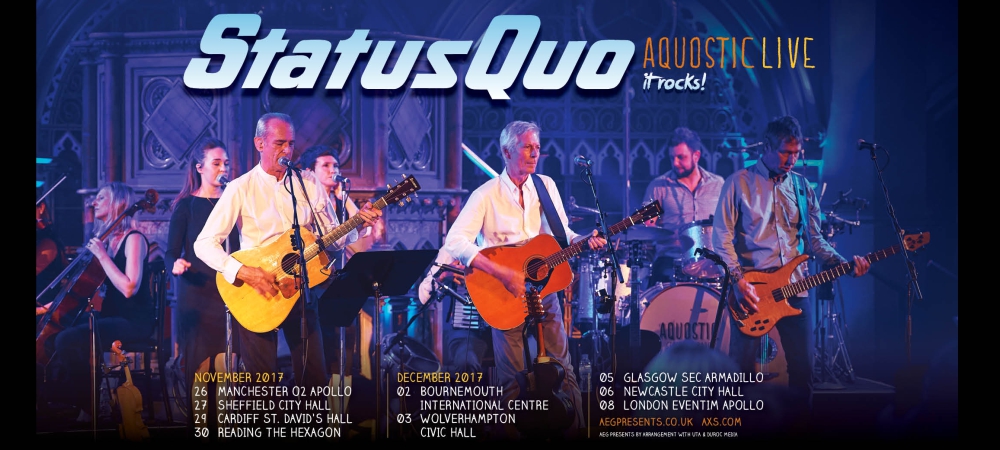 STATUS QUO - The Aquostic 2017 Winter Tour
VIP TICKET EXPERIENCES
Status Quo will undertake a full UK Winter Tour, performing hits from across a five decade career, in their celebrated Aquostic style. including nine venues across the nation in November and December 2017, this tour once again allows the band to explore and redefine the songs that made their name.
These shows will be fully acoustic and feature additional musicians, including female backing vocalists. This 2017 Winter Tour will be the second such set of dates to take place without guitarist Rick Parfitt, whose tragic death at the end of last year shocked and saddened Quo and their fans, but left the band newly motivated to perform and honour these songs to a fan base that remains equally enthused. Francis Rossi said, "Things are not the same, nor should they be, but the show goes on because band and fans alike still love this amazing music."
Classic Rock recently named 'Aquostic' as one of the top 25 acoustic albums ever saying, "It works. Brilliantly. Quo acoustic? It's no gimmick". The Times said, "It's time to… reclaim them as one of Britain's great bands." The Sun said simply that 'Aquostic', "Helps confirm their national treasure status". This 2017 Aquostic tour offers a generous helping of Quo classics that are immediately recognisable, and yet demonstrably re-engineered; this is the sound of a band living in the present, embracing the future, whilst cherishing their past.
STATUS QUO TOUR DATES and VIP TICKET EXPERIENCES
STATUS QUO TICKET and VIP TICKET EXPERIENCES
Front Row Ticket Experience
To include:-
Front Row Seat (Floor) or Front Row Balcony/Circle
Signed Programme
Exclusive Merchandise Gift
Itinerary and Tickets sent in advance
Commemorative Ticket Wallet
On-Site Event Management & VIP Hosts
24/7 Customer Support
All Taxes
PRICES FROM £199 inc VAT
Book
Premium Hot Seat Experience
To include:-
Premium Cat 1 Ticket (Front Floor or First Tier seat Rows 2-6)
Programme
Exclusive Merchandise Gift
Itinerary and Tickets sent in advance
Commemorative Ticket Wallet
On-Site Event Management & VIP Hosts
24/7 Customer Support
All Taxes
PRICES FROM £135 inc VAT
Book
STATUS QUO TICKET and VIP TICKET EXPERIENCES
Gold Hot Seat Ticket Experience
To include:-
Premium Cat 1 Ticket (Floor or First Tier seat Rows 7-10)
Exclusive Merchandise Gift
Programme
Itinerary and Tickets sent in advance
Commemorative Ticket Wallet
On-Site Event Management & VIP Hosts
24/7 Customer Support
All Taxes

PRICES FROM £135 inc VAT
Book
Priority Entrance GA Ticket Experience
To include:-
Floor Standing Ticket (With Early Entrance)
(Be one of the First to Front of Stage!)
Exclusive Merchandise Gift
Programme
Itinerary and Tickets sent in advance
Commemorative Ticket Wallet
On-Site Event Management & VIP Hosts
24/7 Customer Support
All Taxes
PRICES FROM £139 inc VAT
Book
Please refer to show pages for accurate Ticket Locations as may vary slightly venue to venue - Thank you
IMPORTANT: ANY PACKAGES FOUND TO BE OFFERED FOR RE-SALE WILL BE CANCELLED WITHOUT REFUND TICKETS WILL BE INVALIDATED