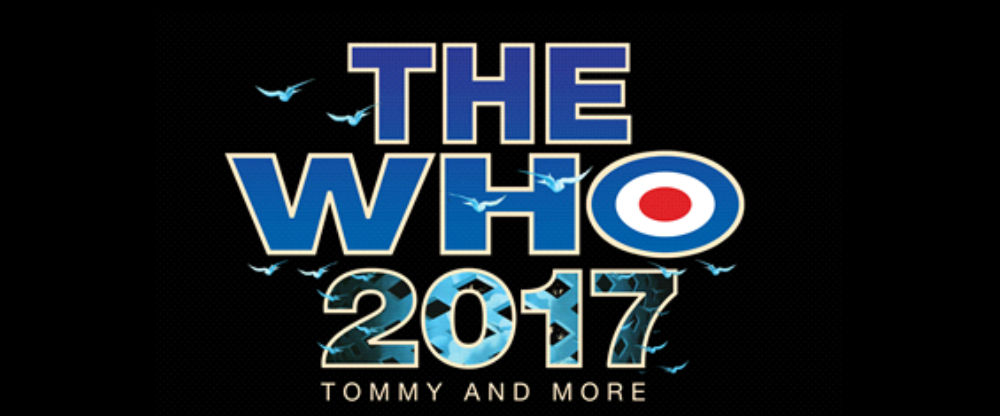 In Support "THE STANDARD LAMPS"
(Wed 27 July 2016)
THE WHO - ANNOUNCE RESCHEDULED CONCERT DATES FOR THEIR SHOWS IN AUGUST/SEPTEMBER 2016

The anticipated concert dates for The Who 29th August to 7th September have now been rescheduled to April 2017. The band have announced that the five UK dates scheduled for August /September 2016, originally billed as 'Greatest Hits' shows, will be moved to 2017 to coincide with The Who to premiere a new acoustic presentation of 'Tommy' at London Royal Albert Hall 30 March / 1 April 2017.
For the rescheduled Greatest Hits shows Roger and Pete will play the hits as well as some lesser known Who songs and also include a new focused presentation of Tommy drawn from the Royal Albert Hall concerts including a brand new video programme specially produced for these shows. This UK set will emulate the historic period around Live At Leeds and Woodstock when the central pivot of The Who's show was always their performance of Tommy. For Who fans new and old this is something special that hasn't been done by the band or seen by their audience since 1970.
We are privileged to offer THE WHO FANS some Exciting VIP TICKET EXPERIENCES, to make the night even more enjoyable! Including a limited number of FRONT ROW SEATS, and AMAZING PREMIUM HOT SEAT TICKETS too ... - See you there!

THE NEW UK TOUR DATES ARE AS FOLLOWS: -
THE WHO TOUR DATES and VIP TICKET EXPERIENCES 2017
THE WHO VIP TICKET EXPERIENCES
FRONT ROW VIP TICKET EXPERIENCE!
To include:-
Front Row (Central To Stage Floor Blocks)
Exclusive Merchandise inc Programme
Itinerary and Tickets sent in advance
Commemorative Ticket Wallet
24/7 Customer Support on night of show
All Taxes

Prices From £285 inc VAT
Book
THE PREMIUM HOT SEAT EXPERIENCE
To include:-
Premium Seat (Central Floor Blocks Rows 2-6)
Exclusive Merchandise inc Programme
Itinerary and Tickets sent in advance
Commemorative Ticket Wallet
24/7 Customer Support on night of show
All Taxes

Prices from £195 inc VAT
Book
THE WHO VIP TICKET EXPERIENCES
THE GOLD HOT SEAT EXPERIENCE
To include:-
Premium Seat (Central Floor Block/First Tier Seats Rows 7-10)
Exclusive Merchandise inc Programme
Itinerary and Tickets sent in advance
Commemorative Ticket Wallet
24/7 Customer Support on night of show
All Taxes
Prices From £175 inc VAT
Book
NB: Please check individual Booking Pages for Exact Seat Locations - A full Itinerary will be provided with tickets no later than 7-10 days before show IMPORTANT: ANY PACKAGES FOUND TO BE OFFERED FOR RE-SALE WILL BE CANCELLED WITHOUT REFUND TICKETS WILL BE INVALIDATED