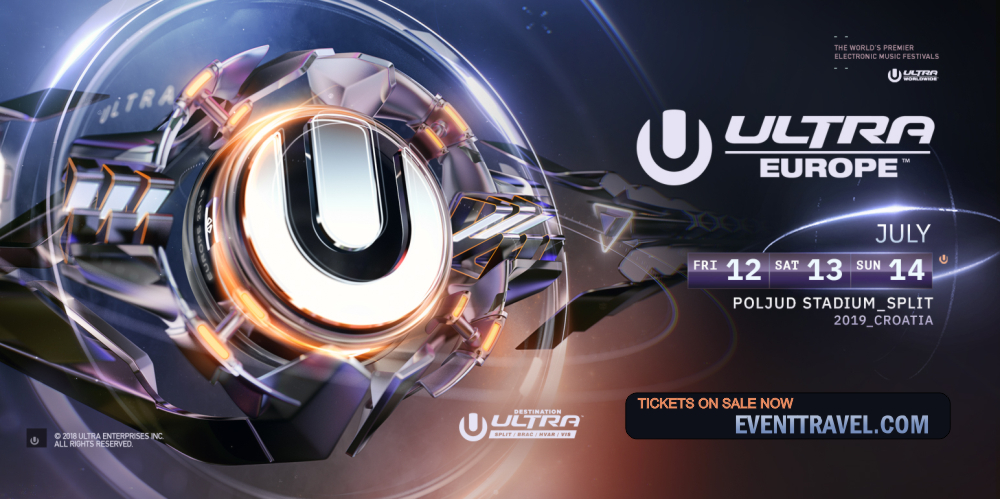 HOME PAGE
-
ULTRA EUROPE FESTIVAL DATES 2019
-
ULTRA EUROPE FESTIVAL 2019 VIP and PREMIUM TICKET DESCRIPTIONS
** ON SALE NOW **
ULTRA EUROPE FESTIVAL 2019
Ultra Music Festival's record-breaking 20th anniversary in March 2018, the now three-time #1 festival award winner announces dates for ULTRA EUROPE FESTIVAL 2019
Ultra Europe Festival features a large variety of electronic music performers. There are four different stages at the event that are located within the confines of the event grounds (Poljud Stadium) and are accessible at any time during the event with any valid ticket. These are the Main Stage, Resistance Stage, UMF Electric Beach, and Arcadia Stage. It is highly recommend to explore the entire event and visiting each of the stages. This way, attendees will get the full Ultra Experience and have the opportunity to discover new artists and DJs that they might not have even heard of before.
ULTRA EUROPE 2019 DATES - VIP and PREMIUM TICKET EXPERIENCES
ULTRA EUROPE 3 DAY VIP TICKET EXPERIENCES!
Ultra Europe Festival - 1 Day VIP Ticket (standing only)
To include:-
1 Day access on chosen date - 12 , 13 or 14 July (Standing Only)
Exclusive VIP entrance/exit
Elevated VIP area with direct view of Ultra Europe main stage
VIP access with bottle service
VIP bathroom access
VIP hostesses
All taxes
Book
Ultra Europe Festival - 3 Day VIP Ticket (standing only)
To include:-
3 Day access including - 12 ,13 and 14 July
Exclusive VIP entrance/exit
Elevated VIP area with direct view of Ultra Europe main stage
VIP access with bottle service
VIP bathroom access
VIP hostesses
All taxes
Book
IMPORTANT: ANY PACKAGES FOUND TO BE OFFERED FOR RE-SALE WILL BE CANCELLED WITHOUT REFUND TICKETS WILL BE INVALIDATED