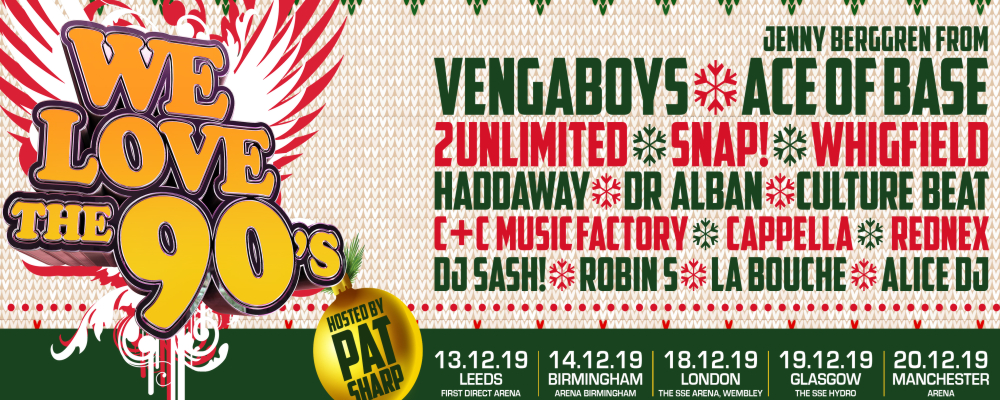 HOME PAGE
-
WE LOVE THE 90's UK TOUR DATES 2019
-
WE LOVE THE 90's TICKETS and PACKAGE DESCRIPTIONS
*** VIP PRE-SHOW PARTY TICKET UPGRADE! - ON-SALE NOW ***
WE LOVE THE 90'S
THE ULTIMATE 90'S TOUR IS COMING TO THE UK IN DECEMBER!
15 ACTS
120 MILLION RECORD SALES
60 UK TOP 10 SINGLES
250 WEEKS IN THE UK TOP 10 SINGLES CHARTS
…1 INCREDIBLE TOUR
We Love The 90's, the ULTIMATE nineties tour is coming to the UK in December. In a huge lineup featuring Ace Of Base, Vengaboys, 2 Unlimited, Snap!, Whigfield, Haddaway, DJ Sash, Rednex and many more, We Love The 90's will see your favourite nineties pop acts perform over 60 UK Top 10 smash hit singles for one incredible night of nostalgia. Dust off the platform heels and grab the knee-high socks, because the nineties are officially rolling into a town near you. This We Love The 90's special show kicks off in Leeds on Thurs 12 December 2019, before visiting Birmingham, London, Glasgow and finishing in Manchester on Fri 20 December 2019.
The We Love The 90's lineup features 15 artists who have collectively sold over 120 million records, had over 60 UK Top 10 singles and spent in excess of 250 weeks in the UK Top 10 singles charts. Expect to hear all of the best nineties tracks performed live – Ace of Base 'All That She Wants', Vengaboys 'Boom Boom Boom Boom!', 2 Unlimited 'No Limit', Haddaway 'What Is Love', Whigfield 'Saturday Night', Snap! 'Rhythm is a Dancer' and many more huge nineties hits to take you back in time to the greatest era in pop. To make your evening even more special why not upgrade to the Pre-Show Party (NB: You will need to have a Pre-Purchased Concert Ticket from either AXS or Ticketmaster)
WE LOVE THE 90's PRE-SHOW PARTY TICKET UPGRADE 2019
We Love The 90's 2019 Ticket Upgrade
Official VIP Pre-Show Party Ticket Upgrade
Including:-
• Welcome glass of prosecco
• Buffet Style Taster/Canapé Style Menu - Cash Bar
• VIP Lanyard and Laminate
• Opportunity for some of your favourite Artists from the show to make a guest appearance at the
Pre-Show party
• Email itinerary sent in advance
• Event Management and Hosts in attendance
• 24/7 Customer Support (Day of concert)
All prices are per person including VAT
Prices From: £79, €90, $104 inc VAT/TAX


NB: This package does NOT include a ticket to the show. You MUST have a pre-purchased ticket from the BOX OFFICE to book this package. AXS & Ticketmaster