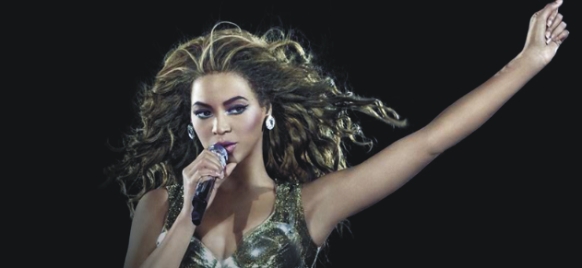 Beyonce
Beyonce Tour dates - Beyonce VIP Ticket Experiences - 2009
See Beyonce Superbowl Performance
BEYONCE TICKETS & VIP TICKET PACKAGES - GO TO BEYONCE.COM
04 Feb 2013
BEYONCE TOUR DATES 2013 RELEASED! - THE MRS. CARTER WORLD TOUR
| | | | |
| --- | --- | --- | --- |
| APRIL 15, 2013 | KOMBANK ARENA | BELGRADE | SERBIA |
| APRIL 17, 2013 | ARENA ZAGREB | ZAGREB | CROATIA |
| APRIL 19, 2013 | SLOVNAFT ARENA | BRATISLAVA | SLOVAKIA |
| APRIL 22, 2013 | ZIGGO DOME | AMSTERDAM | HOLLAND |
| APRIL 24, 2013 | PALAIS OMNISPORTS DE PARIS-BERCY | PARIS | FRANCE |
| APRIL 25, 2013 | PALAIS OMNISPORTS DE PARIS-BERCY | PARIS | FRANCE |
| APRIL 26, 2013 | LG ARENA | BIRMINGHAM | UNITED KINGDOM |
| APRIL 29, 2013 | THE O2 | LONDON | UNITED KINGDOM |
| APRIL 30, 2013 | THE O2 | LONDON | UNITED KINGDOM |
| MAY 01, 2013 | THE O2 | LONDON | UNITED KINGDOM |
| MAY 03, 2013 | THE O2 | LONDON | UNITED KINGDOM |
| MAY 07, 2013 | MANCHESTER ARENA | MANCHESTER | UNITED KINGDOM |
| MAY 11, 2013 | THE O2 | DUBLIN | IRELAND |
| MAY 12, 2013 | THE O2 | DUBLIN | IRELAND |
| MAY 14, 2013 | SPORTPALEIS | ANTWERP | BELGIUM |
| MAY 17, 2013 | HALLENSTADION | SWITZERLAND | ZURICH |
| MAY 18, 2013 | MEDIOLANUM FORUM | MILAN | ITALY |
| MAY 20, 2013 | PARK & SUITES ARENA | MONTPELLIER | FRANCE |
| MAY 22, 2013 | OLYMPIAHALLE | MUNICH | GERMANY |
| MAY 24, 2013 | O2 WORLD | BERLIN | GERMANY |
| MAY 25, 2013 | NATIONAL STADIUM | POLAND | WARSAW |
| MAY 27, 2013 | FORUM | COPENHAGEN | DENMARK |
| MAY 28, 2013 | TELENOR ARENA | OSLO | NORWAY |
| MAY 29, 2013 | ERICSSON GLOBE ARENA | STOCKHOLM | SWEDEN |
| | | | |
| NORTH AMERICA | | | |
| JUNE 28, 2013 | STAPLES CENTER | LOS ANGELES, CA | UNITED STATES |
| JUN 29, 2013 | MGM GRAND GARDEN ARENA | LAS VEGAS, NV | UNITED STATES |
| JULY 2, 2013 | HP PAVILION | SAN JOSE, CA | UNITED STATES |
| JULY 5, 2013 | CHESAPEAKE ENERGY ARENA | OKLAHOMA CITY, OK | UNITED STATES |
| JULY 6, 2013 | AMERICAN AIRLINES CENTER | DALLAS, TX | UNITED STATES |
| JULY 9, 2013 | BB&T CENTER | FT. LAUDERDALE, FL | UNITED STATES |
| JULY 10, 2013 | AMERICAN AIRLINES ARENA | MIAMI, FL | UNITED STATES |
| JULY 12, 2013 | GWINNETT CENTER | ATLANTA, GA | UNITED STATES |
| JULY 13, 2013 | BRIDGESTONE ARENA | NASHVILLE, TN | UNITED STATES |
| JULY 15, 2013 | TOYOTA CENTER | HOUSTON, TX | UNITED STATES |
| JULY 17, 2013 | UNITED CENTER | CHICAGO, IL | UNITED STATES |
| JULY 18, 2013 | XCEL ENERGY CENTER | ST. PAUL, MN | UNITED STATES |
| JULY 20, 2013 | THE PALACE OF AUBURN HILLS | DETROIT, MI | UNITED STATES |
| JULY 21, 2013 | AIR CANADA CENTRE | TORONTO, ON | CANADA |
| JULY 22, 2013 | BELL CENTRE | MONTREAL, QC | CANADA |
| JULY 23, 2013 | TD GARDEN | BOSTON, MA | UNITED STATES |
| JULY 25, 2013 | WELLS FARGO CENTER | PHILADELPHIA, PA | UNITED STATES |
| JULY 26, 2013 | BOARDWALK HALL | ATLANTIC CITY, NJ | UNITED STATES |
| JULY 27, 2013 | TIME WARNER CABLE ARENA | CHARLOTTE, NC | UNITED STATES |
| JULY 29, 2013 | VERIZON CENTER | WASHINGTON, DC | UNITED STATES |
| AUGUST 2, 2013 | MOHEGAN SUN | UNCASVILLE, CT | UNITED STATES |
| AUGUST 3, 2013 | BARCLAYS CENTER | BROOKLYN, NY | UNITED STATES |
01 Feb 2012
Beyonce Superbowl Rehearsals! WOW!
02 Jan 2013

BEYONCE SUPERBOWL 2013
Beyonce is set to be joined onstage by 100 fans during her half-time appearance at the Super Bowl in February - a photo contest to be part is being run in conjunction with a television advert trailing Beyonce's performance on February 3 at the Mercedes-Benz Superdome in New Orleans.
The contest is being run by Pepsi, with who Beyonce recently signed a £31 million deal.
Pepsi in turn will sponsor Beyonce's 2013 tour and the promotional campaign will coincide with the release of her new album, which is expected next year.
Beyonce will reportedly release new material prior to her performance at the Super Bowl half-time performance and the singer will reportedly have new music to share with fans during the show.


02 July
Congratulations to Beyoncé on her 2 BET Awards last night! Beyoncé took home awards for Best Female R&B Artist and Video Director of the year!
Beyoncé Party

April 2012
Beyonce Shows announced:-
Mama Bey will be making her first post-baby performance at the brand new REVEL resort in Atlantic City, NJ. Tickets go on sale April 6th at Ticketmaster. Reportedly, Beyonce put together a brand new intimate show, according to Beyonce's official website: Beyonce will be performing at the Brand new REVEL resort + Memorial Day Weekend + summer kickoff party + new live show - Great to see Beyoncé getting back to business live on stage at Revel. Three exclusive shows with the unstoppable star at the brand new beachfront resort.

Jay-Z is already working on a blockbuster comeback world tour for Beyoncé after the birth of their daughter, Blue Ivy. It is being reported Jay-Z has approached Live Nation about a $150million deal for Beyoncé to tour following the birth of their child in January. Beyoncé has a joint management deal with Jay's Roc Nation and Live Nation. The story goes "Just weeks after the birth of Blue Ivy, Jay met with Live Nation to discuss a tour for Beyoncé. He wanted a deal worth about $150million, but they countered with a lower offer." Beyoncé had earlier hinted that she may tour again this year.
8 January 2012
Beyoncé is now the proud mother to her first child, daughter Ivy Blue Carter.

Congratulations Beyoncé and Jay-Z
Beyonce has been announced as one of the headline acts for Glastonbury 2011. Beyonce's husband Jay-Z performed 2 years ago to great acclaim , now Lady Z will be up there on the same stage. Beyonce said:- "This really is the biggest festival in the world and I cannot wait to perform there. Everyone who attends is really appreciative of music and is in such a good mood that entire weekend," she said in a statement. "I'm pumped just thinking about that huge audience and soaking up their energy."
Beyonce will perform a 90-minute set on Sunday, June 26 on the Pyramid stage at Glastonbury. Could this maen a tour is looming - Lets hope so!
07/07/11
Beyonce's fourth solo studio album, "4," jumps in at No. 1 on the Billboard 200 albums chart, selling 310,000 copies according to Nielsen SoundScan.
It is Beyonce's fourth solo No. 1 and set to top the list. She's only the third act -- and second woman -- to see their first four studio albums debut top of the Billboard 200. Britney Spears did it with her first four between 1999 and 2003 while DMX's first five all started at No. 1 between 1998 and 2003
Register for Beyonce Tickets and Tour News - Beyonce on tour
BEYONCE GLASTONBURY and SECRET LONDON SHEPHERDS BUSH EMPIRE GIG
Beyoncé followed her Glastonbury headline set with a contrasting intimate gig at London's Shepherd's Bush Empire on Monday night, in front of an audience that included Adele, Gwyneth Paltrow and Ewan McGregor. "You'll have to forgive me because I'm still high from yesterday," the 29-year old singer told the crowd after receiving generally glowing reviews for her performance at the festival.
The Bush Empire gig was to launch Beyoncé's new album 4, which Beyonce described as "the best music I've ever made". Beyonce started her show on Monday night with latest single Run the World (Girls) and played new songs Best Thing I Never Had, 1+1 and End of Time. But she also said "this is the first show where I don't have a set list. I'm just going to come out here and feel the love and do what I want to do." Covering Queen's Bohemian Rhapsody, she explained, "I didn't have time to play it at Glastonbury", though she did perform Kings of Leon's Sex on Fire and Prince's Beautiful Ones, which featured in her set at Worthy Farm.
According to the Sun, Adele had been lined up to appear at Glastonbury with Beyoncé until a sore throat forced her to cancel. The newspaper quoted a source as saying: "Adele was absolutely gutted, Beyoncé is one of her big heroes. It would have been the stuff of dreams to perform with her – the gig of her life but had to take medical advice to avoid serious damage to her amazing voice."
The audience on Monday night mostly consisted of competition winners. "When Adele turned up everyone went crazy," a fan said. "She just looked embarrassed, which was rather sweet."
Other guests included Beyoncé's husband Jay-Z – who had earlier been at Wimbledon to watch Rafael Nadal – Jessie J, Tinie Tempah, Stella McCartney, Alexandra Burke, Alison Mosshart and Paloma Faith.

Beyoncé nominated for her 42nd NAACP Image Awards Nominations - Beyoncé was nominated in the following categories:
Outstanding Variety (Series or Special)
"Beyonce: I AM... WORLD TOUR" (ABC)
Outstanding Music Video
"Why Don't You Love Me" - Beyonce Knowles
The 42nd NAACP Image Awards will broadcast live on Friday, March 4th at 8:00pm EST on FOX.
Register for Beyonce Tickets and Tour News
BEYONCÉ recieves five nominations for the 2010 MTV Video Music Awards! BEYONCÉ's nominations include:
Best Pop Video, Best Female Video, Best Collaboration, Best Collaboration, Best Art Direction Register for Beyonce Tickets and Tour News

BEYONCE – NEW ALBUM 2011
It has been reported that Beyoncé is in the recording studio with Symbolyc One while Sean Garrett tells us that the new album will be "her biggest yet". We cannot wait. Could this mean a tour in in the making - Lets hope so! For more Beyoncé Ticket and Tour news register now.

BEYONCE – BEST SELLING DVD OF ITS KIND FOR 2010
The massively talented artist that is Beyoncé, continues to go from strength to strength. After a hugely successful tour across the world, numerous Grammy Awards and highly acclaimed collaborations with Kanye West and Lady Gaga, Beyoncé's 'I Am … World Tour' has been named the best selling of its kind for 2010, according to Colombia Records. Released on the 24th November 2010, the DVD went Platinum in the UK, the US and Brazil (where the star played to over 60,000 in Sao Paulo) and Gold in France, Australia and Canada
Music World/Columbia reports: "The concert film, with its never-before-seen, intimate footage of the star around the world, played on big screens in select cities around the country on November 18, 2010, the two-year anniversary of the release of the multi-platinum I AM...SASHA FIERCE album, which has sold more than six million copies and 15 million digital singles worldwide, while earning a record-breaking six Grammy Awards, the most ever for a female artist in a single year, in 2010."


BEYONCE ON TOUR
Event Travel were delighted to be appointed the Official VIP Ticket package agent for the Beyoncé Tour in the UK , Europe and Australia and sold more VIP Ticket packages for this tour than any other artist in 2009. It is estimated the tour grossed over $103 million based on 97 concerts as reported to Billboard. An Event Travel spokesperson said "Beyoncé is a consummate professional and it was an absolute pleasure to work with her. The event for her fans was truly mind-blowing; a true 'once in a lifetime' experience. We were inundated with letters of gratitude from fans across the world".

The 'I Am' Tour offered fans the opportunity to buy into a number of exclusive VIP Packages that included :-

BEYONCE VIP MEET & GREET PACKAGE
Package included:
• On-Stage ticket
• Meet & Greet with Beyoncé
• Group photo with Beyoncé
• Access to sound check
• Pre-show hospitality
• Autographed item
• Exclusive 'SASHA FIERCE' gift item
• Collectible 'SASHA FIERCE' laminate
• Onsite event management staff

BEYONCE VIP HOT SOUND PACKAGE
Package included:
• Premium seat located within rows 1-2
• Access to sound check
• Pre-show hospitality
• Exclusive 'SASHA FIERCE' gift item
• Collectible 'SASHA FIERCE' laminate
• Onsite event management staff
BEYONCE VIP GETAWAY PACKAGE
Package included:
• Premium seat located within rows 3-10
• One night hotel accommodation
• Buffet breakfast
In addition, Beyoncé introduced a new viewing concept for live entertainment during this tour. Production created a special stage that incorporated two unique areas to the left and right of the artist's performance zone. These areas were aptly named 'Diva Zones' and offered the fans an unprecedented and intimate viewing experience.

BEYONCE TOUR DATES 2009 - 2010
| | | | |
| --- | --- | --- | --- |
| Beyonce Tour | Dates | City | Venue |
| Beyonce Tickets | Aug 1 2009 | Las Vegas NV | Encore Theater Wynn Las Vegas |
| Beyonce Tickets | Aug 2 2009 | Las Vegas NV | Encore Theater Wynn Las Vegas |
| Beyonce Tickets | Feb 10 2009 | Salvador Brazil | Parque de Exposicoes |
| Beyonce Tickets | Feb 10 2010 | Salvador Brazil | Parque de Exposições |
| Beyonce Tickets | Feb 12 2010 | Buenos Aires Argentina | Hipodromo de San Isidro |
| Beyonce Tickets | Feb 14 2010 | Santiago Chile | Movistar Arena |
| Beyonce Tickets | Feb 16 2010 | Lima Peru | Explanada del Estadio Monumental |
| Beyonce Tickets | Feb 18 2010 | Port of Spain Trinidad | Queen's Park Oval |
| Beyonce Tickets | Feb 2 2009 | Florianopolis Brazil | Parque Planeta |
| Beyonce Tickets | Feb 4 2010 | Florianópolis Brazil | Parque Planeta |
| Beyonce Tickets | Feb 6 2009 | Sao Paulo Brazil | Pacaembu Stadium |
| Beyonce Tickets | Feb 6 2010 | São Paulo Brazil | Morumbi Stadium |
| Beyonce Tickets | Feb 7 2009 | Rio De Janeiro Brazil | Maracana Stadium |
| Beyonce Tickets | Feb 7 2010 | Rio De Janeiro Brazil | HSBC Arena |
| Beyonce Tickets | Feb 8 2010 | Rio de Janeiro Brazil | HSBC Arena |
| Beyonce Tickets | Jul 1 2009 | Atlanta GA | Phillips Arena |
| Beyonce Tickets | Jul 10 2009 | Oakland CA | Oracle Arena |
| Beyonce Tickets | Jul 11 2009 | Anaheim CA | Honda Center |
| Beyonce Tickets | Jul 13 2009 | Los Angeles CA | Staples Center |
| Beyonce Tickets | Jul 16 2009 | Minneapolis MN | Target Center |
| Beyonce Tickets | Jul 17 2009 | Chicago IL | United Center |
| Beyonce Tickets | Jul 18 2009 | Detroit MI | Palace of Auburn Hills |
| Beyonce Tickets | Jul 20 2009 | Toronto Ontario Canada | The Molson Amphitheatre |
| Beyonce Tickets | Jul 21 2009 | Montreal CAN | Bell Centre |
| Beyonce Tickets | Jul 23 2009 | Uncasville CT | Mohegan Sun |
| Beyonce Tickets | Jul 24 2009 | Meadowlands NJ | Izod Center |
| Beyonce Tickets | Jul 3 2009 | New Orleans LA | Superdome (Essence Music Festival) |
| Beyonce Tickets | Jul 30 2009 | Las Vegas NV | Encore Theater Wynn Las Vegas |
| Beyonce Tickets | Jul 31 2009 | Las Vegas NV | Encore Theater Wynn Las Vegas |
| Beyonce Tickets | Jul 4 2009 | Houston TX | Toyota Center |
| Beyonce Tickets | Jul 5 2009 | Dallas TX | American Airlines Center |
| Beyonce Tickets | Jul 7 2009 | Phoenix AZ | US Airways Center |
| Beyonce Tickets | Jul 9 2009 | Sacramento CA | Arco Arena |
| Beyonce Tickets | Jun 21 2009 | New York NY | Madison Square Garden |
| Beyonce Tickets | Jun 22 2009 | New York NY | Madison Square Garden |
| Beyonce Tickets | Jun 23 2009 | Baltimore MD | First Mariner Arena |
| Beyonce Tickets | Jun 24 2009 | Washington D.C. | Verizon Center |
| Beyonce Tickets | Jun 26 2009 | Philadelphia PA | Wachovia Center |
| Beyonce Tickets | Jun 27 2009 | Greensboro NC | Greensboro Coliseum Complex |
| Beyonce Tickets | Jun 29 2009 | Ft. Lauderdale FL | Bank Atlantic Center |
| Beyonce Tickets | Nov 11 2009 | Liverpool UK | Echo Arena |
| Beyonce Tickets | Nov 12 2009 | Birmingham UK | The NIA |
| Beyonce Tickets | Nov 14 2009 | London UK | O2 Arena |
| Beyonce Tickets | Nov 16 2009 | London UK | O2 Arena |
| Beyonce Tickets | Nov 18 2009 | Manchester UK | Manchester Evening News Arena |
| Beyonce Tickets | Nov 19 2009 | Newcastle UK | Metro Radio Arena |
| Beyonce Tickets | Nov 2 2009 | Moscow Russia | SC Olimpiyskiy |
| Beyonce Tickets | Nov 20 2009 | Nottingham UK | Trent FM Arena |
| Beyonce Tickets | Nov 22 2009 | Dublin Ireland | The O2 |
| Beyonce Tickets | Nov 23 2009 | Dublin Ireland | The O2 |
| Beyonce Tickets | Nov 24 2009 | Belfast Ireland | The Odyssey |
| Beyonce Tickets | Nov 6 2009 | Port Ghalib/Red Sea Egypt | The Island |
| Beyonce Tickets | Nov 8 2009 | Athens Greece | Olympic Indoor Hall |
| Beyonce Tickets | Oct 12 2009 | Kobe Japan | Kobe World |
| Beyonce Tickets | Oct 13 2009 | Osaka Japan | Jo Hall |
| Beyonce Tickets | Oct 15 2009 | Nagoya Japan | Gaishi Hall |
| Beyonce Tickets | Oct 17 2009 | Tokyo Japan | Saitama Super Arena |
| Beyonce Tickets | Oct 18 2009 | Tokyo Japan | Saitama Super Arena |
| Beyonce Tickets | Oct 20 2009 | Seoul South Korea | Olympic Gym |
| Beyonce Tickets | Oct 21 2009 | Seoul South Korea | Olympic Gym |
| Beyonce Tickets | Oct 23 2009 | Beijing China | Wukesong Arena |
| Beyonce Tickets | Oct 29 2009 | Abu Dhabi United Arab Emirates | YAS Island |
| Beyonce Tickets | Sep 12 2009 | Brisbane Australia | Entertainment Centre |
| Beyonce Tickets | Sep 13 2009 | Brisbane Australia | Entertainment Centre |
| Beyonce Tickets | Sep 15 2009 | Melbourne Australia | Rod Laver Arena |
| Beyonce Tickets | Sep 16 2009 | Melbourne Australia | Rod Laver Arena |
| Beyonce Tickets | Sep 18 2009 | Sydney Australia | Acer Arena |
| Beyonce Tickets | Sep 19 2009 | Sydney Australia | Acer Arena |
| Beyonce Tickets | Sep 20 2009 | Sydney Australia | Acer Arena |
| Beyonce Tickets | Sep 22 2009 | Adelaide Australia | Entertainment Centre |
| Beyonce Tickets | Sep 24 2009 | Perth Australia | Burswood Dome |
| Beyonce Tickets | Sep 26 2009 | Singapore | F1 Rocks |
ABOUT BEYONCE
Birthday : September 04, 1981

Sign : Virgo

Birthplace : Houston, Texas

Hometown : Houston, Texas

Previous Singing Career : Destiny's Child