David Haye vs Dereck Chisora
14th July 2012

CONGRATULATIONS DAVID HAYE - Now Haye has challenged WBC heavyweight champion Vitali Klitschko!

David Haye defeated Dereck Chisora with a fifth-round knockout in an gripping contest at Upton Park. David Haye achieved his victory after he floored Chisora with a brutal left-hook, right-hand combination in the fifth. - Whilst Chisora just managed to climb to his feet three right hooks and two lefts from Haye followed and the fight was over - Despite starting the fight as bitter rivals, the pair embraced at the conclusion of the fight, shaking hands and bringing an end to their feud.

REGISTER NOW

The build up is finally over:-

David Haye may be the favourite because commentators believe he will be too quick and too explosive. but Dereck Chisora has proven he has durability - he won the last round against Vitali Klitschko his game plan may be to make his rival fight three minutes of every round and hoping that Haye will start to tire.

"He gets blasted out real fast," is how Haye sees it. Chisora's response: "He's got speed for one round. By round four, he'll be blowing out of his backside."
"Whatever happens," said Chisora's manager Frank Warren, "you can guarantee the winner's next fight will be against one of the Klitschkos. So much for all that nonsense they said about this being a freak show." Intelligent blokes, the Klitschkos, which is why they know nonsense is just part of this very dangerous game.

The fight takes place at West Ham United's Upton Park on Saturday 14th of July.

Heavyweight boxing titans David Haye and Dereck Chisora were separated by metal gates at the press conference announcing the boxers Upton Park bout. The conference passed peacefully compared with the last time the two came face to face in Munich. Now the build up and preparation begins in earnest


| | |
| --- | --- |
| Prices | Ticket Category |
| £1000 | Premier Ticket Rows A & B |
| £500 | Ringside Rows C & D |

Subject to booking fee

Haye vs Chisora VIP Tickets and Private Boxes with Hospitality
Executive VIP Boxes for 10-20 persons

Platinum Box package 20 persons

Gold Box package 10 persons

Includes:-

Executive 3 Course Silver Service Menu


Cash bar


£7,150 inc booking fee + VAT

Includes:-

Executive 3 Course Silver Service Menu


Cash bar

£4,950 inc booking fee + VAT

Silver Box package 10 persons

Bronze Box package 10 persons

Includes:-

Executive 3 Course Silver Service Menu

Cash bar


£3,850 inc booking fee + VAT

Includes:-

2 Course Buffet Menu


Cash bar


£2,750 inc booking fee + VAT
Provisional Itinerary
Dress Code: Smart/Casual – no football attire
Doors Open: 5pm
How many fights: 7 Bouts
Time of main fight: 9.45 approximately
Platinum and Gold Boxes Central locations to Ring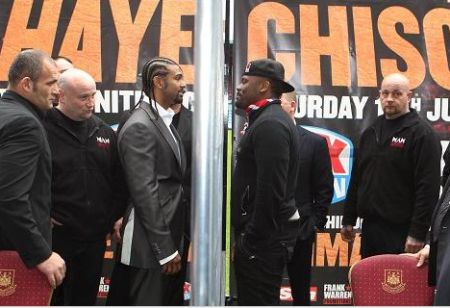 | | |
| --- | --- |
| Prices | Ticket Category |
| £1000 | Premier Ticket Rows A & B |
| £500 | Ringside Rows C & D |
| £300 | Second Level Ringside |
| £200 | Floor |
| £150 | Floor |
| £75 | Floor/Tier |
| £50 | Tier |
Whilst many commentators found the confrontation which occurred between David Haye and Dereck Chisora during the Klitschko - Chisora post fight press conference fight bizarre and disturbing - Haye and Chisora now have the opportunity to matters right in the ring!
Dereck Chisora and David Haye will get the chance to use their boxing skills to settle once and for all their considerable differences in an honourable manner at Upton Park football stadium, West Ham on Saturday 14th July.
The night of boxing, will also feature WBA heavyweight king Alex Povetkin's mandatory defence against Baltimore's Hasim 'The Rock' Rahman.

With 450 lb of prime British muscle scheduled to collide in the headliner, this is or should be the biggest domestic heavyweight boxing showdown to take place in the UK since WBC king Lennox Lewis took reign over Frank Bruno in seven rounds at Cardiff Arms Park in October 1993.
---
DAVID HAYE NEWS
Whilst it will come as no surprise that there is no love lost between the Haye and Chisora following the fracar in Munich when 'The Hayemaker' belted 'Del Boy' with bare fists during the post match press conference following Chisora's sterling WBC title challenge with Vitali Klitschko last February, Chisora has publicly apologised for his actions. Neither fighter has apologised however to each other. They now have the opportunity to settle their score with hopefully a great British Boxing Showdown in July.
The showdown is guaranteed to split the trade and sells on so many levels; Finchley north London's Chisora versus Bermondsey south London's Haye (on neutral territory in the capital's East End), the feisty young lion against the seasoned old sage. Chisora shall come armed with his frightening industry, resilience and determination, Haye with the blistering speed, skills and that explosive knockout dig. Odds makers are opening up with Haye as a 2-1 on favourite.
Chisora's manager Frank Warren explains: 'The fight shall be promoted by Box Nation and Team Sauerland and the contest will be sanctioned by the Luxembourg Boxing Board with every fighter competing on the show licensed by them. The Luxembourg Board were established in 1922, seven years before the BBB of C and, unlike the self-appointed British Board, they are a government body. They're long standing, well established members of the European Boxing Union and all the noteworthy sanctioning organisations.'
'As Dereck Chisora's boxing manager I have a duty to ensure that he earns money. Prior to February, he'd been inactive because he'd been messed around by Wladimir Klitschko, twice had fights postponed at short notice that he'd trained hard for, without being compensated.
'Due to a couple of stupid actions prior to the Vitali Klitschko fight, which I've made it clear that I don't condone, Dereck still has a large portion of his purse withheld by the WBC. But those transgressions occurred before the fight and all concerned were still happy for the event to take place. I think it's been clearly established that all the shenanigans at the post fight press conference were not down to Dereck. He's been interviewed by the police on a couple of occasions and hasn't been charged with anything.
'It's no secret that I'm extremely disappointed with the way that the Board Chairman Charlie Giles behaved over in Germany and how he failed to stand up for British interests there. Also, in my opinion, the manner in which the Board's initial hearing into Dereck's conduct was presented, was an absolute sham.'
But neither Dereck nor David Haye are banned. The British Boxing Board has withdrawn Dereck's licence, as is their prerogative, and they have postponed his appeal hearing. David's British licence has expired and he hasn't sought to renew it. What can the Board do? They chose not to give Dereck a license and there's nothing to stop him re-applying for one, whenever he chooses.'
'Controversy aside, I believe the fight pitches the two best heavyweights in the UK. Chisora's redeemed himself since his loss to Tyson Fury – a contest he just didn't show up for – by giving Vitali Klitschko his hardest fight since Lennox Lewis nine years ago. He definitely did a better job than David Haye managed against the other brother (Wladimir). I've long fancied Dereck over David Haye. David and his manager Adam Booth obviously will have a different view and that's what helps make the fight so appealing.'

---
KLITSCHKO v HAYE
Haye believes he can unify the four main world heavyweight titles David Haye claims he has agreed a deal to fight WBC heavyweight champion Vitali Klitschko in London next June. - He said the deal was done in Germany after he had seen Klitchko's brother, Wladimir, beat Hasim Rahman to retain his IBF and WBO heavyweight titles.
"We agreed terms and just need to dot the I's and cross the T's. Plain and simple, this is how boxing should be."
Haye has had one fight at heavyweight, knocking out Monte Barrett in five rounds, since stepping up from cruiserweight, at which he was undisputed world champion.
Vitali Klitschko boasts an impressive record of 35 wins and two losses from his 37 fights, the latter defeat at the hands of Lennox Lewis in Los Angeles in 2005.
The Ukrainian reclaimed the WBC belt - which he had vacated in 2005 by announcing his retirement - with a comprehensive victory over Samuel Peter in October.
"This is going to be the biggest fight since Lennox (Lewis) and (Mike) Tyson," Londoner Haye, 28, told BBC Radio Five Live.
"I have said from day one I am going to be the undisputed cruiserweight and heavyweight champion. I have not disappointed.
"I am not cherry-picking, I am going after the most dangerous fighter on the planet."
There had been a number of other locations in Europe and even as far away as the USA, UAE and Moscow that were being reportedly being considered but the general feeling was that Germany was always the preference being Wladimir's strong fan base.
This is a hugely important fight for David Haye as he plans on retiring by his 31st birthday in October if he wasn't to fight both Klitschko brothers by then. Should Haye get beaten by Wladimir in July this would put in jeopardy the chance of David Haye meeting with brother Vitali Klitschko.
24/03/2011
Haye vs Klitschko - Reports coming says Moscow Makes a Bid of $10 Million
Numerous countries are bidding for the right to host the heavyweight unification between champions David Haye [WBA] and Wladimir Klitschko [IBO/WBO/IBF] It is reported that one contender, Moscow is very keen with a supposed bid of $10 million! The fight is going to happen on June 25 or July 2. Although several countries are bidding, the fight is still favorite to take place in Germany.
21/03/2011

It is being reported David Haye's fight against Wladimir Klitschko could end up being held outside of Germany, with Moscow and the United Arab Emirates now being considered. Haye's manager/trainer Adam Booth was ringside in Cologne on Saturday to see Wladimir's elder brother Vitali defend his WBC world heavyweight title.
Wba champion Haye is signed to fight IBF-WBO holder Wladimir in a unification title fight that now looks set to take place on July 2 rather than June 25.
Whilst it is rumoured German football grounds in Gelsenkirchen, Dusseldorf and Frankurt are under consideration for the bout, six other countries are also battling it out to host boxing's biggest showdown this year: Russia, the UAE, Monaco, Switzerland, South Africa and America.
Booth discussed venues with Germany-based Klitschko's manager Bernd Boente and they fly to New York to talk to American broadcasters HBO and Showtime this week.
He said: "I think it will be wrapped up in the third week of April and it will be in Europe. It's taking a while to do as there are so many offers and venues to consider.
"Ideally the venue will be in Europe and indoors because we don't want to have to worry about rain.
"It's a bigger fight now than it was two years ago when David pulled out. Wladimir or Vitali have not had a fight as big as this before. When Vitali fought Lennox Lewis he was a late substitute remember and it wasn't a massive fight.
"There is no other fight as big as fighting David, so why would it not happen? It's as about as personal a fight as David has ever had."
Boente insists Wladimir will have recovered from the stomach muscle injury that forced him to pull out of defending his belts against Londoner Dereck Chisora on April 30.
He said: "I think he'll be fit. He'll start his training in mid-April or the start of May. We are waiting on different offers from venues.
"It could take place in Germany and there are two other options. It would be in a European time zone."
Haye's fight with Wladimir is needed to boost the credibility of an ailing heavyweight division which took another blow with Vitali's one-round win over Cuban Odlanier Solis.
Solis, 30, lost his unbeaten record when a glancing blow caused him to lose balance and stagger backwards, injuring his left knee in the process. The 2004 Olympic gold medallist crumbled to the canvas and his corner declared a suspected cruciate knee ligament injury meant he could not continue.
Scans yesterday reportedly showed Solis had torn a cruciate ligament.

07 March 2011
David Haye heavyweight unification showdown with Wladimir Klitschko is on after finally signing to meet his Ukrainian rival over the weekend.

Haye has agreed for the fight to be in Germany, with his WBA title and Klitschko's IBF and WBO belts on the line following years of on-off talks. If David Haye returns victorious against 34-year-old Klitschko his sights will turn to Wladimir's older brother Vitali who retains his WBC title, they will then meet later this year with the undisputed linear heavyweight championship on the line. David Haye has always maintained he will then retire in October, when he turns 31.


Date and location should be announced in the coming days, with venues in Gelsenkirchen, Dortmund and Kaiserslautern in the fray.
Match details are still being finalised however early indications suggest will take place on either 25th June or 2nd July 2011. Event Travel will be offering ticket, hotel and package options for this log awaited showdown - Day Return Flight Package is also being worked on with celebratory drinks after match before flight home .....
Register Now for more David Haye Ticket Boxing News

There is even a Klitschko ' back-up plan' - David Haye will fight Vitali Klitschko if Wladimir fails to recover in time from an injury, the brothers' manager has confirmed so it will still be a Haye vs Klitschko in Germany.
----------------------------------------------------------------------------------------------------------------------------------
Congratulations to David Haye agianst Audley Harrison - The Klitschko brothers await!

David Haye, made it look easier agianst challenger Audley Harrison in Manchester at the M.E.N Arena Sat 13 Nov 2010. Where now for Audley many critics are voicing. But for David Haye only the Klitschko Brothers are in his sights! At 1min 53sec of round three, Audley Harrison collapsed in the arms of the Puerto Rican referee Luis Pabon, having been counted out of nine under a barrage of head shots from the champion David Haye

Talks are on going between David Haye , Adam Booth, Haye's manager and trainer, and Golden Boy Promotions, the WBA champion's American handlers. Negotiations over the split of the purse and the division of television money are the stubbling issues it has been said. Fight enues in the UK and Germany are possible and of course Las Vegas remains an option. "It is all about the economics," Booth said.
Boxing legend Oscar De La Hoya is reported as saying "This is a fight the world wants to see, and which boxing really needs. It is a huge fight, and if we can get the money right, I see no reason why it could not happen in Las Vegas, the world's fight capital."
Las Vegas of course is seen by many as the place to be at any heavyweight showdown and did host Lennox Lewis and Vitali Klitschko when they met in 2003. It is understood that Home Box Office, the American cable TV giants, could be interested in underwriting the contest.

Register Now for more David Haye Ticket News


Congratulations to David Haye over the defiant John Ruiz. - David Haye is set to begin talks with the Klitschko brothers as he looks to unify the world heavyweight titles. IBF and WBO champion Wladimir Klitschko has issued a video message taunting Britain's WBA title holder and calling for a showdown between the pair. Wladimir's older brother Vitali, the WBC champion, is also on Haye's radar as he targets holding all four belts. David Haye, 29, said that trainer and manager Adam Booth would enter negotiations with the Ukrainians later this week. Vitali and Wladimir will know that unless Haye is disposed of, their own legacies will be tarnished

Britain's David Haye defended his WBA heavyweight crown with a ninth-round stoppage of an obdurate and courageous John Ruiz in Manchester. Haye saw Ruiz hit the deck in just 25 seconds into the encounter but the American showed tremendous bravery and powers of recovery to continue the contest. For a short while it looked as if Ruiz was working his way back into the fight but the showing signs of battle the 38-year-old was down in the fifth and again in the sixth before Ruiz's corner called it a day three rounds later. Haye's significant victory over a John Ruiz who had only been stopped once in 54 previous encounters, makes agian an inevitable unification clash with either WBC champion Vitali Klitschko or his younger brother Wladimir, the IBF and WBO title-holder.
Register Now for more David Haye Ticket Boxing News

Following David Haye's victory over Valuev in Nuremberg, The Haymaker's first defence will be agianst John Ruiz, on the 3rd April 2010 at Manchester M.E.N We are offering Hotel & Ticket packages - For more info please email

If David is successful his next defence could be agianst Klitschko register now
*** CONGRATULATIONS DAVID HAYE ***
David Haye end victorious over the Giant Nikolay Valuev. Whilst David Haye showed a no frills approach to the contest he hit, he moved, he hit, he moved - all the way to a deserved world heavyweight crown. "He had his game-plan and he executed it to perfection," said Valuev's co-promoter Don King after watching the fight. "He did what he had to do, and he did it brilliantly."
"I had to find a strategy to beat him, and I did," said Haye, who revealed he had damaged his right hand early on in the fight. "I hit him more times than he hit me."
His next fight is with former two-time world champion John Ruiz is which is predicted to me a very different and exciting contest. Haye has been heard to say he'll "knock Ruiz spark out", and he on his performance now would be a brave man to say otherwise. In the meantime, we should congratulate a deserved winner and only Britain's third heavyweight world champion since Bob Fitzsimmons in 1899, only the second former cruiserweight world champion to claim a world heavyweight crown after Holyfield. It's quite special and should be savoured and applauded.
23 Sep 2009
Nikolai Valuev v David Haye
Nikolai Valuev the current WBA Heavyweight world champion takes on David Haye as the challenger in Nuremberg 7th November. David Haye was came face to face with the emormity of the task ghe faces with Nikolay Valuev a bearing 7ft giant whom he challenges for the WBA heavyweight title.
David Haye from London, at 6ft 3in faces Valuev in Nuremberg on November 7 and travelled to the Germany to meet the Russian face to face. The fight has already been renamed in boxing circles as David v Goliath.
"I was expecting something freaky and I got something freaky," Haye said. "His head is literally twice the size of mine. It's quite amusing looking at him, he's like a cartoon character. He really is a huge specimen."
David Haye, the former WBC, WBA and WBO cruiserweight Champion, had been due to take on Wladimir Klitschko, the WBO, IBF and IBO Heavyweight Champion, in June but had to pull out with a back injury. He then declained an offer to face Klitschko's elder brother, Vitali Klitschko the WBC Champion to box Valuev the tallest and at 23½st the heaviest world champion in boxing history.
DAVID HAYE TICKETS