Paul McCartney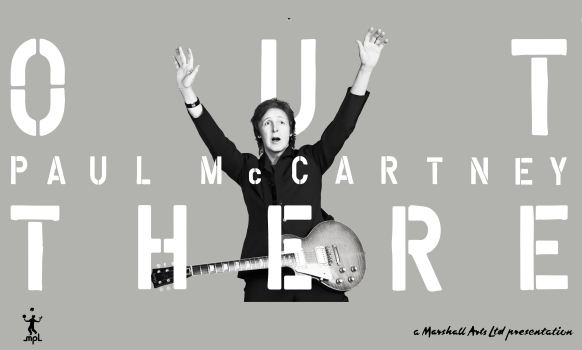 Paul McCartney Tour Dates 2013 - Paul McCartney VIP Ticket Packages - Paul McCartney Soundcheck on You Tube 2012
PAUL McCARTNEY TOUR DATES 2013
Paul McCartney has announced his first live date of 2013, which will be part of an all new tour called 'Out There!'. The tour will see Paul and his band travel the world throughout the year, even visiting some places they've never been before. Further announcements and dates will be added in the coming weeks so stay tuned...
| | | | | | |
| --- | --- | --- | --- | --- | --- |
| Date | City | Venue | Front Row | Hot Sound | Getaway |
| 04/05 | Belo Horizonte | Mineirao Stadium | | | - |
| 06/05 | Goiania | Serra Dourada Stadium, | | | - |
| 09/05 | Fortaleza | Castelao Stadium | | | - |
| 22/06 | Warsaw | National Stadium | | | |
| 25/06 | Verona | | | | |
| 27/06 | Vienna | Happel Stadium | - | | |
OFFICIAL PAUL McCARTNEY VIP TICKET EXPERIENCES 2013
FRONT ROW PACKAGE
HOT SOUND PACKAGE


Paul McCartney FRONT ROW EXPERIENCE


includes:

Front Row reserved seated ticket

(including Side View locations)

Invitation to soundcheck

Paul McCartney Merchandise item

Collectible laminate

Onsite event management staff

PRICE €699 / £629 per person including taxes

Paul McCartney HOT SOUND EXPERIENCE


includes:






Category 1 reserved seated ticket

or General Admission Standing (please check descriptions)

Invitation to soundcheck

Paul McCartney Merchandise item

Collectible laminate

Onsite event management staff



PRICE €599 / £539 per person including taxes

GETAWAY PACKAGE (Ticket and Hotel)

Paul McCartney GETAWAY PACKAGE includes:

Cat 2 Reserved seated ticket
One nights hotel accommodation (additional nights can be added)
Buffet breakfast

NB: VIP Experiences may vary city by city - Please check Booking Page for Exact Details - Thank you
PAUL McCARTNEY TOUR DATES 2012

24/03
Rotterdam
The Ahoy

-

26/03
Zurich
Hallenstadion

28/03
Antwerp
Sportspaleis

29/03
London
Royal Albert Hall

-

-

15/04
Montevideo
Estadio Centenario

-

Paul McCartney Brazil and Mexico

17/04
Asuncion
Estadio Defensores del Chaco

-

19/04
Bogota
Estadio El Campin

-

21/04
Recife
Estadio do Arrudao

-

-

22/04
Recife
Estadio do Arrudao

-

-

25/04
Florianopolis
Estadio da Ressacada

-

-

05/05
Guadalajara
Estadio Omnilife

-

-

08/05
Mexico City
Estadio Azteca

-

-

09 Feb 2012
Watch Paul McCartney live from Capital studios exclusively live on iTunes - Paul McCartney received his star on the Hollywood Walk of Fame. Paul's star is lined up alongside his fellow Beatles, Ringo Starr, George Harrison and John Lennon in front of the iconic Capitol Records building, Hollywood.

Back to top

07 Feb 2012
Sir Paul McCartney to play Queen Diamond Jubilee Concert on 4 June 2012.

Paul McCartney joins an already impressive line-up including - Sir Cliff Richard, Dame Shirley Bassey, Sir Elton John, Ed Sheeran, JLS, Alfie Boe, Jools Holland, Jessie J, Tom Jones, Lang Lang, Annie Lennox, Madness and Cliff Richard have also been announced as part of the line-up with more names to be released nearer the time.,
The event, which is a joint venture between the BBC and Gary Barlow, will take place near The Queen Victoria Memorial in front of Buckingham Palace. Take That star Barlow said the gig will "transcend multiple decades of music". A national ballot, which can be applied for online, will distribute free tickets to 10,000 people.
Members of the public can also apply by post anytime between 7 February and 2 March.
"The Diamond Jubilee concert will celebrate the 60 years of The Queen's reign with an amazing line-up of world-class artists coming together to play at one of the biggest and most exciting live music shows in recent years," Barlow said.

26 Jan 2012
Paul McCartney discusses working with Stevie Wonder on his new album 'Kisses On The Bottom', it was 30 years ago the pair collaborated on the Number One song 'Ebony and Ivory'.
They have agian joined forces on new track, 'Only Our Hearts', which is one of only two new Paul McCartney songs on the record. Working with Stevie at Los Angeles' Capitol Studio, McCartney said: Stevie came along to the studio in LA and he listened to the track for about ten minutes and he totally got it. He just went to the mic and within 20 minutes had nailed this dynamite solo. When you listen you just think, 'How do you come up with that?' But it's just because he is a genius, that's why.

Paul McCartney's new album, 'Kisses On The Bottom', is out on February 6. Eric Clapton features on the album's other new song 'My Valentine'.'Kisses On The Bottom' is a collection of standards McCartney grew up listening to in his childhood as well as the two new McCartney songs with Stevie Wonder and Eric Clapton.
The album was produced by Grammy Award-winning Tommy LiPuma and also features Diana Krall and her band.

THANK YOU TO EVERYONE WHO TRAVELLED WITH THE EVENT TRAVEL TEAM IN 2011 - IT WAS A PLEASURE TO LOOK AFTER YOU!

Back to top


---

PAUL McCARTNEY TOUR DATES 2011
| | | | | | | |
| --- | --- | --- | --- | --- | --- | --- |
| Date | City | Venue | Front Row | Hot Sound | Hospitality | Getaway |
| 26/11 | Bologna | Unipol Arena | - | | - | |
| 27/11 | Milan | Mediolanum Forum | - | | - | |
| 30/11 | Paris | Bercy | - | | | - |
| 01/12 | Koln | Lanxess Arena | | | - | - |
| 05/12 | London | The O2 Arena | | | | |
| 10/12 | Stockholm | Globe Arena | | | - | |
| 12/12 | Helsinki | Hartwell Areena | | | - | - |
| 14/12 | Moscow | Olympinski | - | | - | - |
| 19/12 | Manchester | M.E.N Arena | | | - | |
| 20/12 | Liverpool | Arena | | | - | |
OFFICIAL PAUL McCARTNEY VIP TICKET PACKAGES 2011
FRONT ROW PACKAGE

HOT SOUND PACKAGE


Includes:
o One front row ticket
o Special crowd-free entrance
o Invitation to soundcheck
o Pre-show hospitality reception
o Tour merchandise item
o Collectible laminate
o Onsite event management staff



Prices from GBP 725 / EUR 806 /USD 1169


Includes:
o One premium ticket located in rows 3-6
or General Admission ticket with early entry
for GA Floor
o Special crowd-free entrance
o Invitation to soundcheck
o Pre-show hospitality reception
(This does vary please check individual show
descriptions)
o Tour merchandise item
o Collectible laminate
o Onsite event management staff

Prices from GBP 550 / EUR 611 / USD 887

HOSPITALITY PACKAGE


GETAWAY PACKAGE

Includes:
o One premium Price Level 1 ticket
o Pre-show hospitality reception
o Tour merchandise item
o Collectible laminate

Prices from GBP 450 / EUR 500/ USD726

Includes:
o One Price Level 1 ticket (& PL2 also for Liverpool)
o One night hotel accommodation
(additional nights can be added)
o Buffet Breakfast

Prices from GBP 225 / EUR 250 / USD363
Paul McCartney On The Run Tour Press Release

Paul McCartney is 'On The Run'

10th October 2011
New Paul McCartney Tour Dates announced – November/December 2011

From Abu Dhabi to the UK - Rock Icon Paul McCartney to bring 2011 to a spectacular close with eleven special shows across three different continents

In 2011 Paul McCartney is still leading the way. July saw Paul voted the 'Best Live Act' of the last year at the prestigious UK Nordoff Robbins Silver Clef Awards. It was a public vote and Paul beat acts from a shortlist of 30 including Muse, Green Day, Jay Z, Pink and Black Eyed Peas. In the same month, Paul and his band of nearly ten years (Paul 'Wix' Wickens, Brian Ray, Rusty Anderson and Abe Laboriel Jr.) embarked on their all new 'On The Run' tour. The tour kicked off with a two-night run at New York's iconic Yankee Stadium and then took in six massive shows in North America and Canada. The unrivalled feedback and reviews backed up the 'Best Live Act' Award as well as cementing Paul's reputation as one of the world's greatest performers ever.

Today, Paul announces his new 'On The Run' tour is coming home and he will bring 2011 to a close with 11 special shows. Starting out with his first ever show in U.A.E at the Abu Dhabi Grand Prix, the tour will then rock n' roll into Europe and Russia. It concludes with a concert in Paul's hometown of Liverpool exactly a year to the day since he played a tiny intimate show at Liverpool's O2 Academy late last year, which ended with Paul handing out hot drinks to fans waiting outside the venue in freezing weather conditions. Paul is already earning something of a reputation for his extraordinary Christmas homecoming shows after a series of special UK shows last December as well as his first ever, much talked about show at London's O2 Arena in December 2009. These new dates will also take in the O2 Arena once more, Paul's first visit back to the venue since using it to rehearse for his massive 2010/2011 'Up and Coming' tour.

As well as his first visit to Abu Dhabi, the 'On The Run' tour will see Paul's first ever live show in Bologna, Italy as well as his first shows in Sweden and Finland in seven years. He also returns to France, Germany and England and will make his third ever appearance in Russia; his first of which was immortalised in the historic 2003 DVD 'Paul McCartney Live in Red Square' and his last being in 2004 in St Petersburg.

Paul said, "Playing live is one of the most exciting parts of my job. I'm really looking forward to the next run of shows and to playing places that I have never played before with my band. I'll be starting with my first ever U.A.E concert and from there I'm on the run across Europe and Russia, before finally getting back to my hometown of Liverpool in time for Christmas. My audiences seem to get better each year and the band and I love the buzz and feedback that they give us. I can't wait to see you all for some wild nights of rock n' roll and partying"

As anyone who has seen it will confirm, the Paul McCartney live experience goes so much further than simply a normal concert. Throughout, Paul takes his audience on an emotional journey that touches everyone in a different way. Whether performing to just 200 or 500,000 people, Paul has the ability to connect with everyone in the audience. When this is coupled with the most envied and respected back catalogue in music, you have the ingredients for a once in a lifetime experience. On stage, Paul barely has time to catch his breath as he jumps from instrument to instrument, bounds tirelessly around the stage and sings nearly 40 songs - the ultimate value for money show.

In a lifetime of performing, Paul has played a truly staggering range of venues and locations. From pub gigs to huge outdoor parks and stadiums; unannounced stripped-back university shows with Wings to performing at Buckingham Palace, Paul has even played into Space, in Moscow's Red Square and at the White House to name just a few. In recent years, Paul's live shows have even acquired a new legendary status, garnering unprecedented reviews from fans and critics alike wherever he goes.

In 2010 Paul performed over 30 'Up and Coming' tour dates across North America, South America and the UK. Last year saw many career firsts wherever the band played. These included rocking The White House in front of President Barack Obama and his family in June when Paul was made the first ever British recipient of the prestigious Gershwin Prize For Popular Song. Paul returned to the White House again in December (where even the President joked about Paul becoming a regular there!) to be awarded with a Kennedy Center Honor. Paul ended 2010 with a visit to Saturday Night Live in New York City followed by a career landmark first ever performance at Harlem's famed Apollo Theater on December 13 and three intimate homecoming shows in the UK. He played the smallest club show of his career at London's legendary 100 Club to just 300 people, which made headlines as far as China. The final two shows were at the Hammersmith Apollo and at Liverpool's O2 Academy, both of which broke venue box office records.

McCartney kicked off his 2011 live agenda with his first ever show in Peru, his first Chilean gig since 1993, and two blockbuster shows at Rio de Janeiro's Estadio Olimpico Joao Havelange, which also resulted in the first ever concert to be broadcast live on the internet throughout Latin America - allowing over 1.5 million fans who were unable to snap up one of the 100,000 tickets to share in the magic. Like his visits to South America in 2010, these trips resulted in total and utter Macca-mania wherever he went. Fans built makeshift 'McCartney villages' as they camped outside the stadiums, waiting for days for the doors to open, in order to get the best possible positions at the front of the crowd.

Over fifty years into his career, he continues to push boundaries, perform to millions and make global news with countless monumental shows.


Paul McCartney Tour dates 2010

Friday December 17th The 100 Club London
Saturday December 18th - Live at the HMV Apollo, Hammersmith, London
Monday December 20th - Live at the O2 Academy, Liverpool

Following a year of massive international-headline-grabbing sellout stadium shows, Paul will bring 2010 to a close with two very special intimate and personal homecoming shows. Paul McCartney and his band are planning two spectacular nights of celebrating and rock n' roll in London and Liverpool to end the year on a massive high just as they did with their only UK show of 2009 last December at London's O2 Arena

top

07 Dec 2010
Paul McCartney 2 Special Christmas Shows
Following a year of massive international-headline-grabbing sellout stadium shows, Paul McCartney brought 2010 to a close with two very special intimate and personal homecoming shows. Paul and his band played two spectacular nights in London and Liverpool to end the year on a massive high just as they did with their only UK show of 2009 last December at London's O2 Arena.

The first of these two concerts saw Paul return to London's Hammersmith Apollo for his first full solo show there in 35 years, his last appearance being with Wings in September 1975; Paul first appeared there with The Beatles on December 24th, 1964 for The Beatles Christmas Show. The second concert saw Paul return to his roots as he traveled home to Liverpool to play the 02 Academy for the first time in his unrivalled career. Paul's last appearance in Liverpool was in June 2008 at Liverpool's Anfield Stadium as part of the cities celebration for their year as European Capital of Culture.

Speaking about the forthcoming shows Paul said:
"I always love playing to a home audience and for me it's the perfect way to end the year. We've had great fun with the stadium shows this year and we're looking forward to the more intimate vibe of these ones. Christmas is the perfect excuse for everyone to let their hair down and rock out. We are looking forward to celebrating with the good people of London and Liverpool".

The first of these two concerts will see Paul return to London's Hammersmith Apollo for his first full solo show there in 35 years, his last appearance being with Wings in September 1975; Paul first appeared there with The Beatles on December 24th, 1964 for The Beatles Christmas Show. The second concert will see Paul return to his roots as he travels home to Liverpool to play the 02 Academy for the first time in his unrivalled career. Paul's last appearance in Liverpool was in June 2008 at Liverpool's Anfield Stadium as part of the cities celebration for their year as European Capital of Culture.

06 Dec 2010
Saturday evening saw Paul McCartney returning to what is fast becoming his home away from home - The White House. After performing at the White House back in June when he was the recipient of the Gershwin Prize, Paul returned this weekend to receive America's most prestigious award for the performing arts: the Kennedy Center Honours medallion. Paul was presented his award at a gala ceremony where Oprah Winfrey, Merle Haggard, Bill T Jones and Jerry Merman were also honoured. US Secretary of State, Hilary Clinton, who was in attendance said that Paul had 'redefined music over the course of his lifetime.'

European UP AND COMING TOUR

Paul McCartney - Up And Coming Tour 2010 included five special massive UK and Ireland shows.

Paul McCartney's European UP AND COMING TOUR finished in style (27June 2010) at London's Hard Rock Calling Festival.

We would like to thank all our clients who joined us to experience some amazing Paul McCartney Sound Checks and Pre-Show Hospitality in Dublin, Glasgow and Cardiff

Paul McCartney's Up Coming Tour then moved to USA.

PAUL McCARTNEY TOUR DATES 2010

Tuesday 13th July - Rio Tinto Stadium, Salt Lake City
Thursday 15th July - Pepsi Center Denver
Saturday 24th July - Sprint Center Kansas
Monday 26th July - Bridgestone Arena Nashville
Wednesday 28th July - Time Warner Cable Arena Charlotte
Sunday 8th August - Air Canada Centre Toronto
Monday 9th August - Air Canada Centre Toronto
Thursday 12th August - Bell Centre Montreal
Saturday 14th August - Wachovia Center, Philadelphia
Sunday 15th August - Wachovia Center, Philadelphia
Wednesday 18th August - CONSOL Energy Center Pittsburgh
Thursday 19th August - CONSOL Energy Center Pittsburgh
Sunday 7th November - Beira Rio Stadium Porto Allegre, Brazil
Wednesday 10th November - River Plate Stadium, Buenos Aires, Argentina
Thursday 11th November - River Plate Stadium, Buenos Aires, Argentina
Sunday 21st November - Morumbi Stadium Sao Paulo, Brazil
Monday 22nd November - Morumbi Stadium Sao Paulo, Brazil

Tour Location Date
Paul McCartney AT&T Park, San Francisco, CA Sat 10th Jul 2010
Paul McCartney Rio Tinto Stadium, Salt Lake City, UT Tue 13th Jul 2010
Paul McCartney Pepsi Center, Denver, CO Thu 15th Jul 2010
Paul McCartney Sprint Centre, Kansas City, MO Sat 24th Jul 2010
Paul McCartney Bridgestone Arena, Nashville, TN Mon 26th Jul 2010
Paul McCartney Time Warner Cable Arena, Charlotte, NC Wed 28th Jul 2010
Paul McCartney Air Canada Centre, Toronto, ON Sun 8th Aug 2010
Paul McCartney Air Canada Centre, Toronto, ON Mon 9th Aug 2010
Paul McCartney Bell Centre, Montreal, QC Thu 12th Aug 2010
Paul McCartney Wachovia Center, Philadelphia, PA Sat 14th Aug 2010
Paul McCartney Wachovia Center, Philadelphia, PA Sun 15th Aug 2010
Paul McCartney CONSOL Energy Center, Pittsburgh,PA Wed 18th Aug 2010
Paul McCartney CONSOL Energy Center, Pittsburgh,PA Thu 19th Aug 2010