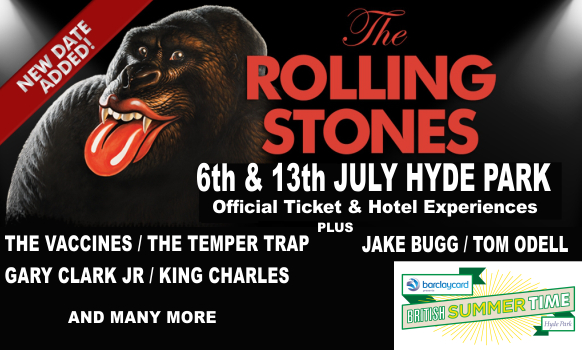 The Rolling Stones
Rolling Stones Tour Dates - Stones Tickets and Tour News - REGISTER now - Rolling Stones Albums


TICKET & HOTEL EXPERIENCES ON SALE FRIDAY
12th APRIL 09:00am (local)! BOOK NOW


THE ROLLING STONES BACK IN HYDE PARK 6 & 13 JULY 2013!
The Rolling Stones are returning to London's Hyde Park this summer for a sensational outdoor concert on Saturday 6 July & 13 July as part of Barclaycard presents British Summer Time Hyde Park. GUIDE TO SEATING PLAN
The concert takes place almost 44 years to the day since the Stones first played Hyde Park, and will see Mick Jagger, Keith Richards, Charlie Watts and Ronnie Wood return to where they truly belong, back on the live stage, following the huge success of their 50 & Counting shows last year. A North American tour has also been announced today, for more information go here.
Support acts for Hyde Park are The Vaccines, The Temper Trap and Gary Clark Jr. and a week later Jake Bugg, Tom Odell plus many more

The Rolling Stones' Hyde Park concert on 5 July 1969 is widely acknowledged as one of the most significant moments in modern music history. As well as seeing the live debut of guitarist Mick Taylor, the concert became a tribute to founder member Brian Jones, who tragically passed away two days prior.
Mick Jagger commented, "We had such a great time playing the five concerts last year, we want to keep it going! Hyde Park holds such great memories for us and we can't think of anywhere better to perform to our UK fans this summer."
Keith Richards added, "We all had such a ball last year, and the energy between the band is so good, we can't wait to get back on that stage where the Stones belong."
Linda Lennon CBE, Chief Executive, The Royal Parks, said: "We can't wait to welcome the Rolling Stones back to Hyde Park. The Barclaycard presents British Summer Time is a new era for music events in Hyde Park so what better way to celebrate that then to have the original headliners return to where it all started.

ROLLING STONES TOUR DATES 2013

50 & COUNTING TOUR DATES
TBA Los Angeles STAPLES Center
May 5 Oakland Oracle Arena
May 8 San Jose HP Pavilion
May 11 Las Vegas MGM Grand Garden Arena
May 15 Anaheim Honda Center
May 25 Toronto Air Canada Centre
May 28 Chicago United Center
June 12 Boston TD Garden
June 18 Philadelphia Wells Fargo Center

03 April 2013
The Rolling Stones Expected to announce New Tour Schedule! today woo hoo!
27 March 2013
The Rolling Stones are confirmed to Headline Glastonbury - Saturday 28 June 2013
Mick, Keith, Charlie
and
Ronnie
will continue their
50 & Counting
celebrations on the legendary Pyramid Stage in what will undoubtedly be the highlight of this world famous summer music festival.
Mick tweeted:
"Can't wait to play Glastonbury. I have my wellies and my yurt!"
Keith said:
"We all had such a ball last year, and the energy between the band is so good. We can't wait to play Glastonbury, see you on a summer's day in England!"
February 27 - Rolling Stones in NME award double
The Rolling Stones were corectly double winners at the NME Awards, after more than 50 years since they first featured in the magazine's pages. The Greatest Rock 'N' Band in the World were named best live band, and their documentary Crossfire Hurricane landed the best film prize. - Rumours are still abound more Rolling Stones Tour News to come - Register now!
February 12 - Rolling Stones Glastonbury Maybe!
It is being reported that Ronnie Woods is going to convince the other Stones at a meeting next month to headline the Glastonbury festival this year. The Rolling Stones as being widely reported are to have a meeting next month where they will discuss their plans for this year!

Ronnie says:-
"Wouldn't it be nice. We've got a meeting next month and that's going to be my first question to them. It's something I've always been interested in. I'm going to twist their arms. I've got lots of high hopes this year, now that we're all rehearsed - let's get it cracking this summer!"

THE STONES ARE PUT FORWARD FOR NME AWARDS NOMINATIONS – VOTE FOR THE ROLLING STONES TO WIN!
The Rolling Stones have been nominated for four NME Awards:
Best Live Act
Best Music Film for Crossfire Hurricane
Best Book for The Rolling Stones: 50
Music Moment of the Year for their 50 & Counting performances at London's O2 Arena
Vote for the Rolling Stones here

10 Jan 2013
Jagger on twitter! - #BRITsLiveAct We all had such a blast, everyone was at the top of their game, & the hometown audiences at The O2 were just fantastic.

It's great to be nominated...we will see you soon - LETS HOPE SO! Register now for more Stones Tickets and Tour News


THANK YOU TO EVERYONE WHO BOOKED WITH US IN NOV!






---




IS EVERYBODY READY?
LADIES & GENTLEMEN…THE ROLLING STONES RETURN TO LIVE ACTION WITH SPECTACULAR ARENA SHOWS ON BOTH SIDES OF THE ATLANTIC
THE O2 ARENA, LONDON UK
PRUDENTIAL CENTER, NEWARK USA

We are delighted to offer some great Ticket and Hotel Experiences for The Rolling Stones in London

| | | | | |
| --- | --- | --- | --- | --- |
| Tour | Date | Venue | City | Ticket & Hotel Experience |
| Rolling Stones | 25/11 | O2 Arena | London | |
| Rolling Stones | 29/11 | O2 Arena | London | |
OFFICIAL ROLLING STONES
TICKET and HOTEL EXPERIENCES - LONDON O2 Arena
Includes:
Choice of Cat 2 and Premium Level 1 Reserved Seats
1 Night Hotel including complimentary Breakfast
Exclusive Merchandise item
Ticket Wallet & Event and City Info
24/7 Customer support
All Taxes
15 October 2012
Ladies and Gentlemen they are back! The most eagerly anticipated concerts of 2012 are announced today as the greatest rock 'n' roll band, The Rolling Stones, confirm their long awaited return to the stage with four spectacular arena shows in London and New York. Mick Jagger, Keith Richards, Charlie Watts and Ronnie Wood at last revealed their return to live stage!

As the crowning glory of their on-going 50th anniversary celebrations, the rock icons will play to thousands of fans at London's O2 Arena on November 25 and 29, and then across the ocean to perform at the Prudential Center, Newark, near New York, on December 13 and 15.
Stones release new Single Doom and Gloom!
18 Sep 2012
The Rolling Stones are set to give an early tour documentary 'Charlie Is My Darling' an official release. The Rolling Stones have been at the forefront of offering their fans a unique visual experience. The band's career has featured in numerous documentaries, some of which have never gained an official release. Charlie Is My Darling was filmed in 1965, which captures the Stones as a band adjusting to their enormous fame. Playing a two date tour of Ireland, it features The Rolling Stones relaxing on the road immediately after the release of 'Satisfaction'.
Previously only available on poor quality bootlegs, The Rolling Stones are set to give the film a showing time for their 50th anniversary. The news broke via Billboard, who advise that the new version contains 60 percent new footage and six complete songs - including some of the earliest available professional footage of the Greatest Rock N Roll Band in The World!
'Charlie Is My Darling' receives its première during the New York Film Festival on September 29th, before hitting the shops on November 6th. The director's cut, the producer's cut and this new version are set to be pressed together as a Super Deluxe Box Set on DVD and Blu-Ray
04 Sep 2012
The Rolling Stones are to release their first new studio recordings for seven years as they announced plans to repackage their greatest hits. The GRRR! Album will include the two songs Gloom And Doom and One Last Shot - completed in Paris in the last few weeks.

The three-CD album will include 50 tracks covering the band's career which is due to be released in November. The "super deluxe" version will include 80 tracks. The Rolling Stones have teased Stones fans to expect a "special announcement" which had led to speculation the band would give details about live shows which may include London and New York as recently reported!

The new collection follows Forty Licks, released in 2002 to celebrate the band's 40th anniversary. They have released only one studio album since then, A Bigger Bang in 2005.

Register now for more Rolling Stones Tickets and Concert Tour News

30 Aug 2012
The Rolling Stones are set to release a documentary that will look back over their incredible journey as the greatest Rock 'n' Roll Band in the world! 'Crossfire Hurricane,' is due to hit British cinema screens in October to in a celebration 50th anniversary.
"Crossfire Hurricane invites the audience to experience first-hand the Stones' nearly mythical journey from outsiders to rock'n'roll royalty," the film's director Brett Morgan said in an official statement.
"It's an aural and visual rollercoaster ride."
According to Billboard, 'Crossfire Hurricane' will feature historical footage and commentaries from the band consisting of Mick Jagger, Keith Richards, Ronnie Woods, as well as former Stones Bill Wyman and Mick Taylor.
"You can't really stop the Rolling Stones, you know when that sort of avalanche is facing you, you just get out of the way," guitarist Keith says in the film.
Register now for more Rolling Stones Tickets and Concert Tour News
29 Aug 2012
Billboard have announced The Rolling Stones will play four dates in November, two at London's O2 Arena and two at the Barclays Center in Brooklyn, a source tells Billboard.biz. Richard Branson and Australian promoter Paul Dainty will promote, and the source says the Stones will be paid $25 million for the four shows.

Register now for more Rolling Stones Tickets and Concert Tour News
21 Aug 2012
Mick Jagger has confirmied that the band have been working on tracks or remastering their classics - Mick Jagger uploaded a picture of himself holding a guitar whilst sitting on a stool in a studio to his Twitter. The caption that accompanied the image read: 'Had fun in the Paris studio this week! @RollingStones'
06 Aug 2012
Check out the video clip of the Rolings Stones preparations and celebrations of the 50 years event just recently at Sommerset House in London:

27 July 2012
More speculation concerning whether or not The Rolling Stones will do any dates this year - Looking more likely to be in 2013 and will Bill Wyman be a part? - Former Rolling Stones bass guitarist Bill Wyman, back for a week's break in his west Suffolk home, has played down any plans to get back with his former band-mates for a special anniversary tour.
The Stones now celebrating 50 years in Rock 'N' Roll are to reunite for a series of gigs and whilst there were talks of the tour starting this year this looks to have been put off until 2013. - Bill Wyman has linked up with Sir Mick Jagger, Ronnie Wood, Keith Richards and Charlie Watts for a couple of rehearsal sessions, but he supposedly has no plans to be part of any tour.
He said: "I don't fly, so there's no way I'll go on any tour.
Keith
is reported to have said "Basically, we're just not ready," 2013 is the new goal. "I have a feeling that's more realistic," he added.
After one of the longest periods of The Stones inactivity ever, the group is gearing up again for a series of Stones Events, including the 2013 dates, new studio sessions and a major documentary.
Despite holding off on touring this year, the band is still buzzing from reuniting with Bill Wyman.
"We're back in touch, which is great, because I hadn't really spoken to him for years," said Keith Richards.
Will Bill Wyman rejoin the group on the road in 2013? "I think he's up for it. We talked about it," Keith is reported to have said.
Register now for more Rolling Stones Tickets and Concert Tour News
Gimme Shelter is BBC Radio 6 Music listener poll of favourite Rolling Stones tracks
A BBC Radio 6 Music online poll has revealed that Gimme Shelter is the listeners' favourite Rolling Stones track.
The vote was launched on Sunday 8th July as part of BBC 6 Music Celebrates 50 Years of The Rolling Stones, giving listeners the opportunity to vote for their all-time favourite Rolling Stones track.
Gimme Shelter, which was never released as a single, first appeared as the opening track on the band's 1969 album Let It Bleed. The Stones first played the song live on a TV special, Pop Go The Sixties, on New Year's Eve in 1969.
BBC Radio 6 Music, compiled a list of 50 tracks and listeners chose their favoured track. The top six tracks were revealed on Steve Lamacq's 6 Music afternoon show (1600-1900). The top ten tracks are:
1. Gimme Shelter.
2. Sympathy for the Devil
3. Paint It Black
4. You Can't Always Get What You Want
5. Jumpin' Jack Flash
6. Brown Sugar
7. Wild Horses
8. (I Can't Get No) Satisfaction
9. Tumblin' Dice
10. Honky Tonk Women
James Stirling, Head of Programmes, BBC Radio 6 Music says: "It's hard to pick one song from an enormous back catalogue of such quality – but the BBC Radio 6 Music listeners have done a splendid job. Gimme Shelter opens the Rolling Stones' final album of the sixties, but still sounds as emotive and powerful on the radio today."

18th July 2012
The Rolling Stones have announced that they won't do a full-scale 50th anniversary tour in 2012 - Mick Jagger has now confirmed that there will be a select number of Rolling Stones 50th anniversary concerts in the autumn of 2012.
Register now for more Rolling Stones Tickets and Concert Tour News

16th July 2012
The Rolling Stones Tour Dates 2012 - MAYBE!
Mick Jagger has said that the Rolling Stones will be playing live again "this Autumn." He made the statement to London's Evening Standard, adding "You will definitely be seeing us all together soon. It's been great fun being back together and there are a lot of memories in here. I can't believe it's been 50 years. We've been hanging out together, seeing quite a bit of each other and we want to do some gigs."

Register now for more Stones Tickets and Concert Tour News

CONGRATULATIONS the ROLLING STONES 50 Years of Rock 'N' Roll
12 July 2012
Keith Richards says the band have met up for "a couple of rehearsals" as they mark 50 years together fuelling of course speculation of Tour News to celebrate the band's golden anniversary! Keith would not be drawn so far as to say when the band would be performing in public again. "There's things in the works - I think it's definitely happening," he told the BBC. "But when? I can't say yet." "We're playing around with the idea and had a couple of rehearsals - we've got together and it feels so good."
A photography exhibition marking the band's long career is launched today at London's Somerset House. "It's amazing - most of these pictures I think, 'where was the cameraman?' I don't remember them being there," he said. He added he would like the band to continue for as long as possible, saying: "There might be life in the old dog yet - we'll die gracefully, elegantly wasted. "Sometimes its hard work and you wonder why you're doing it, but apart from those few moments it's been an incredible adventure."
The Stones last world tour, A Bigger Bang, played to 4.5m people in 32 countries over two years before it finished in London in 2007. With ticket sales of $558m (£360m).
Register now for more Stones Tickets and Tour News

08 July 2012 -
THE BIG 50
The
Rolling Stones
are getting together next Thursday for
The Stones
50th anniversary (to the day) of
the Greatest Rock 'N' Roll Band
in World first gig. Original Stones
Mick Jagger
and
Keith Richards
will be joined of course by
Charlie Watts
(1963) and
Ronnie Woods
(1975) - The band are to meet up in public (not seen supposedly in public together for 4 years) in London to kick off their Fifty Years celebrations.
The Stones
gathering will include
Mick Jagger
and girlfriend designer L'Wren Scott -
Keith Richards
with wife Patti Hansen,
Charlie Watts
with wife Shirley and
Ronnie Woods
of course ...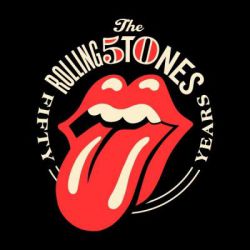 To commemorate their 50th anniversary the Rolling Stones commisioned Shepard Fairey to update their classic Tongue and Lips logo, originally designed by John Pasche in 1971.
The Rolling Stones are reunited for a gala preview for The Rolling Stones: 50 photographic exhibition at Somerset House, featuring images from the first time the band went on stage — at the Marquee Club on July 12, 1962.
Rolling Stones Music - Rolling Stones Songs
Reported Bill Wyman (1962-93) will be attending, as will Mick Taylor, who played with the band for five years until 1974.

'They're all flying in to party,' a source is reported to had let slip

If you want to see what it was all about, Thames & Hudson has published a coffee table book packed with photographs linked to the exhibition - "
Register now for more Rolling Stones Concert Tickets and Tour News
On 22 November 1981, in the middle of their mammoth American tour, the Rolling Stones arrived in Chicago prior to playing 3 nights at the Rosemont Horizon. Long influenced by the Chicago blues, the band paid a visit to Buddy Guy's club the Checkerboard Lounge to see the legendary bluesman perform. It didn't take long before Mick Jagger, Keith Richards, Ronnie Wood and Ian Stewart were joining in on stage and later Buddy Guy and Lefty Dizz also played their part. It was a unique occasion that was fortunately captured on camera. Now, restored from the original footage and with sound mixed and mastered by Bob Clearmountain, this amazing blues night is being made available in an official release for the first time
16th May 2012

Ronnie Wood speaking with the UK's The Sun on Monday after the Sony Radio Awards and the subject of what was next for the Rolling Stones came up!

He told the reporter "It looks like we are going to be doing more stuff. I am keeping October/November free, that's what I've been told. I'm just awaiting more information."
When asked about the possibility of a new Stones album, he laughed, saying "New ones? Are you joking? We are familiarising ourselves with our back catalogue and have only scratched the surface."
So, even though the general opinion was not to expect anything before 2013, it looks like something could be happening later in the year.

Register now for more Rolling Stones Tickets and Tour News

KEITH RICHARD Interview BBC Radio (Too good)

10 Apr 12
Ronnie Wood is reported to have said the Rolling Stones will be meeting in a recording studio later this month "to just throw some ideas around." Ronnie said on Monday that he and the band just want "to get the feel again." He also added that the Rolling Stones 50th anniversary is like training for something big. "It's like working out for the Olympics or something," Ronnie said. "You've got to go into training. So we're going to go into training." Ronnie Wood made the comments in an interview following a press conference for his exhibition, "Faces, Time and Places," which features his own paintings. It includes pieces of him and his band mates, as well as Muhammad Ali and Al Pacino.

Ronnie Wood says he would love go on a solo tour "if I had enough time, but I have too many commitments."He also talked about possibly recording another solo album.

"Lots of people don't know I've made seven, 'cause most of my albums escape; they're not released," he said, laughing. "Keith (Richards) says they all skyrocket to oblivion."

16 Mar 2012

It's All Over Now: Mick and Keith end their feud paving way for Stones reunion tour - Sir Mick Jagger and Keith Richards have revealed they have kissed and made up – and are looking forward to getting back together for a tour. Mick Jagger and Keith Richards who met at Dartford railway station in Kent as teenagers have agreed that life's too short to let the rift continue.

Sir Mick said last night: "Looking back at any career you are bound to recall both the highs and the lows. "In the 1980s, for instance, Keith and I were not communicating very well.
"I got very involved with the business side of The Stones, mainly because I felt no one else was interested. " But it's plain now from the book that Keith felt excluded, which is a pity.
"Time, I reckon, to move on.'' Register now for more Rolling Stones Tickets and Stones Tour News
Wild Horses Knebworth 21 Aug 1976 Video
You wanna hear a sad sad song?" asks Mick to the crowd at Knebworth, as they headlined the Knebworth festival in Hertfordshire, UK, on 21st August 1976. There were 200,000 in the crowd that night, amongst them Paul and Linda McCartney. Also on the bill were Lynyrd Skynyrd, 10CC and Todd Rundgren.
It starts with riff and a phrase from Keith that fitted, because he was 'doing good at home with his old lady'. Undoubtedly poignant and wistful, almost to a fault, it turned into one of the great love songs of all time.

In an awesome performance, is this one of Ronnie's best solos ever? amogst many others of course of Keith and Ronnie! - Lets hope we hear many more live!
Rolling Stones Tour 2012 - More speculatuion! Stones 50th Anniversary


More speculation and rumours are being banded about on Rolling Stones Fan Sites assuming an anniversary tour is in the making - Lets hope so! - The Rolling Stones already are gearing up behind the scences rumours are being voiced, officially still closed curtains for something which - although still only a possibility - is already called a "biggest bang ever" or a "no brainer" or "biggest sold-out tour ever". Speculation with the re-releases of the albums and DVDs Exile On Main Street and Some Girls, but that's just the beginning.

Register for the more Rolling Stones Tickets and Tour News

The Stones recently signed exclusive deals with Google Music (to provide promotion and online distribution of a vast collection of upcoming "official" bootlegs), Bravado (to exclusively market the band's brand and merchandise), Eagle Rock (releasing a plethora of Stones DVDs) and, dating back to 2008, the Universal Music Group (who have the sole rights to release and distribute its entire catalog). - The Chicago Tribune

It's assumed, that the announcement of any official statement announcing a tour or anything like it could be due to an on-going, non-compete legal battle between Live Nation and its former chairman, Michael Cohl, who was responsible for organizing the last several tours. But in February 2011 the band already stated, that "they became free from any contractual arrangements or agreements with Michael Cohl.
Rolling Stone claims, that Bill Wyman has rejoined the band but jury is still out on how true this is, although he has played recently with the band on the re-releases and joined the sessions in London, but apart from agreeing to join the band for some major, big, charity or anniversary event, he would possibly agree, if he were asked, he said recently!
'This is our story of fifty fantastic years. We started out as a blues band playing the clubs and more recently we've filled the largest stadiums in the world with the kind of show that none of us could have imagined all those years ago. Curated by us, it features the very best photographs and ephemera from and beyond our archives' Mick, Keith, Charlie & Ronnie
09 Jan 2012
Rolling Stones to tour in 2012 ..... maybe!

It looks like Charlie Watts is up for it (Radio 6 Music)

Interviewd by Radio 6, Charlie Watts expresses his desire to get back on the road this year - Rumours have been abound for a while now that the Rolling Stones will tour in 2012 to celebrate their 50th anniversary.

There have also been reports of secret meetings between Charlie, Mick Jagger, Ronnie Wood and Keith Richards, so maybe there is a chance of some big shows in the making ....

"It would be lovely next year to do some shows because it will be fifty years.

"Ronnie plays, I still play, Mick sings, he can do it anyway, I think Keith is doing some records,"

"Anyway it would be great if we did, we are just getting to an age where it's getting a bit difficult to get it together and it's such a bloody performance getting us together."

The Rolling Stones now with an average age of 67 and a half - after fifty years Radio 6 asked Charlie how they've stayed together so long?

"I think no one wants to quit because the other one will say you quit."

Register for the more Rolling Stones Tickets and Tour News
07 Feb 2011
Mick Jagger will perform live on the Grammy Awards accompanied by fellow Grammy winner Raphael Saadiq and his band. They will perform as part of the annual 'In Memoriam' tribute, which pays homage to members of the music community who have passed away in the previous year.

Mick will join previously announced performers such as: Arcade Fire, Eminem, Lady Gaga, Muse and Katy Perry & nominees Justin Bieber and Usher, with Jaden Smith, B.o.B, Bruno Mars and Janelle Monáe, Drake and Rihanna; Cee Lo Green, with Gwyneth Paltrow and the Jim Henson Company Puppets.
02 Feb 2011
Talk of a Rolling Stones Tour this year appears less likely now following a statement from the Stones camp:-

"The Stones confirmed today they have no firm plans to tour at this time".

But Stones fans hope they won't have to wait too long though - Register for the more Rolling Stones Tickets and Tour News
THE ROLLING STONES
The music industry eagerly awaits news of a new ROLLING STONES TOUR as they celebrate their 50th Anniversary in 2012.
Event Travel has had the honour to work with The Rolling Stones, as an Official Ticket and Package Operator on their world tours over the last 15 years. Rolling Stones Ticket and VIP Packages have provided fantastic ticket experiences for Stones fans from all over the world. Still considered as the Greatest Rock'n'Roll band in the world The Rolling Stones incredible musical talent and unbeatable live entertainment spectacles is what The Rolling Stones are famously known for. The Stones appeal is universal, their sound is all their own and their story's unique.
The Rolling Stones have probably spent more time on the road than any other band, rocking more people worldwide than any other artist. Their last tour "The Bigger Bang Tour" sold over 4,500,000 tickets for 147 concerts, in 118 cities and 32 countries, over a period of 735 days. Register for the more Rolling Stones Tickets and Tour News
24 July 2010
The Sun have reported the Greatest Rock 'N' Roll Band THE ROLLING STONES are set to finally bow out after 50 years in music - with a giant farewell tour.
The greatest Rock 'N' Roll band with a combined age of 268 could be planning a final Rolling Stones World Tour next year.
The band - formed in 1962 - will reach its half-century during this anticipated tour, which is set to last into 2012.
Drummer CHARLIE WATTS will celebrate his 70th birthday on the tour, and Stones band comprising of RONNIE WOOD, 63, KEITH RICHARDS and MICK JAGGER, both 66, agreed the milestones make it the right moment to call it a day.

Reports are they are in talks with promoters Live Nation about the tour, and a source said: "They're likely to perform in stadiums. It's almost certainly the last full-scale world tour.
"The band realise that age is creeping up on them. They want to bow out on top of their game, and not short-change their fans."

The Rolling Stones first did a farewell tour of Britain in 1971, then left the country to avoid high taxes. They gave up touring again for eight years from 1982 until the Steel Wheels tour in 1990.
The Stones have sold more than 200 million albums and recorded a string of classic hits including Satisfaction, Paint It Black and Brown Sugar. REGISTER FOR MORE ROLLING STONES TOUR NEWS
The Rolling Stones in Cannes France to promote Exile On Main Street
The Rolling Stones are preparing to re-release their 1972 classic album Exile On Main Street . Considered as one of the greatest albums in rock 'n' roll history and one of the most defining of the Stones' portfolio, Exile On Main Street will be re-released on May 18, 2010
'Plundered My Soul,' is one of 10 previously unreleased tracks featured on the Rolling Stones' remastered release of their 1972 'Exile on Main St..' Helmed by Jimmy Miller, The Glimmer Twins and Don Wasalbum, the album is set to release May 17 in the U.K. followed by a May 18th U.S. release date. The reissue will be available in three versions: the original 18-track set as a CD, a deluxe version including the 10 bonus tracks and as the super deluxe package including vinyl, the new documentary and a collector's book.
Register For more Rolling Stones Tickets & Tour News
The Rolling Stones Bigger Bang Tour Dates

| | | | |
| --- | --- | --- | --- |
| Bigger Bang Tour 2007 | Date | Venue | City |
| Rolling Stones Tickets | Tue Jun 5 | Werchter Park (festival site) | Brussels |
| Rolling Stones Tickets | Fri Jun 8 | Goffert Park (festival site) | Nijmegen |
| Rolling Stones Tickets | Sun Jun 10 | Isle of Wight Festival, Seaclose Park | Isle of Wight |
| Rolling Stones Tickets | Wed Jun 13 | Commerzbank Arena (Waldstadion) | Frankfurt |
| Rolling Stones Tickets | Sat Jun 16 | Stade de France | Paris |
| Rolling Stones Tickets | Mon Jun 18 | Stade Gerland | Lyon |
| Rolling Stones Tickets | Thu Jun 21 | Stadi Olimpic Montjuic | Barcelona |
| Rolling Stones Tickets | Sat Jun 23 | Anoeta Stadium | San Sebastian |
| Rolling Stones Tickets | Mon Jun 25 | Estadio Jose Alvalade XXI | Lisbon |
| Rolling Stones Tickets | Thu Jun 28 | Estadio Vicente Calderón | Madrid |
| Rolling Stones Tickets | Sat Jun 30 | Estadio de Santo Domingo | El Ejido, Almeria |
| Rolling Stones Tickets | Fri Jul 6 | Stadio Olimpico | Rome |
| Rolling Stones Tickets | Mon Jul 9 | Jaz Beach | Budva |
| Rolling Stones Tickets | Sat Jul 14 | Usce Park | Belgrade |
| Rolling Stones Tickets | Tue Jul 17 | Lia Manoliu National Stadium | Bucharest |
| Rolling Stones Tickets | Fri Jul 20 | The Puskas Ferenc Stadium | Budapest |
| Rolling Stones Tickets | Sun Jul 22 | Outdoor Exhibition Centre | Brno |
| Rolling Stones Tickets | Wed Jul 25 | Sluzewiec Hippodrome | Warsaw |
| Rolling Stones Tickets | Sat Jul 28 | Palace Square | St Petersburg |
| Rolling Stones Tickets | Wed Aug 1 | Olympiastadion | Helsinki |
| Rolling Stones Tickets | Fri Aug 3 | Nya Ullevi (stadium) | Gothenburg |
| Rolling Stones Tickets | Sun Aug 5 | Parken (stadium) | Copenhagen |
| Rolling Stones Tickets | Wed Aug 8 | Valle Hovin (skating field) | Oslo |
| Rolling Stones Tickets | Sat Aug 11 | Stade Olympique de la Pontaise | Lausanne |
| Rolling Stones Tickets | Mon Aug 13 | LTU Arena (stadium) | Düsseldorf |
| Rolling Stones Tickets | Wed Aug 15 | HSH Nordbank Arena (stadium) | Hamburg |
| Rolling Stones Tickets | Sat Aug 18 | Slane Castle | Dublin |
| Rolling Stones Tickets | Tue Aug 21 | The O2 (arena) | London |
| Rolling Stones Tickets | Thu Aug 23 | The O2 (arena) | London |
| Rolling Stones Tickets | Sun Aug 26 | The O2 (arena) | London |

05 Nov 2009
Rolling Stones to tour in 2010
Rumours are abound that the Greatest Rock 'n' Roll Band The Rolling Stones may take to the road and tour next year. Ronnie Wood has confirmed he has been in touch with band members Mick Jagger and Charlie Watts just last week, and everything has been going 'great', hinting that the group could hit the road again soon, reports contactmusic.com.
Register now for Rolling Stones Tickets Package Information
He added that he was confident the band could do a follow up tour to 2007's 'Bigger Bang'. Speaking about a reunion with his other band Faces, he said: 'Well, we just had one, and there will definitely be more.' Dates are yet to be confirmed for either a Faces or Rolling Stones tour.
Register now for Rolling Stones Tickets Package Information
May 5 2009
Mick Jagger with Joss Stone
Mick Jagger will be recording a track with Joss Stone for a charity album that will be issued on the UN's International Day Of Peace, September 21. Other artists said to be working on the record include U2 frontman Bono and rapper Nas.
Apr 9: The Rolling Stones on Universal re-release plan
Following the initial announcement last year, Universal Records have now announced details of the Rolling Stones re-releases. Most of the new releases will be as the originals, but "Exile On Main Street" will be released later this year, as part of wider plans for this title.
Apr 8: Ronnie Wood with Slash at Quart in Norway June 30
Ronnie Wood has been confirmed as one of the guests performing with Slash and Friends at the Quart festival in Kristiansand, Norway on June 30. Other guests are Jason Bonham and Ozzy Osbourne. See details about Slash with Ronniew Wood at the Quart.
Apr 6: Ronnie Wood working on a new solo album
Ronnie Wood has recorded about a dozen songs for a new solo album titled "More Good News". Producer Bob Rock confirmed that he worked on an as-yet-untitled track with Ronnie which features a guest appearance by Pearl Jam's Eddie Vedder.
Apr 6: Ronnie Wood to perform at Los Angeles charity event
Ronnie Wood is among the artists scheduled to perform at a charity dinner/concert in Los Angeles, USA on May 8, to raise money for musicians struggling with addiction. The fifth annual MusiCares MAP Fund event will take place at the 2,300-capacity Club Nokia. Individual floor Seats are priced at $1,250 and preferred balcony seats at $100, sold through the organizers of the Grammys. Ticketmaster is selling general admission balcony seats at $50. Other performers at the alcohol-free event include Iggy Pop, the Mars Volta and Ivan Neville.
Apr 5: Ronnie Wood live at the Rock & Roll Hall of Fame
Ronnie Wood jammed with Jimmy Page, Jeff Beck, Joe Perry, Kirk Hammett and James Hetfield at the Rock & Roll Hall of Fame in Cleveland, Ohio, USA last night.
Feb 9: Mick Jagger at the British Academy Film Awards
Mick Jagger presented the top prize at the Orange British Academy Film Awards show last night. Mick made jokes about being part of the Rock star-Movie star Exchange Program, Then he announced the winner of the BAFTA mask for best film of 2008 - "Slumdog Millionaire."
Jan 22: Ronnie Wood moving to Los Angeles
Ronnie wants to live in Los Angeles after falling in love with the city while he was there to record a new album with the reformed Faces recently. See the Yahoo UK & Ireland news story Ronnie Wood's LA escape.
Jan 8: Keith Richards donating signed guitar to Helping Hands auction
Keith Richards is supporting The Rector High School Helping Hands Foundation by donating a signed Zemaitis guitar for an auction. Bill Carter, who worked with the Stones in the 70's and 80's, co-founder of "Helping Hands", used his contacts to secure the donation. See the Clay County Democrat story: Music legends donate memorabilia for Helping Hands charity auction.
October 26, 2008
Mick Jagger and Keith Richards For New Jerry Lee Lewis Album
Singer wants the Rolling Stones... Rolling Stones band members Mick Jagger and Keith Richards are in talks to appear on Jerry Lee Lewis's new album. Lee Lewis told a news conference in London last week that his next studio project would "probably" feature the pair.
"I have known them back when they were kids. Ain't that something? They ain't kids no more," he said.
Lewis will begin his European tour next week with an appearance at the Rock'n'Roll festival in London.
He didn't suggest when his new album would be released.
Register now for Rolling Stones Tickets Package Information
The Rolling Stones are an English band whose rhythm and blues and rock & roll- based music became popular during the 1960s. The band was formed by the original leader Brian Jones, but was eventually led by the songwriting partnership of singer Mick Jagger and guitarist Keith Richards. The band has released 55 albums of original work and compilations, and have had 32 U.K & U.S top-10 singles. They have sold more than 200 million albums worldwide. Their latest album, "A Bigger Bang", was released in 2005 and accompanied by the highest-grossing tour in history, which lasted into late summer 2007.
ROLLING STONES ALBUMS

| | | |
| --- | --- | --- |
| ALBUM | STONES TITLE | RELEASED |
| 1 | The Rolling Stones | Apr-64 |
| 2 | 12 x 5 | Oct-64 |
| 3 | The Rolling Stones No 2 | Jan-65 |
| 4 | Now! | Feb-65 |
| 5 | Out Of Our Heads | Sep-65 |
| 6 | December's Children (And Everybody's) | Dec-65 |
| 7 | Aftermath | Apr-66 |
| 8 | Big Hits (High Tide And Green Grass) | Mar-66 |
| 9 | Got Live If You Want It | Dec-66 |
| 10 | Between The Buttons | Jan-67 |
| 11 | Flowers | Jun-67 |
| 12 | Their Satanic Majesties Request | Dec-67 |
| 13 | Beggars Banquet | Dec-68 |
| 14 | Through The Past Darkly (Big Hits Vol 2) | Sep-69 |
| 15 | Let It Bleed | Dec-69 |
| 16 | 'Get Yer Ya-Yas Out!' The Rolling Stones In Concert | Sep-70 |
| 17 | Sticky Fingers | Apr-71 |
| 18 | Exile On Main Street | May-72 |
| 19 | Goat's Head Soup | Aug-73 |
| 20 | It's Only Rock 'n' Roll | Oct-74 |
| 21 | Black And Blue | Apr-76 |
| 22 | Love You Live | Sep-77 |
| 23 | Some Girls | Jun-78 |
| 24 | Emotional Rescue | Jun-80 |
| 25 | Sucking In The 70s | Mar-81 |
| 26 | Tattoo You | Aug-81 |
| 27 | Still Life (American Concert 1981) | Jun-82 |
| 28 | Under Cover | Nov-83 |
| 29 | Dirty Work | Mar-86 |
| 30 | Steel Wheels | Aug-89 |
| 31 | Flashpoint | Apr-91 |
| 32 | Voodoo Lounge | Jul-94 |
| 33 | Stripped | Nov-95 |
| 34 | Rock And Roll Circus | Oct-96 |
| 35 | Bridges To Babylon | Sep-97 |
| 36 | No Security | Nov-98 |
| 37 | Live Licks | Feb-02 |
| 38 | A Bigger Bang | Sep-05 |
| 39 | Rarities 1971 - 2003 | Nov-05 |
| 40 | Shine A Light | Apr-08 |
Rolling Stones Songs

Rolling Stone Magazine - latest Music updates