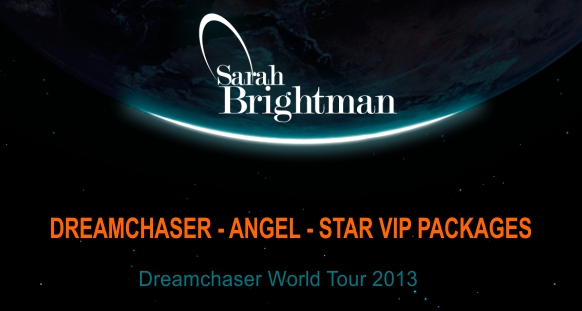 Sarah Brightman
Sarah Brightman - Sarah Brightman Tour dates 2004 - Sarah Brightman Tour Dates 2008-9
Register now for more Sarah Brightman Ticket & VIP Ticket Experiences
---
GLOBAL RECORDING ARTIST SARAH BRIGHTMAN SET TO RELEASE
FIRST TRACK "ANGEL" ON SEPTEMBER 26TH
HIGHLY ANTICIPATED NEW ALBUM "DREAMCHASER"
TO BE RELEASED JANUARY 22, 2013
First Leg of World Tour Kicks Off in North America SEPTEMBER 2013




Los Angeles, CA (September 26, 2012) – Global recording artist and world's bestselling soprano, Sarah Brightman, released her new track "Angel" today. The recording is now available for free download via Brightman's newly launched website . The track is taken from her highly anticipated new album "Dreamchaser," which will be released on January 22, 2013.
"Angel," a collaboration with veteran producer Mike Hedges known for his iconic work with the likes of U2, The Cure, Dido, has been co–produced by Sally Herbert and mixed by Tom Elmhirst (Adele, Amy Winehouse).
"Angel" will be released digitally by various online retailers including iTunes and Amazon on October 16, 2012.
"I am incredibly excited to be sharing this new music and to be able to give a taste of what is to come on the album in January." said Brightman "Angel is a track that is very dear to me, as it lends voice to some of the hopes I have for the next stage of my career whilst casting an eye right back to my childhood. There are some incredible plans afoot and the scale of this song matches the scope of my ambitions for the next 2 or 3 years."
In January of 2013, Brightman will begin her "Dreamchaser" World Tour which will touch upon 5 continents and include over 100 concert dates. The first leg of the tour will kick off in North America on January 29, 2013 in Hamilton, ON and visit cities across the U.S. and Canada (listed below), with more international dates to be announced shortly. Fan community pre-sale tickets for the North American dates will be available October 9th-11th with public ticket on-sales beginning October 15th. Unique VIP concert packages will also be available, offering concert-goers an engaging and intimate 'Dreamchaser' experience. REGISTER NOW FOR MORE VIP TICKET INFO
On October 10th, Brightman will also be making a groundbreaking LIVE announcement from Moscow at 4:00 pm MSK/8:00 am EDT/5:00 am PDT via her YouTube channel, youtube.com/sarahbrightman. More information to be announced soon.
SARAH BRIGHTMAN Tour dates 2013"Dreamchaser" North American Tour Leg
International tour dates to be announced soon.
January 29, 2013 Hamilton, ON Copps Coliseum
January 30, 2013 Toronto, ON Air Canada Centre
February 01, 2013 Montreal, QC Bell Centre
February 02, 2013 Ottawa, ON Scotiabank Place
February 05, 2013 Boston, MA Boston Opera House
February 08, 2013 New York, NY Radio City Music Hall
February 11, 2013 Buffalo, NY University at Buffalo Center for The Arts
February 12, 2013 Hartford, CT Bushnell Auditorium
February 13, 2013 Bethlehem, PA Sands Bethlehem Event Center
February 15, 2013 Providence, RI Providence Performing Arts Center
February 16, 2013 Upper Darby, PA Tower Theatre
February 21, 2013 Atlanta, GA Fox Theatre
February 23, 2013 Sunrise, FL BankAtlantic Center
February 24, 2013 Tampa, FL Tampa Bay Times Forum
February 26, 2013 Orlando, FL Amway Center
February 28, 2013 Houston, TX Bayou Music Center
March 01, 2013 Austin, TX Bass Concert Hall
March 02, 2013 Grand Prairie, TX Verizon Theatre at Grand Prairie
March 03, 2013 Tulsa, OK Bank of Oklahoma Center
March 05, 2013 Cincinnati, OH Aronoff Center
March 07, 2013 Detroit, MI Fox Theatre
March 10, 2013 Akron, OH E.J. Thomas Performing Arts Hall
March 12, 2013 Milwaukee, WI The Riverside Theatre
March 13, 2013 St. Paul, MN Xcel Energy Center
March 15, 2013 Winnipeg, MB MTS Centre
March 17, 2013 Calgary, AB Scotiabank Saddledome
March 18, 2013 Edmonton, AB Rexall Place
March 20, 2013 Victoria, BC Save On Foods Centre
March 21, 2013 Vancouver, BC Rogers Arena
March 22, 2013 Everett, WA Comcast Arena
March 23, 2013 Portland, OR Rose Garden Arena
March 25, 2013 Sacramento, CA Power Balance Pavilion
March 26, 2013 San Jose, CA HP Pavilion
March 27, 2013 San Diego, CA Viejas Arena
March 29, 2013 Los Angeles, CA Gibson Amphitheatre
March 30, 2013 Anaheim, CA Theatre at the Honda Center
March 31, 2013 Phoenix, AZ Comerica Theatre
For more information on Sarah Brightman, please visit:
20 August 2012
Sarah Brightman is reported to become the next space tourist' after successfully completing medical tests as reported today. Sarah Brightman is rumoured to become the next space tourist after completing medical tests and checks in Russia. Whilst no final contract has been signed apparently, the 52 year old classical superstar, Alexei Krasnov, head of manned space missions at the Russian space agency Roscosmos, said yesterday: 'It can happen.' It would make Sarah Brightman the eighth fare-paying passenger and the second woman - to make the trip to the International Space Station. This would undoubtably make Sarah a real Starship Trooper!

Register now for more Sarah Brightman Tickets and Sarah Brightman Tour Ne
11 Feb 2012
British singer
Sarah Brightman
was designated as the "Artist for Peace" on Wednesday at UNESCO in Paris. The amazing multi-platinum artist vocalist who has starred in Andrew Lloyd Webber productions on Broadway and the West End and of course her landmark role in
Phantom of the Opera
.
Her singing career began with chart-topping success in the disco era, with a dancing career that extended all the way back to her childhood. Sarah also performed to the Chinese audience with her duet with Chinese singer Liu Huan for the 2008 Beijing Olympic Games' theme song "You and Me."
Director-General Irina Bokova presented the "Artist for Peace" certificate for 2012 to 2014 to Brightman. Bokova praised her achievements saying that this global record artist had inspired people and strengthened "the ties between us all."
The UNESCO chief also made praise that
Sarah Brightman
was the only singer who had been invited twice to perform at Olympic Games, first in 1992 in Barcelona.

Register now for more Sarah Brightman Tickets and Sarah Brightman Tour News

Sarah Brightman Tour Dates SYMPHONY WORLD TOUR 2008-9
Europe
January 16, 2008 Vienna Austria Stephansdom Cathedral
North America
November 4, 2008 Monterrey Mexico Arena Monterrey
November 6, 2008 Guadalajara Arena VFG
November 8, 2008 Mexico City Palacio de los Deportes
November 9, 2008
November 12, 2008 Dallas United States American Airlines Center
November 14, 2008 Orlando UCF Arena
November 15, 2008 Sunrise BankAtlantic Center
November 16, 2008 Tampa St. Pete Times Forum
November 18, 2008 Duluth Gwinnett Center
November 19, 2008 Washington, D.C. Verizon Center
November 22, 2008 Mashantucket MGM Grand at Foxwoods
November 23, 2008 New York City Madison Square Garden
November 24, 2008 Boston TD Banknorth Garden
November 26, 2008 Montreal Canada Bell Centre
November 28, 2008 Ottawa Scotiabank Place
November 29, 2008 Hamilton Copps Coliseum
November 30, 2008 Toronto Air Canada Centre
December 2, 2008 Celeveland United States Quicken Loans Arena
December 3, 2008 Auburn Hills Palace of Auburn Hills
December 4, 2008 Rosemont Allstate Arena
December 6, 2008 Winnipeg Canada MTS Centre
December 7, 2008 Regina Brandt Centre
December 8, 2008 Calgary Saddledome
December 10, 2008 Edmonton Rexall Place
December 12, 2008 Vancouver GM Place
December 13, 2008 Victoria Save on Foods Centre
December 14, 2008 Everett United States Everett Events Center
December 16, 2008 Sacramento ARCO Arena
December 17, 2008 San Jose HP Pavilion
December 19, 2008 Anaheim Honda Center
December 20, 2008 Inglewood Forum
December 21, 2008 Glendale Jobing.com Arena
Asia
February 23, 2009 Tokyo Japan Nippon Budokan Hall
February 25, 2009 Fukuoka Marine Messe
February 27, 2009 Nagoya Nippon Gaishi Hall
March 2, 2009 Osaka Osaka Castle Hall
March 4, 2009 Tokyo Nippon Budokan Hall
March 5, 2009
March 7, 2009 Kuala Lumpur Malaysia Kuala Lumpur Convention Centre
March 10, 2009 Jakarta Indonesia Jakarta Convention Center
March 13, 2009 Seoul South Korea Olympic Gymnastics Arena
March 14, 2009
March 16, 2009 Ilsan KINTEX
March 20, 2009 Busan BEXCO
March 22, 2009 Beijing China Capital Stadium
March 25, 2009 Nanjing Olympic Arena
March 27, 2009 Shanghai Shanghai Indoor Stadium
March 28, 2009
March 30, 2009 Guangzhou Guangzhou International Sports Arena
April 1, 2009 Chep Lap Kok Hong Kong AsiaWorld-Expo
April 4, 2009 Taipei Taiwan Taipei Arena
April 5, 2009
Sarah Brightman Tour Dates HAREM WORLD TOUR 2004
Date

City
Country
Venue
North America
10-Jan-04
Mexico City
Mexico
Foro Sol
13-Jan-04
Dallas
United States
American Airlines Center
14-Jan-04
Houston
Arena Theater
16-Jan-04
Sunrise
Office Depot Center
17-Jan-04
Lakeland
Lakeland Center
19-Jan-04
Atlanta
Arena at Gwinnett Center
21-Jan-04
Philadelphia
First Union Center
23-Jan-04
New York City
Madison Square Garden
24-Jan-04
Uncasville
Mohegan Sun Arena
25-Jan-04
University Park
Bryce Jordan Center
27-Jan-04
Columbus, Ohio
Schottenstein Center
29-Jan-04
Washington D.C.
MCI Center
30-Jan-04
Atlantic City
Mark G. Etess Arena
31-Jan-04
Boston
Fleet Center
02-Feb-04
Montreal
Canada
Bell Centre
03-Feb-04
Ottawa
Corel Centre
05-Feb-04
Toronto
Air Canada Centre
06-Feb-04
Hamilton
Copps Coliseum
07-Feb-04
Rochester
United States
Blue Cross Arena
09-Feb-04
Auburn Hills
Palace of Auburn Hills
10-Feb-04
Cleveland
Gund Arena
12-Feb-04
Moline
i wireless Center
13-Feb-04
St. Louis
Savvis Center
15-Feb-04
Kansas City
Kemper Arena
18-Feb-04
Chicago
Allstate Arena
19-Feb-04
Milwaukee
Bradley Center
20-Feb-04
Minneapolis
Target Center
22-Feb-04
Winnipeg
Canada
Winnipeg Arena
24-Feb-04
Calgary
Pengrowth Saddledome
25-Feb-04
Edmonton
Skyreach Centre
27-Feb-04
Vancouver
GM Place
29-Feb-04
Seattle
United States
Key Arena
01-Mar-04
Portland
Rose Garden Arena
02-Mar-04
Spokane
Spokane Arena
05-Mar-04
Reno
Lawlor Events Center
06-Mar-04
Salt Lake City
Delta Center
07-Mar-04
Denver
Magness Arena
09-Mar-04
Phoenix
America West Arena
10-Mar-04
San Diego
Sports Arena
13-Mar-04
Las Vegas
MGM Grand Garden Arena
14-Mar-04
Anaheim
Arrowhead Pond
15-Mar-04
Fresno
Save Mart Center
17-Mar-04
Sacramento
ARCO Arena
18-Mar-04
San Jose
HP Pavilion
Asia
28-May-04
Hong Kong
China
Hong Kong Convention and Exhibition Centre
30-May-04
Beijing
Capital Indoor Stadium
31-May-04
03-Jun-04
Shanghai
Shanghai Grand Stage
06-Jun-04
Guangzhou
Tianhe Stadium
08-Jun-04
Seoul
South Korea
Olympic Stadium
09-Jun-04
11-Jun-04
Sapporo
Japan
Makomanai Ice Arena
14-Jun-04
Tokyo
Nihon Budokan
15-Jun-04
Nagoya
Rainbow Hall
16-Jun-04
Osaka
Osaka-Jo Hall
18-Jun-04
Singapore
Singapore
Singapore Indoor Stadium
20-Jun-04
Kuala Lumpur
Malaysia
Stadium Negara
21-Jun-04
Hanoi
Vietnam
World Peace Music Awards
23-Jun-04
Manila
Philippines
PhilSports Arena
25-Jun-04
Taipei
Taiwan
Linkou Gym
26-Jun-04
Oceania
29-Jun-04
Perth
Australia
Burswood Dome
02-Jul-04
Sydney
Sydney Entertainment Centre
04-Jul-04
Brisbane
Brisbane Entertainment Centre
06-Jul-04
Melbourne
Rod Laver Arena
08-Jul-04
Adelaide
Adelaide Entertainment Centre
Europe
03-Sep-04
Athens
Greece
Lycabettus Theatre
04-Sep-04
06-Sep-04
Bucharest
Romania
Central Square
08-Sep-04
Budapest
Hungary
Budapest Arena
09-Sep-04
Prague
Czech Republic
T-Mobile Arena
11-Sep-04
Vilnius
Lithuania
Siemens Arena
13-Sep-04
Riga
Latvia
Skonto Hall
15-Sep-04
Moscow
Russia
Olimpiyskiy
17-Sep-04
St. Peterburg
Ice Arena
19-Sep-04
Tallinn
Estonia
Saku Suurhall
21-Sep-04
Helsinki
Finland
Hartwall Arena
23-Sep-04
Stockholm
Sweden
Globen
25-Sep-04
Gothenburg
Scandinavium
26-Sep-04
Oslo
Norway
Oslo Spektrum
28-Sep-04
Amsterdam
Netherlands
Heineken Music Hall
29-Sep-04
01-Oct-04
Frankfurt
Germany
Festhalle
02-Oct-04
Brussels
Belgium
Forest National
05-Oct-04
Dublin
Ireland
RDS
07-Oct-04
London
England
Wembley Arena
North America
22-Oct-04
Halifax
Canada
Halifax Metro Centre
24-Oct-04
Quebec City
Colisee Pepsi
25-Oct-04
Montreal
Bell Centre
27-Oct-04
Worcester
United States
Worcester Centrum
28-Oct-04
Hershey
Giant Center
30-Oct-04
Pittsburgh
Mellon Center
31-Oct-04
London
Canada
John Labatt Centre
01-Nov-04
Toronto
Air Canada Centre
03-Nov-04
Wilkes-Barre
United States
Worcester Centrum
04-Nov-04
East Rutherford
Continental Airlines Arena
05-Nov-04
Bridgeport
Arena at Harbor Yard
06-Nov-04
Atlantic City
Mark G. Etess Arena
08-Nov-04
Norfolk
Ted Constant Convocation Center
09-Nov-04
Greenville
Bi-Lo Center
11-Nov-04
Jacksonville
Jacksonville Veterans Memorial Arena
12-Nov-04
Miami
American Airlines Arena
13-Nov-04
Tampa
St. Pete Times Forum
14-Nov-04
Atlanta
Philips Arena
16-Nov-04
New Orleans
New Orleans Arena
17-Nov-04
San Antonio
AT&T Center
20-Nov-04
Las Vegas
MGM Grand Garden Arena
21-Nov-04
Phoenix
America West Arena
22-Nov-04
Los Angeles
Staples Center
24-Nov-04
Oakland
Oakland Arena
Asia
12-Dec-04
Nagoya
Japan
Aichi Expo
15-Dec-04
Tokyo
Prince Hotel
17-Dec-04
Yokohama
Pacifico Yokohama
19-Dec-04
Osaka
Osaka Festival Hall
20-Dec-04
Nagoya
Aichi Arts Center
22-Dec-04
Tokyo
NHK Hall
23-Dec-04
SARAH BRIGHTMAN SONGS
SARAH BRIGHTMAN ALBUMS include:-


| | | |
| --- | --- | --- |
| Sarah Brightman | Classical | 10/3/06 |
| Sarah Brightman | Vocal | 11/24/97 |
| Andrew Lloyd Webber, Michael Crawford, Sarah Brightman & Steve Barton | Soundtrack | 02/09/1987 |
| Sarah Brightman | Vocal | 04/14/08 |
| Sarah Brightman | Vocal | 12/21/04 |
| Sarah Brightman | Vocal | 04/28/03 |
| Sarah Brightman | Vocal | 06/09/2003 |
| Sarah Brightman | Vocal | 12/28/04 |
| Sarah Brightman | Pop | 12/01/2008 |
| Sarah Brightman | Vocal | 09/30/05 |
| Sarah Brightman | Vocal | 09/11/1995 |
| Sarah Brightman | Vocal | 02/18/09 |
| Sarah Brightman, Plácido Domingo, English Chamber Orchestra & Lorin Maazel | Classical | 05/05/2008 |
| Sarah Brightman | Vocal | 04/26/93 |
| Sarah Brightman | Vocal | 05/31/02 |
| Sarah Brightman | Pop | 03/15/06 |
| Dame Joan Sutherland, Luciano Pavarotti, Paul Miles-Kingston & Sarah Brightman | Classical | 07/14/09 |
| Sarah Brightman | Vocal | 06/05/1990 |
| Sarah Brightman | Pop | 03/17/98 |
| Sarah Brightman | Vocal | 01/04/2005 |
| Sarah Brightman | Vocal | 08/28/07 |
| Charles Strouse & Sarah Brightman | Soundtrack | 08/10/1999 |
| Various Artists | Soundtrack | 07/16/07 |
| Original London Cast | Soundtrack | 10/19/00 |
| Various Artists | Vocal | 12/04/2009 |
"Time to Say Goodbye", from the album Timeless, which was released in 1997, was the second song Brightman debuted for Maske, this time at his retirement match. This duet with tenor Andrea Bocelli became an international hit and sold more than 3 million copies in Germany alone,and became Germany's best-selling single aside from world-wide sales - the album eventually sold over 12 million copies. It is reknowned as one of Sarah Brightman and Andrea Bocelli's, signature songs. Another of course is Sarah Brightman Time to say Goodbye from the Album Timeless.
---