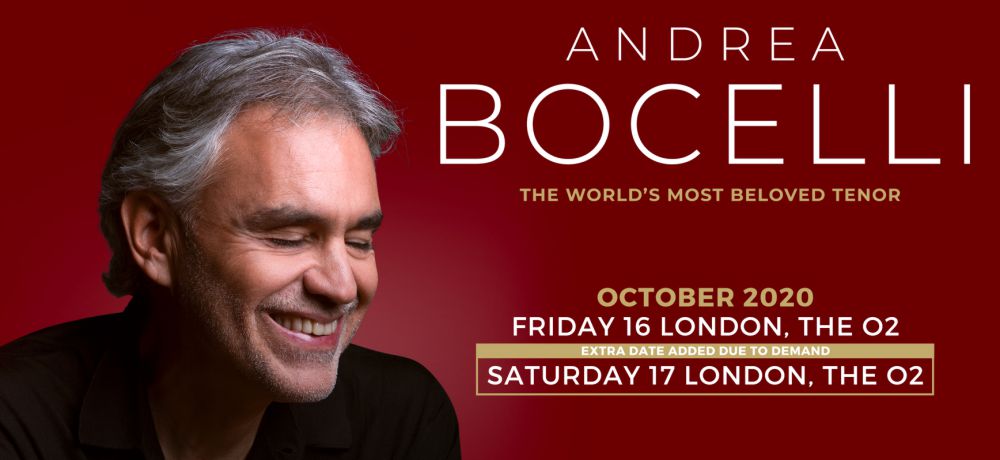 HOME PAGE -
ANDREA BOCELLI TOUR DATES 2020
-
ANDREA BOCELLI PREMIUM TICKET DESCRIPTIONS
** NEW LONDON DATE 17 OCTOBER JUST ANNOUNCED - ON SALE NOW **
ANDREA BOCELLI ANNOUNCES UK & IRELAND 2020 DATES!
The world's most beloved tenor, Andrea Bocelli, has announced a return to the UK and Ireland in October 2020 with two dates at London's O2 Arena on Friday 16 October and Saturday 17 October, also Dublin's 3Arena on Wednesday 21 October. These dates for 2020 will see Bocelli bring an all-new show format to his legions of fans – the first part a more classical program, showcasing his most well-known operatic arias, with the second part containing his most popular hits.
To make your evening even more special we have a limited number of Official Premium Ticket Experiences including an overnight stay - London's O2 Arena on Friday 16 and Saturday 17 October 2020
ANDREA BOCELLI TOUR DATES and PREMIUM TICKET EXPERIENCES 2020
ANDREA BOCELLI VIP TICKET EXPERIENCES!
Platinum Premium "A" Ticket and Hotel
To include:-
Choice of Premium A Cat 1 Floor or Lower Tier Reserved Seat
Overnight Hotel Accommodation inc Buffet Breakfast
Programme (1 per 2 Guests) + Printed Commemorative Bag
Itinerary and Tickets sent in advance
On-Site Event Staff
24/7 Customer Support day of concert

Please check individual booking Pages for Ticket locations
Prices From £299 inc VAT
Book
Gold Premium "B" Ticket and Hotel
To include:-
Premium B Cat 1 Floor or Lower Tier Reserved Seat
Overnight Hotel Accommodation inc Buffet Breakfast
Programme (1 per 2 Guests) + Printed Commemorative Bag
Itinerary and Tickets sent in advance
On-Site Event Staff
24/7 Customer Support on day of concert

Please check individual booking Pages for Ticket locations
Prices From £289 inc VAT
Book
IMPORTANT: ANY PACKAGES FOUND TO BE OFFERED FOR RE-SALE WILL BE CANCELLED WITHOUT REFUND TICKETS WILL BE INVALIDATED