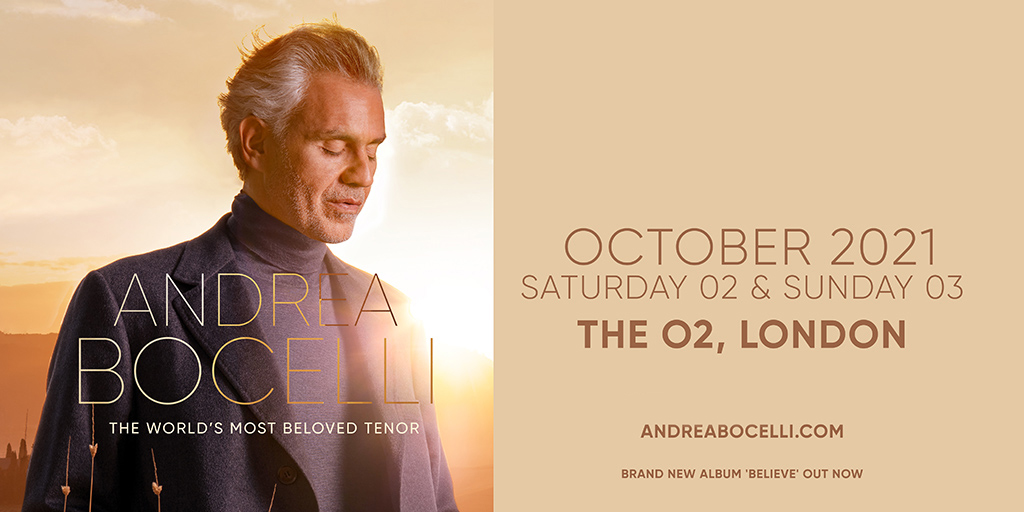 HOME PAGE -
ANDREA BOCELLI TOUR DATES 2021
-
ANDREA BOCELLI PREMIUM TICKET DESCRIPTIONS
** NEW DATES LONDON DATE 02 & 03 OCTOBER 2021 - ON SALE NOW **
ANDREA BOCELLI ANNOUNCES UK 2021 DATES!
The world's most beloved tenor, Andrea Bocelli, has announced a return to the UK and Ireland in October 2021 with two dates at London's O2 Arena on Saturday 02 October and Sunday 03 October - These new dates for 2021 will see Bocelli bring an all-new show format to his legions of fans – the first part a more classical program, showcasing his most well-known operatic arias, with the second part containing his most popular hits.
To make your evening even more special we have a limited number of Official Premium Ticket Experiences including an overnight stay Concert Hotel - see you there for another memorable experience.
ANDREA BOCELLI TOUR DATES and PREMIUM TICKET EXPERIENCES 2021
ANDREA BOCELLI VIP TICKET EXPERIENCES! - 2021
Platinum Premium "A" Ticket and Hotel
To include:-
Choice of Premium A Cat 1 Floor or Lower Tier Reserved Seat
Overnight Hotel Accommodation inc Buffet Breakfast
Programme (1 per 2 Guests) + Printed Commemorative Bag
Itinerary and Tickets sent in advance
On-Site Event Staff
24/7 Customer Support day of concert

Please check individual booking Pages for Ticket locations
Prices From £299, €344, $410 inc VAT
Book
Gold Premium "B" Ticket and Hotel
To include:-
Premium B Cat 1 Floor or Lower Tier Reserved Seat
Overnight Hotel Accommodation inc Buffet Breakfast
Programme (1 per 2 Guests) + Printed Commemorative Bag
Itinerary and Tickets sent in advance
On-Site Event Staff
24/7 Customer Support on day of concert

Please check individual booking Pages for Ticket locations
Prices From £289, €333, $396 inc VAT
Book
IMPORTANT: ANY PACKAGES FOUND TO BE OFFERED FOR RE-SALE WILL BE CANCELLED WITHOUT REFUND TICKETS WILL BE INVALIDATED